Photo of Natasha Jain Gambhir, Wife of Gautum Gambhir


Natasha Jain Gambhir Supporting KKR Captain Gautum Gambhir at the IPL
Gautum Gambhir successfully captained the Kolkata Knight Riders (KKR) team to their first IPL 2012 trophy. Gautum has played an important role in transforming the Shahrukh Khan owned KKR team into a champion side.
As the saying goes, behind ever successfully man is a woman. Gambhir's wife, Natasha Jain Gambhir, has obviously had a positive impact on him.
Pictures of Gautum Gambir and Natasha Jain Gambhir After Their Marriage
---
Photo of Gautum Gambhir With Wife Natasha and Family
---
Wedding Picture of Gautum Gambhir and Wife Natasha (Jain) Gambhir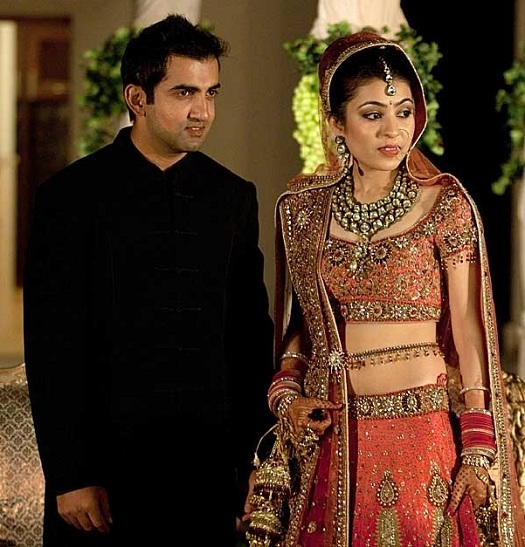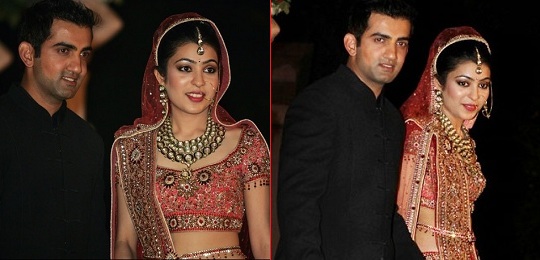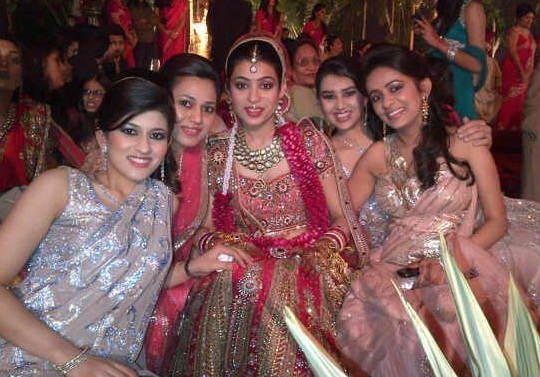 ---
Photo of Gautum Gambhir, Natasha Gambhir, Virendra Sehwag and Wife Arti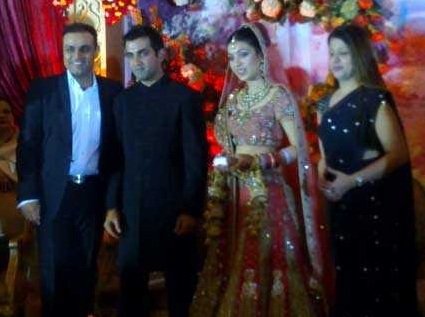 Picture of Gautum Gambhir, Natasha Gambhir, Yuvraj Singh and Family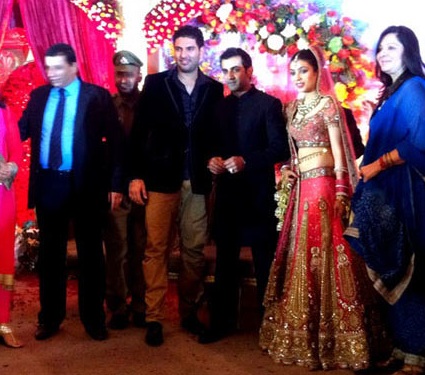 Photo of Gautum Gambhir, Natasha Jain Gambhir, Juhi Chawla and Husband Jai Mehta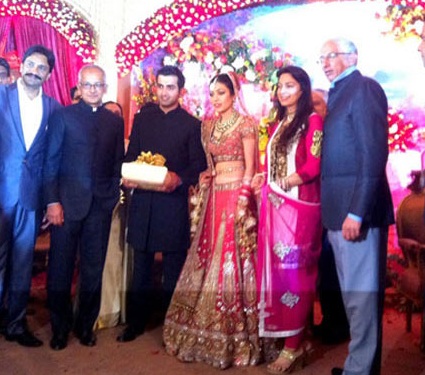 Gautum Gambir and wife Natasha Jain Gambhir married in a private ceremony in Westend Farm on the Delhi-Gurgaon road. Both Gautum Gambhir's family (fatherDeepak Gambhir, mother Seema Gambhir, sister Ekta) and Natasha Jain's family father Ravindra Jain, mother Neera Jain, sister Rushna Jain, brother Ekansh Jain) were present at the wedding.
Gautum Gambhir's Delhi team mate and cricket opening partner, Virendra Sehwag attended the marriage with his wife Arti. Yuvraj Singh and family were also present at Gautum Gambhir's wedding. Gautum plays for the Kolkatta Knightriders. Team owner Juhi Chawla and husband Jai Mehta were also present at Gautum Gambhir and Natasha Jain Gamhir's wedding to bless the couple. Indian cricketers who were present at Gamhir's wedding included Rahul Dravid, VVS Laxman, Ishant Sharma, Munaf Patel, Ashish Nehra. Politicians, Rajiv Shukla and Arun Jaitley, who are associated with Delhi Cricket, were also present at the wedding.
After the wedding, the newly married couple  came out to a podium which was specifically built so that media personnel could take photos and videos of the happy couple. Both Gautum Gambhir and wife Natasha Jain seemed a little shy. After a short photo session, Gautum Gambhir and wife Natasha Gambhir walked away hand-in-hand.
Natasha's beautiful lehenga & Gautam Gamhir's wedding sherwani were designed by Indian bridal wear speacilist designer, Tarun Tahiliani. Designers Shantanu & Nikhil and Kolkata based designers, Sabyasachi were also involved in designing clothes for the family.
According to rumors, the honeymoon will be in the Maldives. Gautam Gambhir has a house at Karol Bagh, which is in the heart of Delhi.
---
Videos of Gautum Gamhir's Marriage to Natasha Jain Gambhir
1. News Video of Gautam Gambhir and Wife Natasha Jain – Kannada Tv
Nice close ups of Natasha Gambhir and Gautum Gambhir. Nice  Close up of the lovely bridal trousseau worn by Natasha Jain (Natasha Gambhir)

2. News Videos of Gautum Gambhir and Wife Natasha Jain – NDTV (English)
---
RELATED ARTICLES:
Wedding of Cricketers and Sport Stars:
Wedding of Indian Celebrities and Film Stars:
Wedding of International Celebrities of Indian Origin:
---