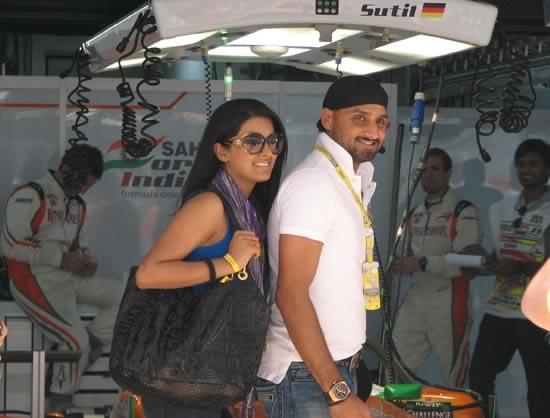 As per reports Harbhajan Singh (Bhajji) will marry girlfriend Geeta Basra in September, 2012. The Harbajan – Geeta Basra wedding is expected to take place in the English county of Yorkshire and in Punjab in India.
Indian cricketer Harbhajan Singh is a Jalandar born Punjabi Sikh. Harbhajan Singh is the captain of the Mumbai Indians IPL team. Geeta Basra was born in the Southern port town of Portsmouth in England. Geeta Basra is an actress and model who has acted in three Hindi films – Dil Diya Hai (2006), The Train (2007) and Zilla Ghaziabad (2012). Geeta has performed an item number in Zilla Ghaziabad. Geeta has signed three movies with producer Nitin Manmohan.
Harbhajan's mother Avtar Kaur, has been quoted as saying that getting Bhajji married was a priority for her.
In the past both Harbhajan Singh and Geeta Basra have denied that they are anything more than just friends; but the rumors have persisted. These rumors reached a crescendo when Harbhajan took Geeta home for his sister, Sandeep Kaur's wedding. It is reported that Geeta was received warmly by Harbhajan's family. In April, 2012, Geeta Basra admitted in a newspaper interview that Harbhajan was special to her, but she went on to add that she had no plans of marrying anytime soon.
---
RELATED ARTICLES:
Wedding of Cricketers and Sport Stars:
Wedding of Indian Celebrities and Film Stars:
Wedding of International Celebrities of Indian Origin:
---