Sanika Jahagirdar – Indian Wedding Photographer Of the Year
Sanika Jahagirdar was awarded the Best Wedding Photographer in India by "Better Photography" magazine. Sanika is a professional trained photographer.
Sanika Jahagirdar is a student of the "Shari Academy", which is India's finest photography training school. In 2010 she won the Second Prize for her photo "Laughing Souls" at the PIEA Awards, which is an international photography competition. She was also awarded the title of "The Mastercraftsman of the Year" (2010) at the Shari Academy.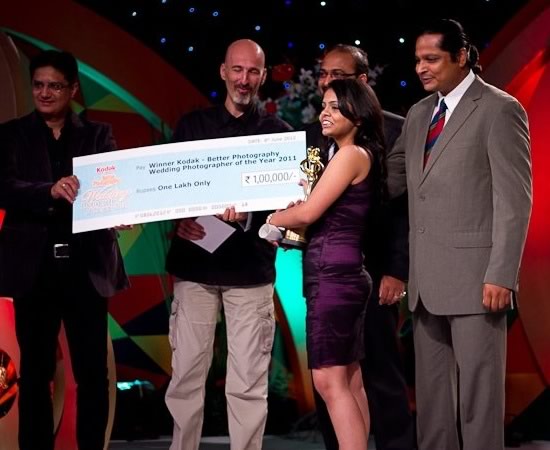 Since 2009 "Better Photography" has been conducting a photography completion that decides the "Wedding Photographer of the Year". This year 20,954 entries were received by the organizers in 6 themes/categories. The winners of the six categories competed to design the best wedding album. The theme of the final competition was "Magical moments with the couple in Malaysia". The six finalists went to Kuala Lumpur and Langkawi in Malaysia, for five days to shoot nine different themes, including pre-wedding, actual Indian Wedding, traditional Malay Wedding, honeymoon, etc. Eventually, the main judge, Sephi Bergerson, selected Sanika Jahagirdar as the "Kodak Better Photography Wedding Photographer Of the Year".
The winners of the six wedding photography categories are as follows:
Bridal Portraiture – S L Anand (Kozhikode)
Emotions – Tarun Chawla (New Delhi)
Couple Portraiture – Edric George (Margao)
Behind the Scenes – Vivek Victor Sequeira (Mangalore)
Family and Friends – Arjun Kartha (New Delhi)
Photoseries on a Single Wedding – Sanika Jahagirdar (Mumbai)
Pictures that won Sanika Jahagirdar the "Wedding Photographer Of the Year"
Visit http://betterphotography.in/2012/06/12/wpoy-2011-final-face-off-malaysia/ to see entries by all 6 finalists.
Sanika Jahagirdar is contactable at sanika026@gmail.com, sanikajahagirdar@yahoo.in. Visit Sanika's website at http://sanikajahagirdar.carbonmade.com/