Article has details and pictures of Cheteshwar Pujara's wedding with Puja Pabari. It also has profiles and pictures of Cheteshwar Pujara and his wife Puja.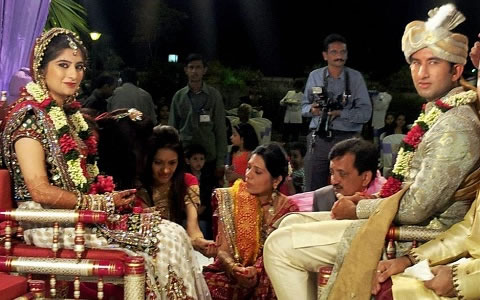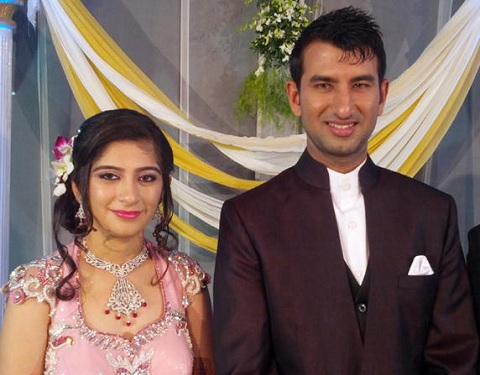 ---
Cheteshwar Pujara's Wedding With Wife, Puja
Indian Cricketer Cheteshwar Pujara's wedding to Puja Pabari, took place on 13 February, 2013.
Cheteshwar Pujara looked dashing in a golden "Sherwani" with a golden Turban. Pujara's wife, Puja, wore a cream bridal "Ghagra" with traditional red motif, a green embroidered "Choli" and a red "Dupatta" worn Gujarati style.
At the start of the wedding, Cheteshwar and his "Baraat" (marriage party) was welcomed with an "Aarti" ("Jaan" or "Ponkvu" ceremony). The "JaiMala" ceremony followed, where Pujara and Pooja exchanged garlands. Next Pujara and Puja went to the wedding "Mandap" where the "Kanyadaan" ceremony (Puja's father gave her hand to Cheteshwar) was performed.
The "Hast Melap" ceremony was held at 8:15 pm. In the "Hasta Melap" ritual, Cheteshwar Pujara and his wife, Puja Pabari joined hands in front of the Holy Fire and a sacred thread was tied around their hands. This was followed by the  "Satapadi / Pheras" where Pujara and Puja walked around the Holy Fire making promises to each other.
Pujara's wedding took place on Kalawad Road, in Rajkot, Gujarat.
Cheteswar Pujara and Pooja Pabari's Wedding Reception was held in Rajkot on 14 February, 2013. There is no time for a honeymoon for Pujara and his wife since the day after his reception he has to report to Bangalore for a cricket camp to prepare for the series against Australia.
On 12 Feb, 2013, the "Sanji" or "Sangeet Sandhya" ceremony was held with traditional Gujarati wedding songs and traditional Gujarati dance of "Garba" and "Dandiya Raas".

Cheteshwar Pujara and Puja Pabari's were engaged on 6

th

November, 2012.

Cheteshwar Pujara's is an Arranged Marriage. Cheteshwar's father and Puja's parents, had met and decided on the engagement and wedding before Cheteshwar and Puja met.
---
Puja Pabari's Profile (Wife of Cricketer Cheteshwar Pujara)
(Please click on pictures to enlarge)
Puja Pabari's Age: Puja is 22 years old.
Puja Pabari's Family: Puja Pabari's father is a textile merchant. Her mother is a home maker and she has a younger sister.
Puja Pabari's Caste and Community: Pooja Pabari belongs to the "Lohana" (aka "Luvana") community. Husband, Chateswar Pujara, also belongs to the "Lohana" Community. The "Lohana" community traces its lineage to King Raghu, Lord Ram's great grandfather. Member of the "Lohana" community used to be warriors, but for the last 3 centuries they are also successful traders.
Pooja Pabari Family Background: Puja's family comes from Jamjodhpur in the Saurashtra region of Gujarat. Jamjodhpur is 120 kilometers from Rajkot where the Pujara and Pabari families currently stay.
Puja Pabari's Education: Puja is well educated. She has a MBA in Retail Management from Ahmedabad. Puja did her schooling in Mount Abu.
Puja Pabari's Interests: Puja likes travelling, reading and adventure sports.
(Please click on pictures to enlarge)
  Cheteshwar Pujara's Profile
Chateshwar Pujara's Date of Birth: 25 January, 1988. He was born in Rajkot in Gujarat.
Cheteshwar Pujara's Father: Arvind Shivlal Pujara is Cheteswar's 62 year old father.

Arvind Pujara and his brother, Bipin Pujara, both played first class cricket ("Ranji" Trophy) for Saurashtra

. Arvind Pujara was a wicketkeeper batsman (1976-1980). Arvind's father (Cheteswar Pujara's grandfather), Shivlal Pujara, played for Dhrangadhra, which was a state under British Rule and is now part of Gujarat. Arvind Pujara worked for the Indian Railways in Rajkot. Arvind Pujara was Cheteshwar's first cricket coach.
Cheteshwar Pujara's Mother: Reena Pujara passed away in October, 2005. She had cancer.
Cheteshwar Pujara's Siblings: Cheteswar is an only child.
Cheteshwar Pojara's Caste and Community: Cheteshwar belongs to the "Lohana" community. Since the "Lohana's" are Raghuvanshis (the same family as Lord Rama), he is a devotee of Lord Ram.
Cheteshwar Pojara Education: Chateswar did his schooling from Virani High School in Rajkot. This is a Gujarati medium school which is one of Rajkot's oldest schools.
Cheteshwar Pujara Trivia: Cheteswar is very religious. He takes his idols and prayer kit when he tours. His spiritual guru is Gondal based Hariprasadji Maharaj. His pet name is "Chintu". He is a vegetarian.
---
Cheteswar Pujara's Cricket Career
Being a state level cricketer, Cheteswar Pujara's father, Arvind Pujara, spotted his sons talent early and started coaching him. In the early days, Chateswar was both a good batsmen and a good leg spin bowler. Cheteshwar's father coached him on the Railway grounds near the Railway quarters where the Pujara family lived.
When Cheteswar was young, his father took him to Bombay to meet fellow Gujarati and Indian Test Bowler Karsan Ghavri. The objective was to get Ghavri's advice on Cheteshwar's ability. After a three hour cricket session in the nets, Ghavri confirmed to Arvind that Cheteshwar Pujara indeed had the talent to play cricket for India. Ghavri further advised that Cheteshwar should focus on his batting rather than his spin bowling.
From the age of 10 to 13, the Pujara family would come to Mumbai during Cheteshwar's holidays. In Mumbai, Cheteshwar was able to play a lot of club level cricket which exposed him to better quality bowling than he was getting in Rajkot. This helped hone his batting skills.
In 2000, Cheteshwar was selected to represent Saurashtra's Under 14 team. In his first season, he scored 138 against Mumbai and 306 not out against Baroda. The 306 brought him to the attention of the Indian cricketing world.
In 2005, Chateshwar Pujara was selected by Saurashtra to play in the "Ranji" Trophy.
In 2005, Pujara was selected for the Indian Under 19 team against England. He scored 211 against England.
In 2006, Cheteshwar Pujara represented India in the Under 19 World Cup in Sri Lanka.

Pujara was the "Man of the Tournament" and the highest run scorer (349 runs)

at the tournament.
In 2008, Cheteshwar was part of the Kolkata Knight Riders in the Indian Premier League (IPL).
In the summer of 2010, Cheteshwar was part of the India A team that toured England. Here too he was the highest run scorer of the tour. Impressed with this performance, Indian Cricket selectors selected Cheteshwar for the tour against Australia.
On 9th October, 2010, Cheteshwar Pujara made his India Test Debut against Australia. He scored 4 in the first innings and 72 in the second. His second test in 2010 was against South Africa where he scored only 19 and 10. In his third match he scored only 2 in the first innings. Pujara was out of the Indian Test team until August 2012.
In 2011, Chateshwar had to undergo knee surgery, which kept him out of the Indian Test Cricket team. He missed three important overseas test tours (WI, Australia and England).
In 2011, Royal Challengers Bangalore picked up Cheteshwar Pujara for their IPL team.
In 2012, Cheteshwar Pujara was once again selected for the Indian Test Team against New Zealand. On 23 and 24 August, 2012, Pujara scored his first test century (159) against New Zealand. This was his fourth Test match.
Just days after his engagement to Puja Pabari, and in only his sixth Test match, Cheteshwar Pujara scored his first double hundred. He scored 206 not out against England in November, 2012. In the next match he scored 135.  Wife Puja Pabari was cheering him in the stadium.
Pujara is yet to play for India in One Day and T20 formats of cricket. It is only a question of time.
(Please click on pictures to enlarge)
---
RELATED ARTICLES:
Wedding of Cricketers and Sport Stars:
Wedding of Indian Celebrities and Film Stars:
Wedding of International Celebrities of Indian Origin:
---