Dia Mirza and Sahil Sangha's Engagement and Wedding
Dia Mirza and Sahil Sangha's Wedding
Dia Mirza and Sahil Sangha were married on 18 October, 2014 in New Delhi.
Dia Mirza and Sahil Singh Sangha's wedding was as per Arya Samaj marriage customs. As with traditional Punjabi/Sikh weddings, Sahil arrived at the wedding "Mandap" on a horse. His "Baraat" danced for an hour at the marriage venue.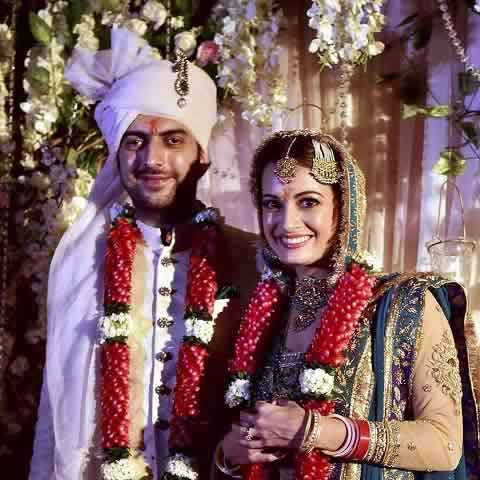 For her wedding, Dia Mirza's wore a traditional Mughal bridal trousseau which was reminiscent of a bride from Hyderabad. Ritu Kumar designed Dia Mirza's bridal dress, which consisted of a "Kurta", two "Dupattas" and a "Farsi Pajama". Dia's golden Kurta had traditional "Zardozi" around the neck; her pyjama was partly made of golden silk and partly of green and turq silk. Diya wore an embroidered Dupatta and a second emerald green Dupatta.
Bridal jewelry worn by Diya Mirza on her wedding included Maang Tikka, Jhumar, Nath (nose ring), Jhumki (earrings), red and white Chudas (marriage bangles worn by newlywed brides), Bangles, Kaleeras, Chokar around the neck and necklace.
Sahil Sangha's Wedding clothes were designed by designer Raghavendra Rathore, who specializes in marriage outfits for men. At his wedding, Sahil wore a cream/ off-white silk linen "Achkan" with an off-white Safa. On his Pagdi (Turban) Sahil wore a Kalgi (Turban jewel), which is traditionally worn by Sikh grooms.
Guest list at Dia Mirza and Sahil Sangha's marriage included family and close friends. Guests from the film industry included Rajkumar Hirani, Lara Dutta, Mahesh Bhupathi, Neha Dupia, Sushmita Sen, Roshan Seth, Nikhil Advani, Aditi Rao Hydari, Cyrus Sahukar, Pallavi Sharda and others.
Please click on Dia Mirza and Sahil Sangha's Wedding Pictures to Enlarge
---
Pictures of Dia Mirza and Sahil Sangha's Wedding Reception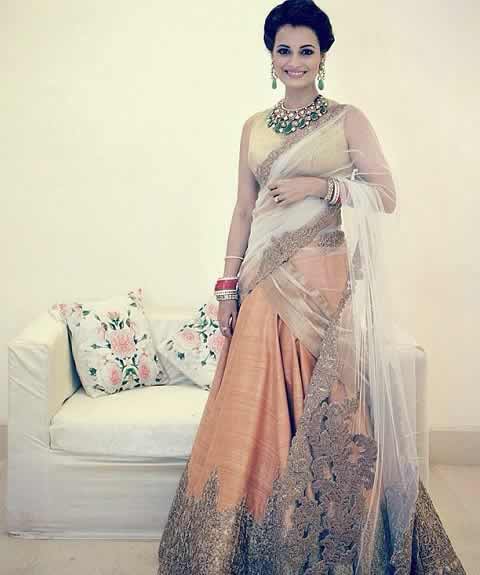 Post their wedding, Sahil Sangha and Dia Mirza Sangha hosted a Marriage Reception. Dia Mirza looked radiant in a peach and cream Lehenga designed by Shantanu and Nikhil.
---
Sahil Sangha and Dia Mirza's Mehendi, Sangeet Ceremony
Dia Mirza's Mehendi ceremony took place on 16 Oct in Dehli. Dia wore a beautiful yellow Anarkali, designed by Ritu Kumar.
Dia Mirza and Sahil Sangha decided to get married in Delhi because many of Sahil's relatives live there.
Dia and Sahil postponed their marriage from end 2013, since both their relatives were unwell.
Another reason for postponing their wedding from 2013 to 2014 was the start of film shooting of their second home production – "Bobby Jasoos", starring Vidya Balan.
Dia Mirza's father was German and her mother is Bengali. Sahil Sangha is a Sikh.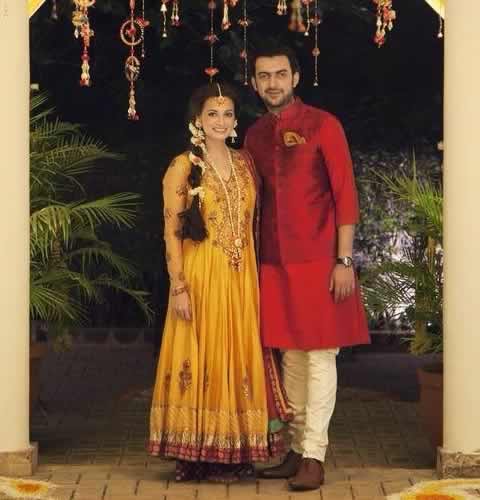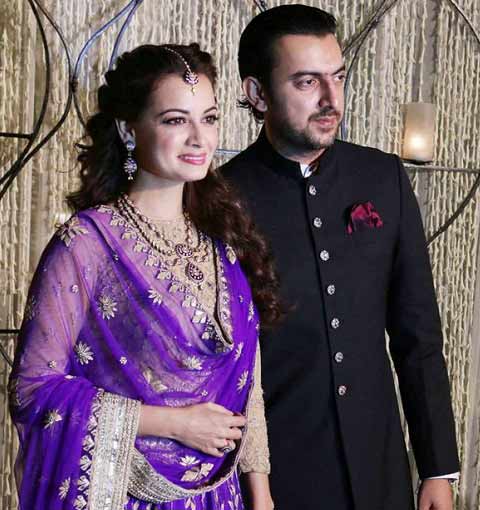 ---
Dia Mirza and Sahil Sangha's Engagement
Dia Mirza announced her engagement to Sahil Sangha on 29 April, 2014.
Dia Mirza and Sahil Sangha had known each other since 2009. Dia would tease Sahil that he had not made a formal marriage proposal to her.
Dia Mirza and Sahil Sangha were in the United States of America to attend the 2014 IIFA Awards. Sahil Sangha took Dia Mirza to New York's Brooklyn Bridge. In the middle of Brooklyn Bridge, Sahil got down on his knees and proposed to Dia Mirza.
Dia Mirza was pleasantly surprised. She happily said yes amid applause from tourist present on Brooklyn Bridge. This is how Dia Mirza was formally engaged to Sahil Sangha.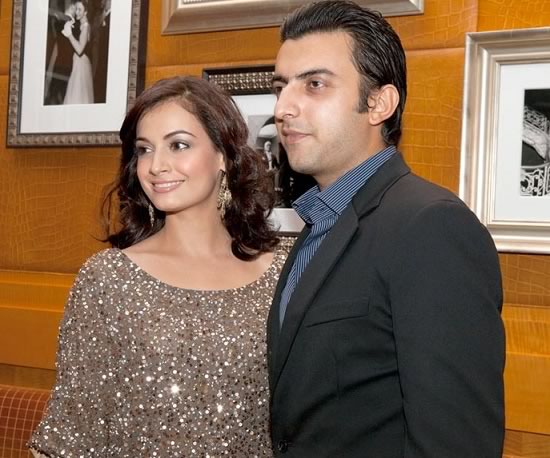 ---
How Did Dia Mirza and Sahil Sangha Fall in Love?
Sahil and Vikram Phadnis became friends when they worked together on "Salaam-E-Ishq". Vikram Phadnis was the Costume Designer for "Salaam-E-Ishq" and Sahil Sangha was the Assistant Director.
In 2009 Vikram Phadnis introduced DIa Mirza and Sahil Sangha. He had asked Sahil to visit Dia at her home to narrate a film story. Although that film was never made, this was the start of Dia and Sahil's friendship.
---
Dia Mirza and Sahil Sangha's Profiles, Careers, Film Production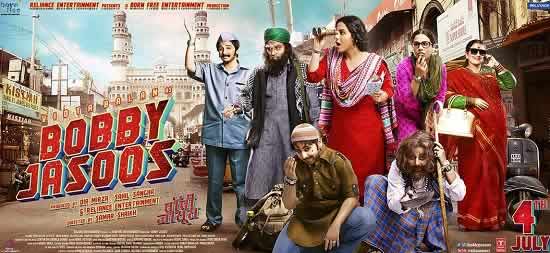 Dia Mirza and Sahil Sangha's Company – Born Free Entertainment
Dia Mirza, Sahil Sangha and Zayed Khan started "Born Free Entertainment", a film production company.
Their first film together was "Love Breakups Zindagi", a romantic comedy, which was written and directed by Sahil Sangha, and which starred Zayed Khan and Dia Mirza.
After their first film, Zayed Khan is no longer part of "Born Free Entertainment".
Dia Mirza and Sahil Sangha's second movie as producers is "Bobby Jasoos", starring Visya Balan and Ali Fazal. "Bobby Jasoos" is directed by Samar Shaikh and the writer is Sanyukta Chawla. "Bobby Jasoos" released on 4th July, 2014.
---
Sahil Sangha's Profile and Career. Who is Sahil Sangha?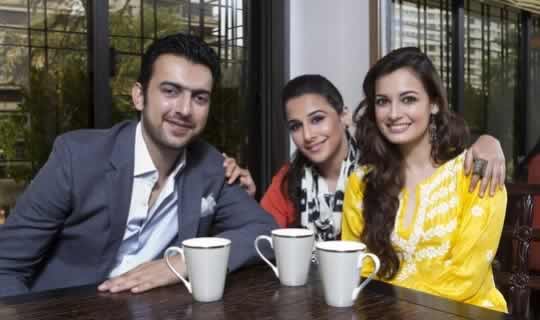 SAHIL SANGHA'S FAMILY: Sahiul Singha is from Delhi. Both his parents are working professionals. His family is originally from Hoshiarpur in Punjab. Nikhil Sangha is Sahil Sangha's younger brother. He is studying acting in New York.
SAHIL SANGHA'S RELIGION: Sahil Sangha belongs to the Sikh religion. His full name is Sahil Singh Sangha.
SAHIL SANGHA'S EDUCATION: Sahil Sangha is a trained Marketing and Advertising professional. Sahil obtained his degree from New York.
SAHIL SANGHA'S NON-FILM CAREER: In New York, Sahil worked for Random House, which is the world's largest trade-book publisher.
SAHIL SANGHA'S FILM CAREER: Sahil's first film industry job was to assist Nikhil Advani in the making of "Salaam-E-Ishq". He next worked with Sunil Manchanda, of MAD Films, on ad films. Sahil Sangha, along with Dia Mirza and Zayeed Khan, started "Born Free Entertainment Pvt. Ltd". Sahil Sangha's first film as writer-director-producer was "Love Breakups Zindagi". His second film as producer was "Bobby Jasoos".
SAHIL SANGHA'S INTERESTS: Sahil loves Hindi Films and Hindi Songs. He loves to cook.
---
Dia Mirza's Profile, Family, Career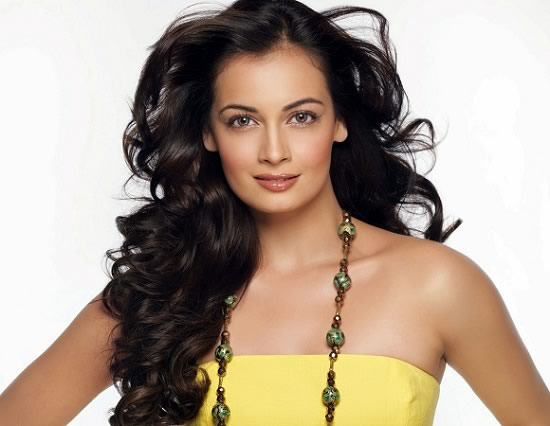 DIA MIRZA'S DATE AND PLACE OF BIRTH: Dia was born on 9 December, 1981 in Hyderabad, AP. Her nickname is Dee.
DIA MIRZA'S MOTHER: Dia's mother, Deepa, is a Bengali. She is a social worker, interior designer and landscaper.
DIA MIRZA'S FATHER: Dia's father, Frank Handrich, was a German architect, interior designer, graphic designer. He was from Munich and he and Deepa separated when Dia was 6 years old. Frank Handrich died in 1990.
DIA MIRZA'S STEP FATHER: Dia's step father was Ahmed Mirza. Dia took her step father's surname. Ahmed Mirza died in 2004. Of late Dia has taken to using both her father and step-father's surnames – "Mirza Handrich".
DIA MIRZA'S VITAL STATISTICS: Her height is 5'6". Her statistics are 33-26-36.
LANGUAGES SPOKEN BY DIA MIRZA: Dia can speak English, Hindi, Urdu, Bengali and Telugu.
DIA MIRZA MISS INDIA, MISS ASIA PACIFIC: Diya Mirza was the second runner up at the 2000 Femina Miss India contest. 2000 was the year when Priyanka Chopra was the first runner up and Lara Dutta was the winner of the Miss India crown. Dia Mirza went on to win the "Miss Asia Pacific" title. The previous Indian "Miss Asia Pacific" winner was Zeenat Aman in 1970. Incidentally, 2000 was the year that Lara Dutta won "Miss Universe" and Priyanka Chopra won "Miss World".
DIA MIRZA'S PROFESSIONAL CAREER: Dia started working at the age of 16 at "Dr. Neeraj's Multimedia Studio" as a marketing executive. She also modeled and did commercials for brands like Lipton, Emami, Walls Ice-cream, etc.
DIA MIRZA'S FILM DEBUT: Dia's film debut was in Gautham Menon's "Rehnaa Hai Terre Dil Mein" which starred Madhavan and Saif Ali Khan.
DIA MIRZA'S PRODUCTION COMPANY: Dia has partnered with Sahil Sanga and Zayed Khan to start "Born Free Entertainment" under which banner the first film was "Love Breakups Zindagi". "Bobby Jasoos" is her second film as producer, with husband, Sahil Sangha. "Bobby Jasoos" is Dia Mirza's third film with Vidya Balan. Previously they have worked together in Parineeta and Lage Raho Munna Bhai.
DIA MIRZA'S MOVIES: Rehna Hai Tere Dil Mein, Deewaanapan, Tumko Na Bhool Paayenge, Tehzeeb, Pran Jaye Par Shaan Na Jaye, Dum, Stop!, Tumsa Nahin Dekha, Kyun…! Ho Gaya Na, Naam Gum Jaayega, My Brother… Nikhil, Blackmail, Parineeta, Dus, Koi Mera Dil Mein Hain, Fight Club – Members Only, Phir Hera Pheri, Alag, Lage Raho Munna Bhai, Prateeksha, Honeymoon Travels Pvt. Ltd., Shootout at Lokhandwala, Cash, Hey Babyy, Om Shanti om, Dus Kahaniyaan, Krazzy 4, Kissan, Jai Veeru, Acid Factory, Fruit and Nut, Kurbaan, Luck By Chance, Hum Tum Aur Ghost, Shoebite, Love Breakups Zindagi, Johnny Mastana, Alibaug.
DIA MIRZA'S PAST LINK-UPS: In the past, Dia has been linked to Bunty Sachdev and Shoaib Akhtar.
Dia owes a debt of gratitude to Salman Khan. A few years back, Dia's mother Deepa suddenly fell unconscious. Since Dia stays half a kilometer (Flamingo Apartments, St Veronica Road, Bandra) from Salman Khan's House (Galaxy Apartments, Byramji Jeejeebhoy Road, Bandra), she called him for help. Salman responded immediately and helped Diya get her mother admitted in a hospital. The doctor's prognosis was that if there had been a delay in admitting Dia's mother, it would have proved fatal. Since then, Dia Mirza is a strong supporter of Salman Khan.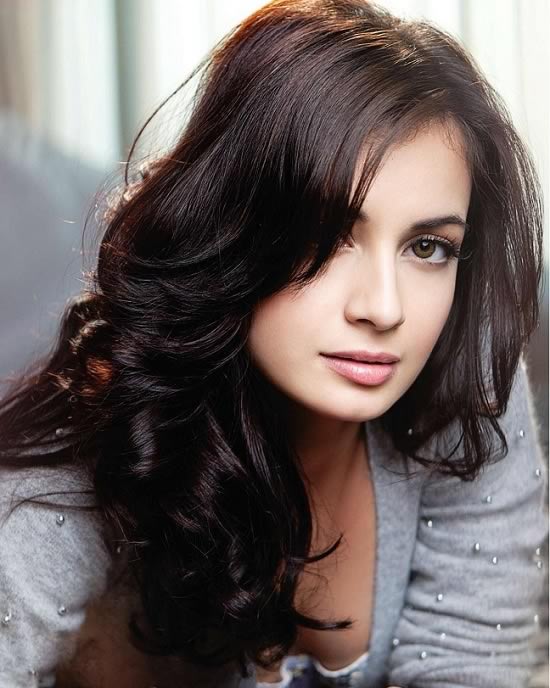 ---
RELATED ARTICLES:
Wedding of Indian Celebrities and Film Stars:
Wedding of Cricketers and Sport Stars:
Wedding of International Celebrities of Indian Origin:
---