Esha Deol's younger sister, Ahana Deol is engaged to marry Vaibhav Vohra in November, 2013. Ahana and Vaibhav first met at Esha's wedding. This link has info on Ahana Deol's Engagement and Wedding to Vaibhav Vohra.
---
Bharat Takhtani Family, Parents, Profile, Who Is He
Bharat Takhtani's father is Vijay Takhtani, who is a businessman; his mother is Puja Takhtani.
Bharat Takhtani's younger brother is Devesh Takhtani, who lives in Boston, Massachusetts, USA.
Bharat Takhtani and his parents live in Bandra, Mumbai. The family is probably in the jewelry business. Either Bharat or his relatives run R. G. Bangle Pvt. Ltd.
Bharat Takhtani studied at H.R. College of Commerce and Economics at Churchgate in Mumbai
Bharat did his higher schooling from Learner's Academy in Bandra.
Esha Deol and Bharat Takhtani were engaged on Feb 12, 2012 at Hema Malini's Juhu bungalow.
Both Bharat and Esha have been friends for a long time.
The Takhtani's are Sindhis.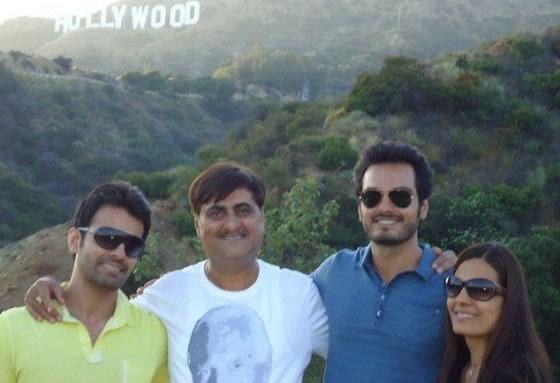 ---
Esha Deol and Bharat Takhtani's Reception on June 30
DATE: 30 June, 2012 (Saturday)
GUEST LIST: Over 2,000 friends of Dharmendra, Hema Malini and the Takhtani's
LOCATION: Hotel Lalit Intercontinental at Sahar, near Mumbai's International airport.
RECEPTION: Esha Deol and Bharat Takhtani's Wedding Reception was a glamorous event with guests from the Film Industry, Business and Politics attending the grand Reception. The newlyweds looked radiant and happy. Over 2,000 guests attended the Reception.
Esha looked beautiful in a lovely Pink "Lehenga" and Corset Blouse embroidered with Swarovski crystals. Esha Deol's dress was designed by Rocky S. Bharat looked tall and dashing in a smart Black Tuxedo which was designed by Simone Khambatta.
Esha's parents (Dharmendra and Hema Malini) arrived at the Reception along with Bharat's parents (Vijay and Puja Takhtani). Dharmendra looked charming in a Black suit and Hema Malini looked gorgeous in a Cream sari which was designed by Neeta Lulla. Esha's sister Aahana Deol work a dark Pink "Lehenga Choli".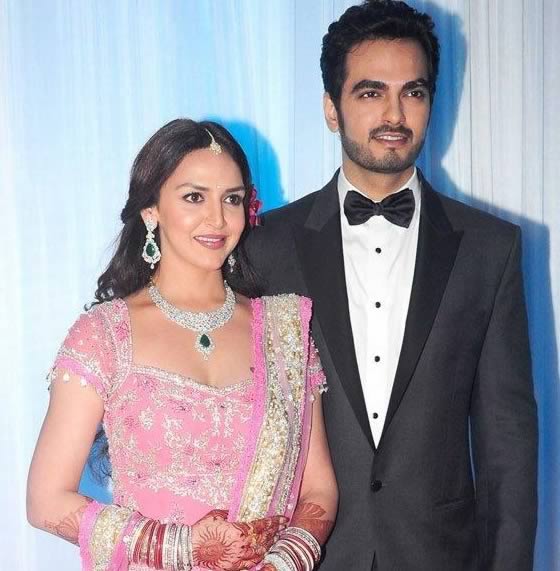 Politicians who came to the Isha Deol and Bharat Thatkani Marriage Reception included Lal Krishna Advani, Uddhav Thackeray (with wife Rashmi ), Raj Thackeray (with wife Sharmila), Chhagan Bhujbal, Amar Singh, Arun Jaitley, Sushil Kumar Shinde, Raj Babbar (with wife Nadira), Ravi Shankar Prasad, Sushma Swaraj (with daughter Bansuri) and Narayan Rane
Celebrities from the Movie industry who attended Esha and Bharat's Reception included Dilip Kumar with wife Saira Banu, Rekha, Salman Khan, Vidya Balan, Rani Mukherji, Kajol with mother Tanuja and sister Tanisha, Jeetendra with wife Shobha and son Tusshar Kapoor, Madhuri Dixit and husband Dr Nene, Madhoo, Anupam Kher with wife Kiron Kher, Boney Kapoor and Sridevi, Zeenat Aman, Fardeen Khan with family, Zayeed Khan with father Sanjay Khan and family, Tabu, Roop Kumar Rathod, Sushmita Sen, Mandira Bedi.
Surprisingly, Esha Deol's step-brothers (Bobby Deol and Sunny Deol) and step-sisters (Ajeita and Vijeta) were not present at either the wedding or the reception. Esha's cousins Abhay Deol and Madhoo Shah were present for all her marriage ceremonies. Abhay Deol was seen with his girlfriend Preeti Desai.
---
Esha Deol and Bharat Takhtani's Wedding Ceremony on June 29
DATE: 29 June, 2012 (Friday)
TIME: 7:30 am
LOCATION: ISKCON Temple, Juhu
GUEST LIST: Only close family and close friends of both families. From the film industry only Amitabh, Abhishek Bachchan, Manoj Kumar, Vyjayanthimala, Shatrughan Sinha, Fardeen Khan, Anu Malik, Ramesh Sippy and Vinod Khanna were invited.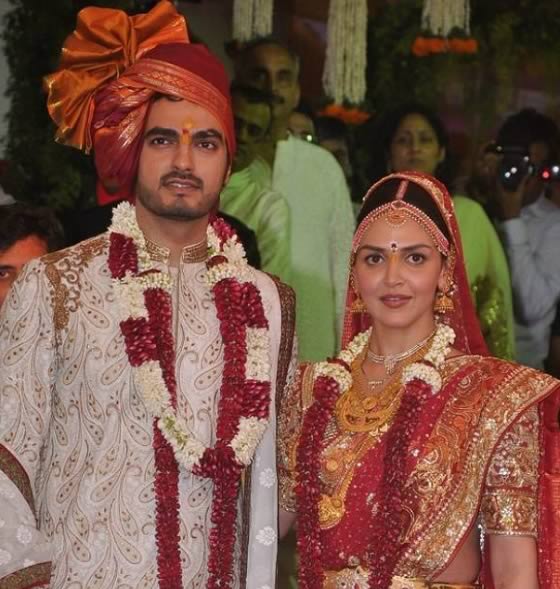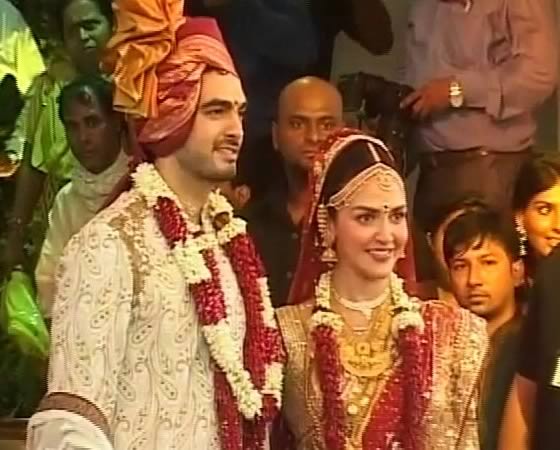 ESHA DEOL AND BHARAT TAKHTANI WEDDING CEREMONY
Esha Deol and Bharat Takhtani were married at the Juhu ISKCON temple on 29 June, 2012. In keeping with Tamil marriage rituals, the wedding preparations start early in the morning around 7:30am. A priest had specially come down from Tirupati Temple. Tamil and North Indian marriage rituals were performed at the wedding. Only close relatives and family friends attended the wedding. Amitabh, Abhishek Bachchan, Manoj Kumar, Vyjayanthimala and Vinod Khanna were among the few non-family and film industry members who attended the wedding. Bharat Takhtani arrived at the temple in a decorated horse carriage. Dharmendra and Hema Malini welcomed the groom and his guests with flowers. At the four corners of the Mandap were Banana leaves and Mango leaves.
Esha, Ahana and Hema Malini, all three wore beautiful Kanjeevaram/Kanjivaram saris. Hema Malani wore a Red-Orange Kanjivaram sari with a Green Blouse. Esha Deol wore a Red and Gold Wedding Kanjeevaram saree with a Golden Blouse. All the sarees were remodeled by Neeta Lulla. Esha wore lots of traditional Indian gold jewelry and an exquisite diamond choker around her neck. She also wore the traditional "Choora", which are traditional North Indian wedding bangles. Bharat Takhtani wore a smashing White Sherwani with Brown borders, designed by Neeta Lulla.
The rituals that were performed at the Esha Deol – Bharat Takhtani wedding were:
"Mangala Snanaan": Esha Deol took a bath at an auspicious time. A paste of Turmeric and Sandalwood along with oil was applied to Esha. An aarti was performed before Esha left home for the temple and a "Kappu" (Holy thread) was tied to her wrist to ward-off evil.
 "Jai Mala" or "Malai Mattal": Both Esha Deol and Bharat Takhtani and they exchanged garlands three times. This is a symbol of their union.
"Oonjal": After the exchange of garlands, Bharat and Esha sat on a swing and they were given milk and banana to eat. A Lamp was lit to ward off evil.
"Kanyadanam/Kannigadhaanam": Dharmendra formally gave the hand of Esha in Bharat's. This symbolized that he was giving his daughter, Esha, in her husband, Bharat's care.
"Muhurtum": Bharat Takhtani tied a lovely Mangalsutra around Esha Deol's neck.
"Saptapadi": Bharat and Esha took "Saat Pheras" (7 rounds) around the Holy Fire ["Agni"] to solemnize their wedding. Bharat led the first 3 "Pheras" and Esha took the lead in the remaining 4 "Pheras". Usually at Sindhi Weddings only 4 "Pheras" are performed. Significance of Saptapadi or Seven Pheras.
"Sammandhi Mariyathai" and "Grihapravesham": "Sammandhi Mariyathai" ("Bidhai") was the send-off ceremony. This was performed at Hema Malini's Juhu bungalow in the evening. "Grihapravesham" was performed at Bharat's house by his mother to welcome Esha into his household.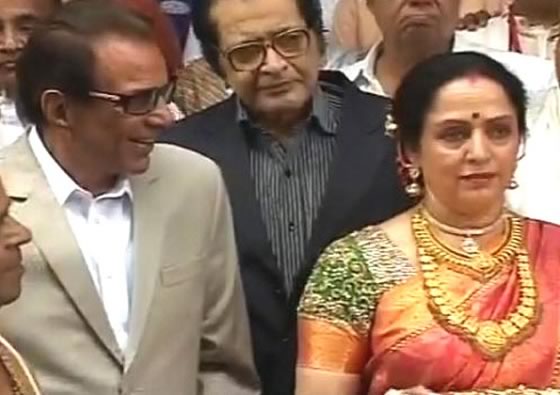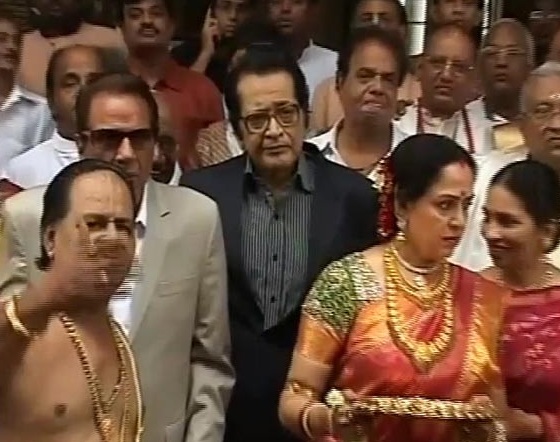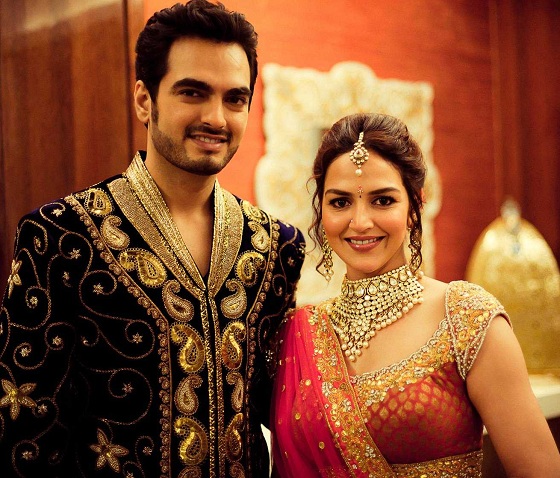 ---
Esha Deol – Bharat Takhtani's Sangeet Ceremony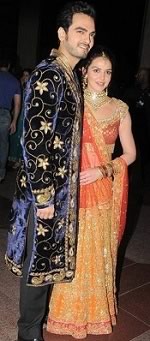 DATE: 25 June, 2012 (Monday)
LOCATION: Hotel Lalit Intercontinental at Sahar, near Mumbai's International airport.
SANGEET CEREMONY: The Sangeet started at 8:30pm and it was a relatively private ceremony with mainly close friends and family members. Among the film fraternity to attend the Sangeet ceremony were sisters Reema and Raima Sen, themselves newly weds Genelia D'Souza and Ritesh Deshmukh, Ranveer Singh, Naseeruddin Shah, Zayed Khan and wife Malaika Khan, Jackky Bhagnani, Arya Babbar, Alvira Khan, Sohail Khan. Esha Deol's cousins Madhoo (she is Hema Malini's niece) and Abhay Deol were also present. Abhay Deol had come with girlfriend Preeti Desai. The theme of the Sangeet was retro Disco.
Esha wore a traditional Ornage-Yellow-Red "Ghagra Choli" designed by Rocky S. The gold jewelry around her neck was just amazing. Bharat Taktani wore a smart Blue Velvet "Sherwani" with lovely embroidery in Gold, designed by Simone Khambatta. Hema Malani looked stunning and happy in a Pink-Cream sari designed by Neeta Lulla. At the age of 63, Hema Malani looks graceful.
(click on image to enlarge)
---
Esha Deol – Bharat Takhtani's Mehendi Ceremony
DATE: 28 June, 2012 (Thursday)
MEHENDI CEREMONY: For her Mehendi ceremony, Esha Deol wore a Orange-Yellow-Green "Lehenga" by designer Neeta Lulla. Sister Ahana Deol loves "Anarkali" dresses. She wore a Orange-Red "Anarkali". Radiant mother Hema Malini wore an elegant Greenish-Orange Sari by Neeta Lulla. Bharat Thakhtani's mother wore a Red-Orange sari and both Bharat and his brother were dressed in Kurtas.
Esha Deol's intricate Mehendi was applied by famous Mehendi artist Veena.
 (click on image to enlarge)
---
Esha Deol's Profile
Esha Deol is the eldest daughter of Hema Malini and Dharmendra. She was born on November 2, 1981.
Esha Deol made her movie debut in 2002 with Koi Mere Dil Se Pooche, for which she won a Filmfare award for best debut.
Since then she has acted in 28 movies, the latest being "Tell Me O Kkhuda" which has both her parents (Dharmendra and Hema Malini) in it. Esha wants to continue acting and perform dance recitals after her wedding.
Esha will next be seen opposite Rahul Bose in the comedy "Ghost Ghost Na Raha".
Outside of movies, Esha is proficient in dance and sports. Esha is classically drained dancer in Odissi and Bharatanatyam. She has performed these dances many times on stage, usually with her mother, Hema Mallini.
Esha has represented her school in football and was selected for the Indian national football team. She also represented Maharashtra in handball.
---
Ahana Deol's Wedding Range
It will be interesting to see whether Esha Deol's sister, Ahana Deol, will help in designing her bridal trousseau. Ahana Deol is a budding designer who will launch her bridal wear range in October, 2012, coinciding with the 2012-2013 marriage season. According to Ahana, if she were to design Esha's bridal trousseau, she would design a South Indian Bridal Saree for Esha's wedding and a "Ghagra Choli" for the wedding reception. The colors that Ahana would use are red, royal peacock blue and sea green. Ahana would like to dress her mother in an "Anarkali" outfit.
Ahana is currently showcasing her summer casual wear under the "Divinorum" label. With the launch of her bridal wear range, Ahana Deol will also launch her website to showcase and sell her original designs. Ahana has also designed the costumes for all the participants of the reality show, "India's Got Talent".
---
RELATED ARTICLES:
---