This is a list of the most famous celebrity weddings of 2011. On top of this list is the marriage of Prince William and Kate Middleton.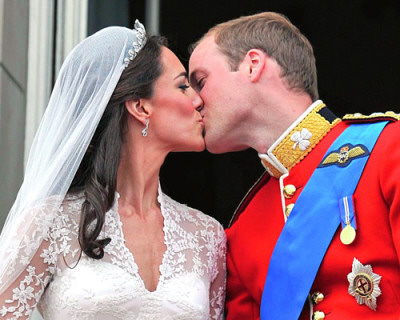 Prince William and Kate Middleton – 2011, Wedding of The Year
Prince William's wedding to Catherine (Kate) Middleton (Catherine Elizabeth, Duchess of Cambridge) qualifies as the most famous wedding of 2011. They royal marriage took place on April 29, 2011 at Westminster Abbey in London. The royal couple first met in 2001 when they were studying at the University of St Andrews, Scotland. Over 5000 street parties were held to mark the Royal wedding throughout UK. It is estimated that one million people lined the route between Westminster Abbey and Buckingham Palace.
Royal Wedding of Bhutan's King Jigme Khesar Namgyel Wangchuck and Queen Jetsun Pema
This was the Royal wedding of 2011 in the Indian sub-continent. 31 year old King Jigme Khesar Namgyel Wangchuck is the 5th Dragon King ("Druk Gyalpo") of Bhutan. On October 13, 2011, he married 21 year old Jetsun Pema in a traditional Vajrayana Buddhist ceremony at the Punakha Dzong Palace in Punakha, Bhutan.
Wedding of Gautum Gambhir and Natasha Jain
Indian opening batsman Gautum Gambhir, married Natasha Jain on October 28, 2011. Virendra Sehwag, his wife Arti, Yuvraj Singh, Juhi Chawla, her husband Jai Mehta, Rahul Dravid, VVS Laxman, Ishant Sharma, Munaf Patel and Ashish Nehra were present at the wedding.
Wedding of R Ashwin and Preethi Narayanan
Indian cricketer Ravichandran Ashwin (R Ashwin) married his childhood friend Preethi Narayanan on November 13, 2011. Two days after his marriage, Ashwin was playing for India in the test series against the West Indies. Marriage seems to have done wonders for R Ashwin because in the 3 test match series against the West Indies, he won 2 Man of the Match awards and the Man of the Series award.
Wedding of Mahesh Bhupati and Lara Dutta
Indian tennis ace Mahesh Bhupati married Indian actress Lara Dutta on February 16, 2011. Mahesh Bhupati has won 4 Doubles Grand Slam titles and 11 Mixed Doubles Grand Slam titles. Lara Dutta was Miss Universe 2000. Mahesh Bhupati and Lara Dutta are expecting their first child in January, 2012.
Wedding of Vijender Singh with Archana Singh
Indian Olympic Boxing Champ Vijender Singh married Archana Singh on March 17, 2011. Vijender Singh won a bronze medal at the 2008 Olympics. Delhi girl Archana Singh is a software engineer.
Wedding of Paul McCartney with Nancy Shevell
Sir Paul McCartney married American businesswoman Nancy Shevell on October 8, 2011. This is Paul McCartney's third marriage. Nancy Shevell is a member of the board of the New York Metropolitan Transportation Authority, as well as vice president of a family owned transportation conglomerate. Nancy Shevell is a breast cancer survivor. Paul McCartney's first wife, Linda McCartney died of cancer.
Wedding of Daniel Craig and Rachel Weisz
Two of UK's biggest movie stars married in a very simple ceremony in New York on June 22, 2011. The wedding was attended by just four people. The 4 guest included Daniel's 18 year old daughter, Ella, Rachel Weisz's 4 year old son, Henry and two friends of the couple.
Wedding of Kim Kardashian and Kris Humphries
Kimberly (Kim) Kardashian married her second husband NBA player, Kris Humphries, of the New Jersey Nets, on August 20, 2011. Reality TV star Kim Kardashian's wedding was well publicized in the media. Just 72 days into the wedding, Kim Kardashian filed for divorce from Kris Humphries on October 31, 2011, citing irreconcilable differences. Given the short duration of the marriage, some media analysts have suggested that the wedding was a publicity stunt.
Royal Wedding of Prince Albert II of Monaco and Charlene Wittstock
The civil wedding of Prince Albert II of Monaco and Princess Charlene of Monaco took place on July 1, 2011. This was followed by a religious wedding on July 2, 2011. The 53 year old prince is the head of the House of Grimaldi, who are the rulers of the Principality of Monaco. Prince Albert II is son of Prince Rainer III and Hollywood actress Grace Kelly. This is Prince Albert's first marriage, although he has two children out of wedlock. Charlene Wittstock is a former South African Olympic swimmer.
Wedding of Robin Williams and Susan Schneider
Hollywood actor and comic Robin Williams married graphic designer Susan Schneider, on October 23, 2011. This is Williams' third marriage. Steven Spielberg, George Lucas, Billy Crystal were among some of the friends who attended the wedding.
Wedding of Gul Panag and Rishi Attari
Former Miss India Gul Panag married long time boyfriend Rishi Attari on March 13, 2011 in Chandigarh. Gul Panag has known Rishi Attari since the age of 14. Rishi was the head boy of the school that the two of them went to. 150 guests rode to the wedding on motorbikes.
Wedding of Vivek Oberoi and Priyanka Alva
Bollywood actor Vivek Oberoi married Priyanka Alva on October 29, 2011 in Bangalore. Vivek Oberoi is the son of Bollywood actor Suresh Oberoi. Priyanka Alva is the daughter of former Karnataka minister Jeevaraj Alva.
Wedding of Neelam Kothari and Samir Soni
Neelam and Samir Soni were married on January 24, 2011. Samir Soni acts in Hindi movies and Television serials. Neelam was a successful Hindi film actress who left the film industry in 2001. She is now a famous jewelry designer. This is a second marriage for both Neelam and Samir.
Wedding of Reese Witherspoon and Jim Toth
Oscar winning actress Reese Witherspoon married Jim Toth on March 26, 2011 in Reese's country estate in Ojai, California. Reese's daughter, Ava, served as maid of honor. Reese Witherspoon has won an Oscar for playing the role of June Carter Cash in the Johnny Cash biopic "Walk The Line". Jim Toth is a Hollywood agent.
Wedding of Sofia Coppola and Thomas Mars
Oscar winner Sofia Coppola married partner Thomas Mars on August 27, 2011 in Bernalda, Italy. The couple first met during the making of "The Virgin Suicides". Sofia and Thomas have two daughters, Romy and Cosima. Sofia Coppola is the daughter of Francis Ford Coppola, the niece of Talia Shire and the cousin of Nicolas Cage. Thomas Mars is the vocalist of French indie rock band Phoenix.
Wedding of Shania Twain and Fredric Nicolas Thiebaud
Singer, songwriter Shania Twain married Swiss business executive Frederic Thiebaud on January 1, 2011 in Rincón, Puerto Rico. The twist in the tail is that Shania Twain divorced her first husband, Robert John "Mutt" Lange, because he had an affair with Frederic Thiebaud's wife at that time, Marie-Anne Thiebaud. This marriage seems like poetic justice.
Wedding of Sinead O'Connor and Barry Herridge
Irish singer, songwriter Sinead O'Connor married Barry Herridge on her 45th birthday on December 8, 2011. The couple was married in the back of a pink Cadillac in Las Vegas. Sinead O'Connor is a mother of four and this is her fourth wedding. In 2000, she has declared that she was bi-sexual.
Wedding of Charles Spencer and Karen Gordon
Charles Spencer, the brother of Princess Diana married Canadian Karen Gordon on June 18, 2011 at Althorp House, his family stately home in Northamptonshire. This is Charles Spencer's third marriage and he has 6 children from his previous marriages. Karen Gordon is a Canadian social entrepreneur and former model. She is the founder and CEO of Whole Child International, which is a Los Angeles-based charity that works to improve the lives of orphaned, abandoned, or abused children.
Wedding of Kate Moss and Jamie Hince
British supermodel Kate Moss married guitarist Jamie Hince on July 1, 2011 at Southrop in Gloucestershire. This is Kate Moss' first marriage. She has a 9 year old daughter. Jamie Hince is the guitarist of the indie/post punk rock band "The Kills".
Wedding of Seth Rogen and Lauren Miller
Actor Seth Rogen married long time girl friend Lauren Miller on October 2, 2011, in Sonoma, California. Seth Rogen is a successful Hollywood actor, producer, screenwriter, stand-up comedian, and voice artist. Lauren Miller is a screenwriter. Seth and Lauren first started dating in 2004.