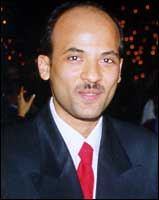 Sooraj Barjatya has continued with the Rajshri Production's tradition of wholesome entertainment for the entire family. All his movies are about boy meeting girl, traditional Indian values, large joint families, etc. At the heart of his movies is the big Indian Shaadi or Indian Wedding.
1] Maine Pyar Kiya (1989): Sooraj Barjatya's first Hindi movie as director. It was a massive hit and it helped revive the fortunes of Rajshri Productions. This was also the first major hit for Salman Khan who is today among the top 3 Bollywood actors. This movie also marked the debut of Bhagyashree. Among the star cast were the late Laxmikant Berde as Salman Khan's side kick and Mohnish Behl. Many of the trademark Barjatya set pieces are present in this movie; these include young boy meeting girl, traditional Hindu wedding, traditional Indian family values, large Indian joint family, lovely songs, etc. Music is by Raam Laxman.
The story is about the son (Salman Khan) of a rich business man falling in love with his poor mechanic friend's daughter (Bhagyashree).
2] Hum Aapke Hain Koun (1994): This was Barjatya's second movie as director and he repeated many cast members from his first Hindi movie – Salman Khan, Mohnish Behl, Laxmikant Berde, Reema Lagoo, Alok Nath, Ajit Vachani. Raam Laxman again composed the melodious music. This was one of M.F. Hussain's favorite films and he painted a series of Madhuri Dixit paintings based on this Hindi movie.
Sooraj Barjatya's blockbuster centers around the wedding of Mohnish Behl and Renuka Shahane. During the cource of the wedding celebrations, Madhuri Dixit (sister of the bride) falls in love with Salman Khan (brother of the bride). This movie is a remake of an earlier Rajshri Productions Hindi movie Nadiya Ke Paar (1982). This is one of the most successful Hindi films of all times.
3] Hum Saath-Saath Hain (1999): Sooraj Barjatya's third film as director is loosly based on the Indian epic Ramayan. Mohnish Behl played the role of Ram, Salman Khan played the role of Bharat and Saif Ali Khan played the role of Laxman. This was Sooraj Barjatya's third super hit movie in a row.
This multi starrer also had Krishma Kapoor, Tabu, Sonali Bendre, Reema Lagoo and Alok Nath. Music was once again by Raam Laxman.
4] Main Prem Ki Diwani Hoon (2003): Sooraj Barjatya seemed to have lost his magic touch with this movie. Based on the Hindi film Chitchor, this movie had Hrithik Roshan, Abhishek Bachchan and Kareena Kapoor. This story is about mistaken identity and an Indian wedding.
5] Vivah (2006): Sooraj Barjatya's take on Indian marriage and Indian tradition. Amrita Rao is a small town girl from a middle class family who marries (Vivah) rich businessman Shahid Kapoor.
This was Sooraj Barjatya's fifth movie as director and it's response was better than Main Prem Ki Diwani Hoon. As with all his previous four Hindi movies, the name of the main male character is "Prem" (love).