An Indian groom and bride can marry under the "Special Marriage Act, 1954" if they belong to different religions or different communities or if the couple does not want to marry in a religious ceremony.
Marriage where both the groom and the bride belong to the same religion, are covered under separate Indian Marriage laws.
Unlike the other Indian Marriage Acts, where the marriage needs to be solemnized in a religious ceremony and then the marriage is registered; in case of the Special Marriage Act, 1954, the registration of the marriage is the solemnization of the marriage.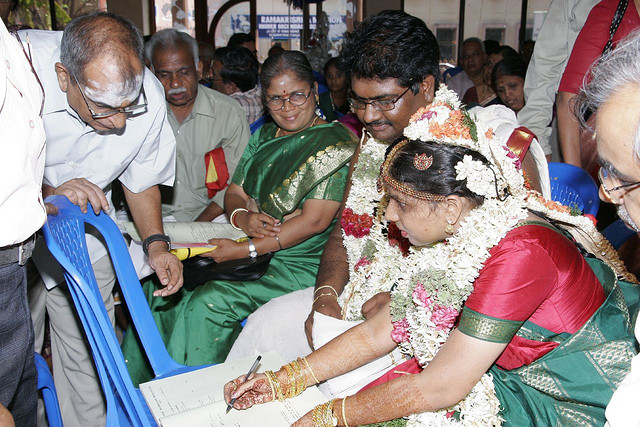 Indian Special Marriage Act, 1954
Key features of this act are as follows:
This marriage act can solemnize a marriage.
The groom must be at least 21 years of age and the bride must be at least 18 years of age.
The groom and bride cannot be blood relatives and cannot share common ancestors.  37 relations are specified by the act where marriage cannot take place.
Both the groom and bride should be of sound mind.
Notices of intended marriage: 30 days before the actual marriage date, the couple needs to fill up a form (Second Schedule) and submit it to the local Marriage Officer.
Marriage Notice Book and publication: On receiving the marriage application, the Marriage Officer will make an entry in the Marriage Notice Book. The Marriage Notice Book can be inspected by anyone during office hours.
The Marriage Officer will also put up a copy of the marriage application in the marriage office. If the permanent resident of the couple is another district, then the Marriage Officer will provide a copy to that district's Marriage Officer to put up in his/her office.
Objection to marriage: In the 30 day notice period anyone can raise an objection based on the rules in section 4 of this act. Objections will be noted in the Marriage Notice Book.
The Marriage Officer has to investigate the objection within 30 days of receiving it. The Marriage Officer will have the same powers as those vested in an Indian Civil Court. If the Marriage Officer upholds the objection, then the groom and the bride can appeal to the District Court.
Declaration before the Marriage: The marriage can be solemnized either at the Marriage Officer's office or at a place of the couple's choosing. Before the marriage, the couple, three witnesses and the Marriage Officer need to sign a declaration form (Third Schedule).
Solemnization of the Marriage: Marriage may be solemnized in any form which the couple chooses. The groom and the bride must in the presence of the three witnesses and the Marriage Officer say to each other "I (name) take thee (name of spouse), to be my lawful wife/husband".
Marriage Certificate: The Marriage Officer will issue a marriage certificate.
After this, Registration of marriage also needs to be done.
Image by arthivraman. Covered by Creative Commons (CC BY-NC-ND 2.0)