In May, 2011, India's largest Matrimonial website, "Shaadi.com", published the results of a huge marriage based survey that they conducted with research agency IMRB. The Indian marriage survey was based on the opinions of around 150,000 users of the site in 300 Indian cities and towns. Site users, especially NRIs, from UK, US, Australia and Canada were also surveyed. 62% of the respondents were male, of these, over 50% were in the 26-35 age group. In the words of the website, the objective of this large survey was to "try and understand the psyche of an average marriage hopeful and the way matchmaking trends are changing and evolving".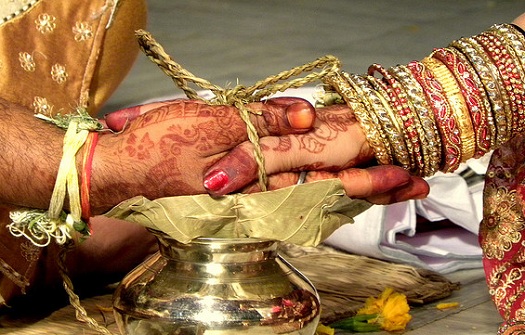 Listed below are some of the key findings of the Indian marriage survey ("Shaadi Aaj Kal"). Note that since this is a survey of internet users, the respondents tend to be more tech savvy, better educated, and more urban centric than the average Indian.
A large number of women (54%) prefer to stay in a "joint family" after marriage as against only "21%" who prefer to stay in a nuclear family. A joint family provides a support system for the married couple. Surprisingly, in a similar survey in 2004, only 40% of the women wanted to stay in a "joint family".
Almost 50% of the respondents said that they would marry their partner even if they did not get along with their future in-laws.
85% of the male respondents wanted their future wives to work after marriage. Since the respondents are mainly urban centric, this is not surprising; although a high figure of 85% is refreshing.
69% of the women want their partner to be better educated than them, whereas only 10% of the men wanted their potential wives to be better educated than them. This does not mean the Indian male is entirely chauvinistic; 62% of the men would prefer their future wives to be as educated as them. 43% of women and 40% of men would prefer their future partner to be a postgraduate.
34% of the women respondent did not mind marrying a partner who made less than them. The percentage for men was 94%.
72% men prefer to marry a girl who is younger than them. 89% of women prefer to marry a man who is older than her.
Men (62%) prefer larger families as compared to women (38%). 70% of the women felt that raising a child is time consuming and 58% also thought that raising a child is a serious commitment.
Which celebrity would make the ideal father? Surprisingly, almost 40% of the respondents felt that Salman Khan, the die-hard bachelor, would make the ideal father. At second place is the other bachelor icon, Rahul Gandhi.
47% married couples in India discussed their past relationship before marriage. This trend was more prevalent in East India. Bulk of these couples (66%) wanted to reveal their past relationships because they did not want it to affect their future
49% of the men wanted a "fair complexioned" bride. This is up from 41% in the 2004 survey. Women, on the other hand, are more accepting of dark skinned men, with 65% saying that the color of their husband's skin is not important.
For young urban Indians caste is not as important as it used to be. 54% men and 46% of the women said caste was not an important parameter in their selection criteria. for them, finding a compatible partner is more important than finding a partner from the same caste.
69% of women would prefer it if their partner worked for a private sector organization.
A large majority of women (90%) were willing to relocate to another country if their husband's job required them to relocate.
Couples are become pragmatic about marriage. 70% of the women and 62% of the men were comfortable with the idea of pre-nuptial agreements.
---

RELATED ARTICLES:
---
Image by Anubhav Gaurav. Image used under creative Commons license CC BY-NC-SA 2.0.

---