Sachin Tendulkar's Wife, Anjali Tendulkar, Son, Daughter, In-Laws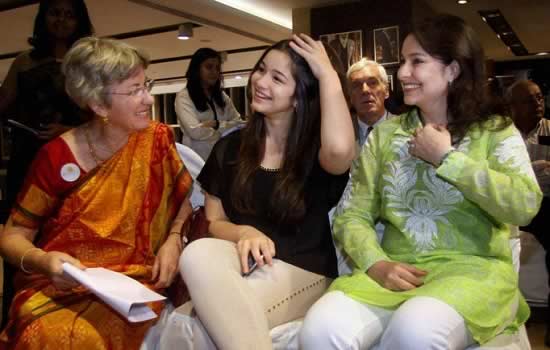 ---
Anjali Tendulkar's Profile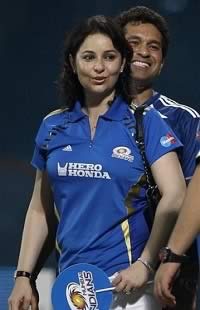 Anjali Mehta was born on November 10, 1967. Her mother, Annabel Mehta, is British and her father, Anand Mehta, is a rich Gujarati businessman.
Anjali Tendulkar (Mehta) grew up in the bungalow opposite the US consulate at Warden Road (75, Bhulabhai Desai Road) in South Bombay.
Anajli Tendulkar did her schooling from Bombay International School in South Mumbai. She completed her 11th and 12th standard from St Xavier's College at Dhobi Talao.
Sachin Tendulkar's wife, Dr Anjali Tendulkar, is a pediatrician by training. She studied to become a doctor (MMBS) and Pediatrician (Post-Graduation) at Mumbai's Grant Medical College (JJ Hospital). Dr Anajli Tendulkar is a Gold Medalist from Grant Medical College.
Since the early 20th century, Anjali Tendulkar's family has been wealthy. Her great-great grandfather (Vijbhucandas Atmaram) owned many properties in South Bombay's posh localities of Malabar Hill and Warden Road.
Anjali Tendulkar is five and a half years older than Sachin Tendulkar, who was born on April 24, 1973. At 5 feet 6 inches, Anjali is an inch taller than Sachin.
---
Sachin Tendulkar's Daughter, Sara Tendulkar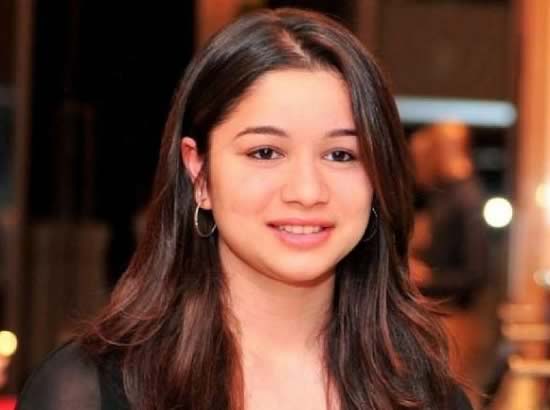 Anjali and Sachin Tendulkar's daughter, Sara Tendulkar, was born on October, 12, 1997 at Mumbai's Breach Candy Hospital.
Sarah Tendulkar, like her brother, Arjun, studies at Dhirubhai Ambani International School.
---
Sachin Tendulkar's Son, Arjun Tendulkar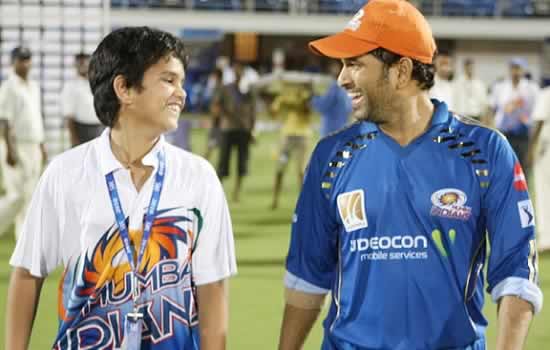 Anjali and Sachin Tendulkar's son was born on September 24, 1999.
Arjun Tendulkar is a budding cricketer who bats left handed and bowls left hand medium pace. Arjun Tendulkar was selected to represent Maharashtra in Under 14 matches.
---
Anjali Tendulkar's Parents Annabel & Anand Mehta (Sachin's In-Laws)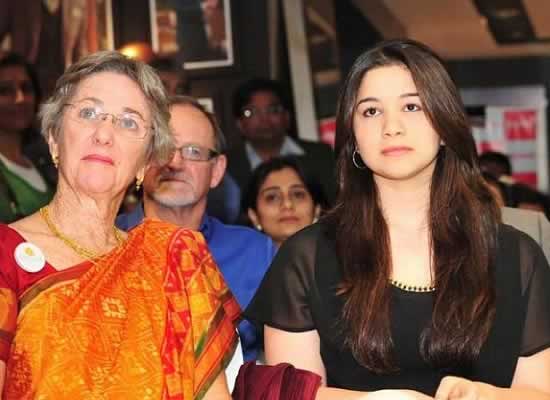 Sachin Tendulkar's mother-in-law (Anjali Tendulkar's mother) is Annabel Mehta, and she is from England.
Sachin Tendulkar's father-in-law (Anjali Tendulkar's father) is Anand Mehta. He is an industrialist.
Anand Mehta and Annabel met as students at the London School of Economics (LSE). Annabel was studying at LSE for a diploma in social administration. Anjali Tendulkar's parents moved to India in 1966.
In Mumbai, Annabel Mehta took up social work. She helped in the set up of Spastics Society of India. She joined the NGO "Holland Welfare Centre", which was later renamed "Apnalaya". "Apnalaya" helps slum children towards a better life by providing healthcare and education. "Apnalaya" is also involved in empowering poor women. Annabel Mehta is the "Honorary Treasurer" of "Apnalaya".
Every year, Sachin Tendulkar sponsors 200 underprivileged children through "Apnalaya".
In addition to being a successful businessman, Anjali Tendulkar's father, Anand Mehta, is a seven time Indian Bridge champion. Anand Mehta has represented India in International Bridge tournaments.
Anjali Tendulkar's paternal grandmother, Amarganga Mehta, was the youngest sister of Pupul Jayakar. Pupul Jayakar was a writer and Indian cultural activist who helped popularize Indian art in the West.
Pupul Jayakar was the biographer and close friend of Indian Prime Minister Indira Gandhi and philosopher J Krishnamurti. There are reports that Anjali Tendulkar was seen on multiple occasions at Indira Gandhi's residence. In 2012, the Congress let UPA government nominated Sachin Tendulkar to the Rajya Sabha as a Member of the Indian Parliament (MP). Anjali Tendulkar's aunt, Radhika Herzberger, received a "Padma Shri" (India's fourth highest civilian award) in 2013 for education.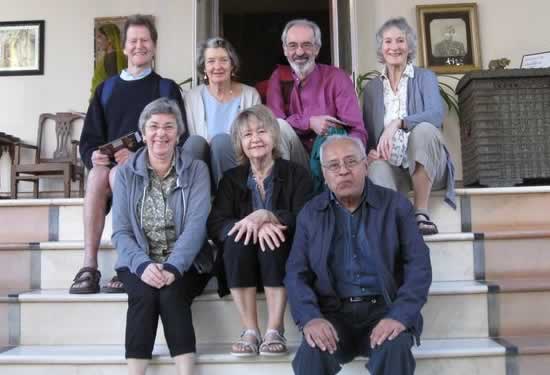 ---
Anjali and Sachin Tendulkar's Marriage and Wedding Pictures
Sachin and Anjali Tendulkar Love Story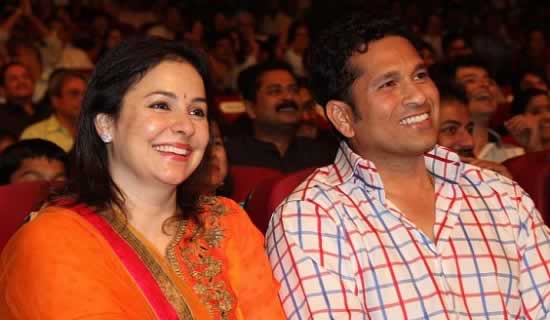 Sachin Tendulkar and Anjali Mehta first met in 1990 at the Mumbai International Airport. Sachin was return with the Indian cricket team after a tour of England and Anjali was waiting to receive her mother, Annabel Mehta, who too was returning from England.
Not being a cricket fan, Anjali did not recognize Sachin at their first meeting. There was an attraction between the two at their first meeting. Sachin Tendulkar was 17 and Anjali Mehta was 22 when they first met.
Both Anjali and Sachin decided to pursue their friendship further, but away from the press and the public eye.
As Sachin's fame grew, it became difficult for him and Anjali to meet in public places. Sachin would often visit Anjali at Grant Medical College – JJ Hospital, where Anajli was training to become a doctor. Anjali's ancestral bungalow in Lonavala was another place where the young couple used to meet.
After a 4 year long courtship, Sachin and Anjali Tendulkar were engaged in New Zealand in 1994. Sachin Tendulkar and Anjali Tendulkar were married on 24 May, 1995.
Despite Anajli coming from a rich, cosmopolitan South Bombay background, as compared to Sachin, who grew up in a middle class Central Bombay family; and despite their age difference, Anjali and Sachin Tendulkar have had a long and happy marriage.
---
Sachin and Anjali Tendulkar's Wedding Pictures
(Please click on Sachin and Anjali Tendulkar's Wedding Picture to Enlarge)
---
Info on Sachin Tendulkar and Anjali Tendulkar's Wedding
Sachin Tendulkar and Anjali Mehta were engaged in 1994 in New Zealand where Sachin was touring as part of the Indian cricket team.
Sachin and Anajali Tendulkar's formal engagement ceremony took place on on May 23, 1995, one day before their wedding. The engagement ceremony took place at Breach Candy Club and was hosted by Anajli's Lebanese uncle Mohammad El Ariss.
Anjali and Sachin Tendulkar were married as per Hindu marriage customs at Jewel of India in Worli, Mumbai. Sachin had turned 22 a month earlier and Anjali was 27.5 years old.
At Sachin and Anjali Tendulkar's wedding, guest had been requested not to carry their cameras. Although the press and photographers were not allowed where the actual wedding took place, the young couple did step out to pose for photographers.
The relative private wedding of Anjali Tendulkar and Sachin Tendulkar is how they have lived their married life. Away from the cricket field, the Tendulkars have stayed away from the press, giving very few interviews and shielding themselves and their children from the press.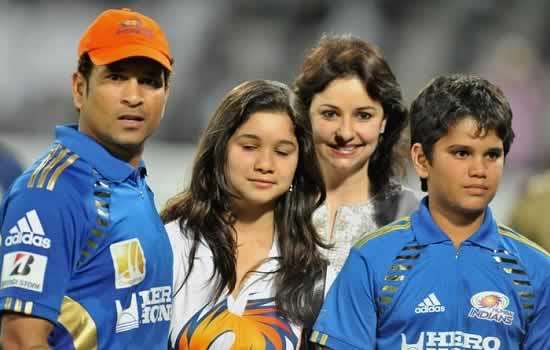 ---
RELATED ARTICLES:
Wedding of Cricketers and Sport Stars:
Wedding of Indian Celebrities and Film Stars:
Wedding of International Celebrities of Indian Origin:
---