Photo of Kunal Nayyar and Neha Kapur's Wedding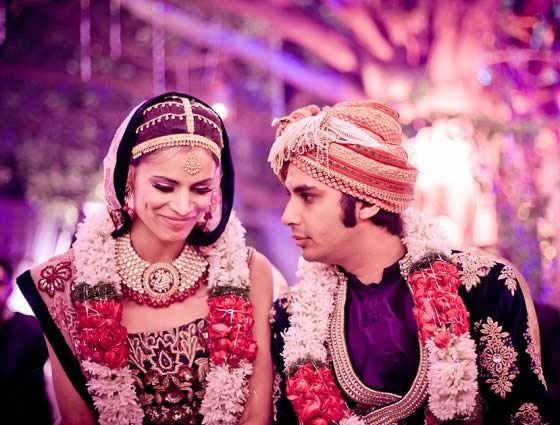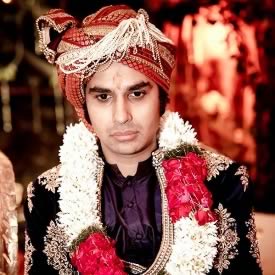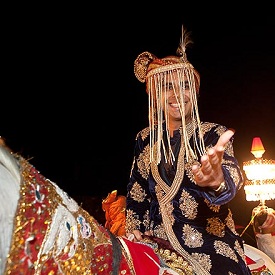 (Please click on Image to Enlarge)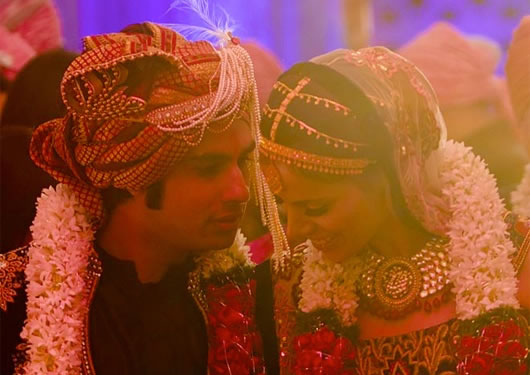 TABLE OF CONTENT
Kunal & Neha's Wedding
Neha Kapur – Miss India Winner
Kunal & Neha's Pictures
Kunal In The Big Bang Theory
Kunal Nayyar
---
Details of Neha Kapur & Kunal Nayyar's Marriage
Indian actor Kunal Nayyar (Dr Raj Koothrappali of "The Big Bang Theory") married former Miss India, Neha Kapur, on December 22, 2011. Kunal and Neha's wedding in New Delhi was a typical Big Indian Punjabi wedding.
Kunal Nayar and Neha Kapur first met in New Delhi in 2008 when Neha's friends invited her to meet Kunal in a bar. According to Kunal, the first thing he said to her was "Hey, sit down. I'll buy you a drink". Neha remembers that when they met, Kunal was wearing a cap and reading glasses and she couldn't see his face properly. They sat at a corner table and talked for 3 hours. For Kunal, it was love at first sight. For the next 9 days that Kunal was in Delhi, they spent every day together. At the end of his India trip, Kunal was clear that he wanted to take their relationship forward. He asked Neha to come to LA and 3 weeks later, Neha was in LA.
Both Kunal Nayyar and Neha Kapoor are Indian Hindu Punjabis from New Delhi, India. Kunal and Neha had a typical Punjabi marriage spread over 6 days. Kunal Nayar and Neha Kapor's wedding included traditional Punjabi marriage ceremonies of "Sangeet" (Song and Dance, where the songs can get raunchy), "Mehendi" (traditional Henna tattoo on hands, arms, legs) , the Wedding (with the exchange of garlands,  7 "Pheras" around Holy Fire, "Kanyadaan", "Bidaai", etc) and the Marriage Reception.
On Dec 22, 2011, Kunal Nayyar arrived on a white horse for his wedding. He wore an embroidered navy blue traditional "Sherwani" His face was covered with a traditional "Shera" ("Beaded Veil"). Neha wore an exquisitely embroidered "Lehanga Choli" and beautiful traditional Indian wedding jewellery, which included a Ruby and Kundan neck-piece.
She was escorted to the wedding "Mandap" (alter) under a canopy of flowers. The marriage ceremony started with the "Varmala" ritual (also called "Jai Mala") where Neha and Kunal exchanged garlands. The main wedding ritual was the "Saat Pheras" where Kunal and Neha walked 7 times around a Holy Fire (please see image above of Kunal & Neha dropping puffed rice in the holy fire) . With each circle around the fire, Kunal Nayyar made a sacred promise to his wife, Neha. For the first 3 Pheras Kunal led Neha and for the remaining 4 Pheras, Neha led Kunal. This ritual was followed by the "Kanyadaan" where Neha's father gave her hand to Kunal.
Kunal Nayyar and Neha Kapur's wedding ceremony was followed by an 8 course buffet dinner, which included Punjabi, Kashmiri, Awadhi, Chinese, Oriental and Teppanyaki dishes.
Kunnal Nayar and Neha Kapur's wedding reception was held on December 23, 2011 at the Delhi Gymkhana and was attended by over 1000 guest. From the below pictures, it seems the two of them had a great time.
Kunal Nayar on his Secret of Happy Married Life with Neha Kapur
Kunal Nayyar shares funny secrets with Ellen Degeneres on the reasons for his happy marriage to Neha Kapur.
---
Kunal Nayyar & Neha Kapoor at their Wedding Reception
---
Neha Kapur's Profile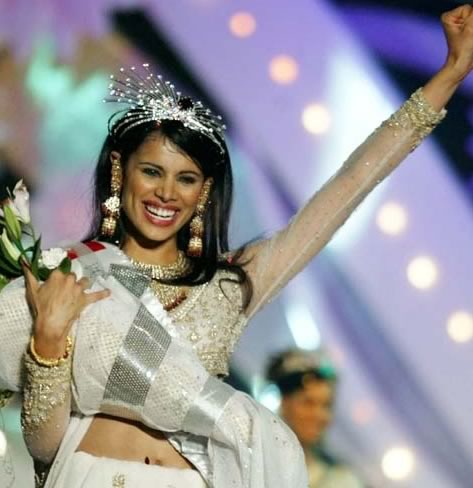 Neha Kapur and Miss India Pageant: Neha won the Femina Miss India beauty pageant in 2006.
Neha Kapur and Miss Universe: Neha Kapoor represented India at Miss Universe 2006 where she was a semi-finalist.
Neha Kapur's Education: Neha is a graduate in Fashion Design. She went to Springdales School at Dhaula Kuan in New Delhi
Neha Kapur's Height: 5'9.5″ (176.5 cm). Husband Kunal Nayyar's height is 5'8″  (173 cm).
Neha Kapur's Parents and Family: Neha Kapur has 2 doting elder brothers. Neha Kapur's father is a Punjabi and her mother is a Bihari.
Neha Kapur's Religion: Just like her husband, Neha is a Hindu Punjabi.
Neha Kapur's Modeling Career: Since 2003 Elite Model Management has represented Neha. Neha has done ads for Pantaloons, Red Tape, Tuscan Verve, Sunsilk, and has walked the ramp for Indian designers Malini Ramani, Ritu Kumar, Rohit Bal, Satya Paul, Siddharth Tytler, Tarun Tahiliani, Rohit Gandhi and Rahul Khanna. Neha has also appeared on the cover of Indian Magazines Elle, Femina, Man's World, India Today, L'Officiel, Travel Plus.
Neha Kapur Works For: Neha works for Elan Celebrity & Talent Management Pvt Ltd which is a celebrity and model management company. Neha Kapur has modelled for Indian brands such as Sunsilk, Pantaloons, Red Tape, etc. She has also modelled for famous Indian Designers like Ritu Kumar, Rohit Bal, Malini Ramani, Satya Pal, etc.
Neha Kapur and Indian Classical Dance: Neha has studied the Indian classical dances of Kathak and Bharatanatyam.
Other Info on Neha Kapur: Neha has two elder brothers and she is fondly called "Niaze" . Neha enjoys painting, English movies (favorite movie "Cat on a hot tin roof") and reading. At one point she wanted to study Art Restoration. Before the 2006 Femina Miss India contest, Neha underwent a Rhinoplasty procedure on her nose. Neha is getting used to driving on the right side of the road. Her husband Kunal told Ellen Degeneres, "If you ever see someone driving on the wrong side of the road, it's probably my wife".
---
Neha Kapur's Pictures
(Please click on Image to Enlarge)
---
Kunal Nayyar (Raj Koothrappali) and Wife, Neha Kapur, Post Their Wedding
(Please click on Kunal and Neha's Image to Enlarge)
---
Photos of Neha Kapur and Kunal Nayar Before Marriage
(Please click on Neha and Kunal's Image to Enlarge)
---
Kunal Nayyar as Raj Koothrappali in Big Bang Theory
Raj Koothrappali In Love On The Big Bang Theory
(Please click on Image to Enlarge)
---
Kunal Nayyar and "The Big Bang Theory"
 (Please click on Image to Enlarge)
Season 7 of "The Big Bang Theory" premièred in the United States on September 26, 2013.
Rajesh Koothrappali's love interest in Season 6 was "Lucy", played by Kate Micucci. Lucy left Raj Kootrapalli heart broken in episode 136 ("The Bon Voyage Reaction").
When Lucy dumped Rajesh Koothrapalli, she cured him of his "Selective Mutism" problem.
Lucy (Kate Micucci) is expected to come back to "The Big Bang Theory" in Season 7, Episode 8.
---
Kunal Nayyar's Profile
Kunal Nayyar and Big Bang: Kunal is famous for playing the role of astrophysicist Dr Rajesh Koothrappali on the CBS hit sitcom – "The Big Bang Theory". Kunal's character, Raj Koothrappali, is a smart, geeky, funny and shy astrophysicist who cannot talk to women unless he has consumed alcohol. At the start of Big Bang Theory Season 5, Kunal's character Raj is considering a traditional Indian arranged marriage to Lakshmi. Kunal along with Johnny Galecki (Dr Leonard Hofstadter), Jim Parsons (Dr Sheldon Cooper), Kaley Cuoco (Penny) and Simon Helberg (Howard Wolowitz) form the core members of The Big Bang Theory. Of the cast members, only Kunal and Simon are married. Johnny Galecki and Kaley Cuoco were a couple for two years, but they kept it a secret and even their costars did not know that they were seeing each other.
Kunal Nayyar's Birthday: April 30, 1981
Kunal Nayyar's Birth Place: Kunal was born in London where he lived till the age of 4.
Kunal Nayyar's Parents: Kunal's father, Rakesh Nayyar, is a Delhi based accountant and his mother is an interior designer.
Kunal Nayyar's Religion: He is a Hindu belonging to the Punjabi community.
Kunal Nayyar's Adolescence: From the age of 4 to 18, Kunal lived in New Delhi, India. Kunal studied at the St Columba's School in New Delhi.
Kunal Nayyar's Education: In 1999, Kunal Nayyar arrived at the University of Portland in Oregon to study for a BS in Business. Along with his Business classes, he also started taking acting classes. On completing his BS, Kunal studied for his Master of Fine Arts in Acting at Temple University in Philadelphia.
Kunal Nayyar's Career Outside of Big Bang Theory: Kunal has acted in plays such as "Huck & Holden". Kunal has also co-written a play called "Cotton Candy". Kunal is the voice of the character "Gupta" in the 4th Ice Age movie. Kunal has also appeared in commercials and American TV series.
Kunal Nayyar's Height: 5'8″ (173 cm)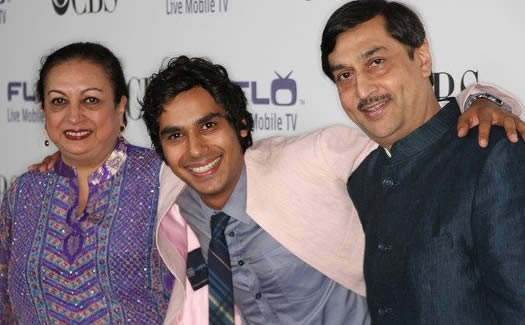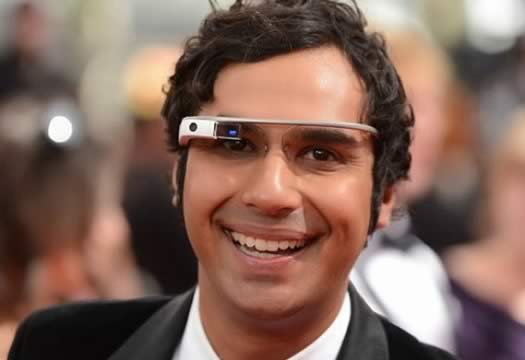 ---
Picture of Kunal Nayar with his dog, "Boba Fett"
(Please click on Images of Kunal Nayyar's dog to Enlarge)
Kunal Nayyar and Neha Kapur's pet dog is called "Boba Fett".
Boba Fett is a bounty hunter in the Star Wars movies appearing in Star Wars Episode II, V and VI.
---
RELATED ARTICLES:
Wedding of Indian Celebrities and Film Stars:
Wedding of Cricketers and Sport Stars:
Wedding of International Celebrities of Indian Origin:
---