Kundli Matching: Marriage Compatibility Based on Vedic Astrology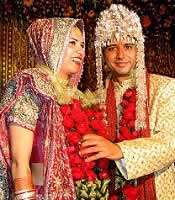 According to Hindu Vedic Astrology, a "Kundli" (or "Kundali") has 8 "Kutas" (or "Koota" or "Koot"), which in turn have 36 "Guns" (or ""Guna" or "Gana"). Most astrologers use the "8 Kuta" Horoscope matching system (also known as "Ashta Kuta Milan" or "Gun Milan") to check whether a girl and a boy are a good match for marriage.
In Kundali Matching, higher the compatibility of the 36 "Guns" ("Gunas"), higher is the probability that the bride and groom will have a happy marriage. The best Kundli Match for marriage is when all 36 Guna of the man and woman match.
---
36 Gun Milan (Horoscope Matching) for Marriage Compatibility
| "GUN" ("GUNA") POINTS | PREDICTION FOR MARRIED LIFE |
| --- | --- |
| Less than 18 | NOT COMPATIBLE. This marriage may not succeed. |
| 18 to 24 | AVERAGE SCORE. Wedding match is acceptable. |
| 25 to 32 | VERY GOOD MATCH. Marriage should be a success. |
| 33 to 36 | EXCELLENT MATCH. Marriage should be a success. |
Kundali Matching is also called "Gun Milan", "Guna Milan", "Meelaapakam" or "Koota Matching".  "Janam Kundali" (Vedic Astrological Natal chart) is used for Kundli Matching. Matching of "Gun/Guna/Gana" is primarily based on the position of the moon in the bride and groom's horoscopes.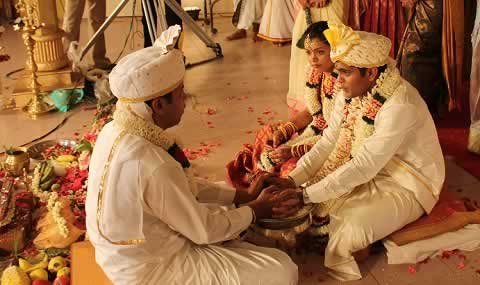 ---
Meaning and Points of 8 Kuta (Ashta Koota) in Kundali Matching
The below table briefly explains the 8 Kuta (Koota) and 36 Guna involved in Kundli matching and how scoring is done. Since the 8 Kutas are matched, marriage Kundali Matching is also called "Ashta Kuta Milan".
| KUNDLI KUTA (KOOTA) | MAXIMUM POINTS | MEANING OF ALL 8 KUTA (KOOTA) AND GUN (GUNA) POINTS FOR EACH |
| --- | --- | --- |
| Varna or Varan or Jaati | 1 | Varna Koot is related Ego: Person's personality is divided into 4 (in descending order of preference) – Brahmin (highest), Kshatriya, Vaishya, Shudra (lowest) (NOTE: This is not to be mistaken with caste). If groom and bride get 1 point if they have the same "Varna", or if grrom's "Varna" is higher than the brides. |
| Vasya or Vashya | 2 | Vasya Koot is related to Control in the Marriage and Power Equation: Based on moon sign, person is classified into 5 types – Manav/Nara (Human), Vanchar (big Jungle animals such as lion), Chatuspad (small animals such as deer), Jalchar (animals of the sea), Keeta/Keet (Insects). Full 2 points if groom and bride belong to same Vasya, 0 points for Vashya's which are oppononts (eg: Manav and Vanchar), 1/2 point for Manv-Jalchar combination and 1 point for the rest. |
| Tara or Dina | 3 | Tara Koot is related to Birth Star Compatibility: There are 27 birth stars (Nakshatra). The groom's birth star is counted from the bride's and this number is divided by 9. Same is done from the girl's birth star to the boy's birth star. If both the remainders are Even, it is auspicious and 3 points are allocated. 0 points if both are odd and 1.5 points if one is even. |
| Yoni | 4 | Yoni Kuta is related to Sexual Compatibility: Based on birth star, the Yoni Koot is classified as one of 14 animals (Horse, Elephant, Sheep, Snake, Dog, Cat, Rat, Cow, Buffalo, Tiger, Hare/Deer, Monkey, Lion, Mongoose). Same animal gets 4 points, whereas enimies (Cow/Tiger, Cat/Rat, Snake/Mongoose, etc) get 0 points. 3 points for friendly Yoni, 2 for neutral and 1 for not friendly Yoni. |
| Grah Maitri or Rasyadipati | 5 | Grah Maitri Koot is related to Horoscope Planetary (Rashi) Compatibility: In the birth charts, celestial lord is assigned to "Rashi" (Moon at time of birth). These are either friends or neutral or enemies. 5 points if Lords of both Rashi (Rasi) are friends; 4 points for 1 friend and 1 neutral, etc. 0 pints if both Rashi Lords are enemies. |
| Gana | 6 | Gana Koot is related to Behaviour and Temprament. Birth stars (Nakshatras) are divided into three – Deva (God, indicating Satwa Guna), Manava (Human, indicating Rajo Guna) and Rakshasa (Demon, indicating Tamo Guna). 6 points when the girl and boy belong to the same Gana or when boy is Manav & girl is Deva. 5 points when girl is Manav and boy is Deva. 1 point for Deva and Rakshasa and 0 points for Manav and Rakshasa. |
| Rashi or Bha | 7 | Bha Koot is related to Love: The position of the boy's horoscope Rashi moon position is counted from the girl's moon position. If the man's moon is 2, 3 4, 5, 6 places from the girl's moon, it is considered bad; whereas 7 and 12 are considered good. If girl's moon is 12 positions from the man's moon,it is considered bad; whereas 2, 3, 4, 5, 6, 7 are considered good. |
| Nadi | 8 | Nadi Koot is related to Health and Genes: Stars (Nakshastra) are divided into 3 – Aadi (Vata) Nadi, Madhya (Pitta) Nadi and Antya (Kapha) Nadi. No points are given if the man and woman's Nadi Kuta are the same; else 8 points are allocated. |
Please note that are some regional differences on how Kundli Matching or Ashta Koota Matching is done in North and South India. Also, astrologers sometimes considered different parameters while scoring a Kuta/Koota and Gun, which can lead to different Kundali Matching scores from different astrologers.
In addition to the Ashta Koota (8 Koota) matching, some astrologers also check "Mahendra Koota" "Deergha Koota", "Veda Koota", "Raju Koota", etc. These four Kootas are usually matched in South India.
---
RELATED ARTICLES:
---

IMAGES:
Pic 1: Image by Jason Varghese. Image taken from Wikimedia Commons. This file is licensed under the Creative Commons Attribution-Share Alike 2.0 Generic license.
Pic 2: Image by Ricardo Martins. Image taken from Wikimedia Commons. This file is licensed under the Creative Commons Attribution 2.0 Generic license.
---