Lisa Ray marriage to Jason Dehni took place on 20 October, 2012, in Napa Valley, California. Along with wedding pictures and details, this article also has a profile of  Lisa Ray's husband, Jason Dehni.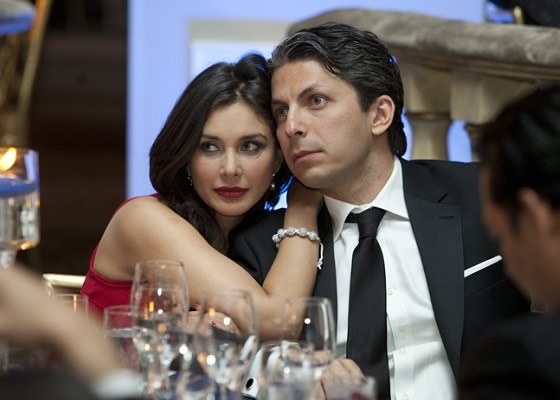 Lisa Ray and Jason Dehni Wedding, Reception, Honeymoon
(Please Click on Image to Enlarge)
Lisa Ray and Jason Dehni's wedding was on 20 October, 2012. For Lisa Ray, whose father is a Bengali, October 20 was a very auspicious day because it was the start of the "Durga Puja". "Durga Pooja" is the most important Hindu festival of the Bengalis.
Lisa Ray and Jason Dehni's marriage was held in Napa Valley, California, which is where the two of them were engaged. Lisa's friend Gia Sandhu delivered a spiritual message at the wedding.
Since Lisa Ray's father is an Indian Hindu Bengali, her mother is Polish and Jason's family is of Lebanese descent, the marriage ceremony reflected this mix of cultures with the predominant wedding theme being traditional Indian.
As with any big fat Indian wedding, Lisa Ray and her husband enjoyed a pre-wedding "Sangeet" session on 19 October. The  "Sangeet" ceremony is a loud and fun-filled song and dance function, where the songs can be quite bawdy. "Sangeet" is the Indian equivalent of the Hen and Bachelor party where the entire family takes part. Lisa's close friends Nina Wadia and Koni helped organized this ceremony. For the "Sangeet" Lisa wore wear an "Anarkali" dress by Tarun Tahiliani.
For her wedding, Lisa Ray wore an elegant white gown, with encrusted crystals, by Goa based designer Wendell Rodricks. Post the marriage ceremony, Lisa changed into a beautiful off white Georgette Indian Saree by Satya Paul. On her hands she wore wedding bangles.
The food at the wedding was prepared by Chef Bruce Riezenman (Park Avenue Catering) and there was an eclectic choice of Indian, Lebanese and international dishes. There was great wine from the Napa Valley and a six course tasting menu. Sarah Ghazzagh, who was  the wedding planner, is a Napa and Sanoma Wine Country wedding specialist.
For their honeymoon, Lisa and Jason went to the French Polynesian island of Bora Bora.
Lisa Ray and her husband, Jason Dehni, will hold an Indian Reception in early 2013. That's when Jason and volunteers from "Artbound" will be travelling to Udaipur to build an art school.
Post her wedding, Lisa Ray will complete and publish her book. Lisa will also work on two Bollywood films with young directors. She will also be producing two films, one of which is "The Tiger's Claw". Lisa Ray will also host the next season of Top Chef Canada
Post the wedding; the couple will live in Toronto.
---
Lisa Ray's Bridal Trousseau
Lisa Ray's Wedding Gown was designed by her close friend and one of India's most respected designers, Wendell Rodricks.  You will notice in Lisa's Wedding pictures, Wendell's designs are elegant, simple and comfortable to wear.
After the Wedding ceremony on the 20th of October, Lisa exchanged her gown for a traditional Indian Sari by designer Satya Paul. The off-white, slightly pink Saree had shaded sequins and "Gota Patti" (intricate gold embroidery, which is a specialty of  Jaipur in Rajasthan).
For the "Sangeet" party, Lisa Ray wore a colorful Tarun Tahiliani designed traditional "Anarkali" outfit. Tarun Tahiliani is one of India's most famous designers of Bridal Trousseaus and Wedding Clothes.
Also during the course of the wedding festivities, Lisa were clothes by Laila Motwani.
---
Jason Dehni's Wedding Clothes
For Wedding, Jason wore a smart dark blue suit with a bow tie.
During the course of the wedding festivities, both Jason Dehni and Lisa Ray's father also wore ethnic Indian "Bandgala" (Closed Neck) suits by Indian designer Raghavendra Rathore. Four days before Lisa's wedding, another Raghuvendra Rathore "Bandhgala" and "Achkan" was worn by Saif Ali Khan at his wedding with Kareena Kapoor.
---
How did Lisa Ray and Jason Dehni Meet?
Lisa was interviewing with anchor, Seamus O' Regan, of "Canada AM", a Canadian breakfast television news show. Seamus O' Regan, is the Honorary Chair of a Toronto based charity called "Artbound". Seamus suggested to Lisa that she may want to get involved with the charity and recommended that she meet Jason Dehni.
Jason Dehni is the Co-Founder and Co-Chair of "Artbound" charity and it is his brainchild. That's how Lisa and Jason met and ever since it has been a happy journey for both of them.
Lisa Ray and Jason Dehni were engaged in the end of January, 2012. Lisa and Jason were on holiday in the Napa Valley in California when Jason popped the question.
(Please click on image to enlarge)
---
Who is Jason Dehni – Profile
Jason Dehni was born in September, 1972, in Lebanon, where he stayed till the age of 10. Those were the days when there was a civil war raging in Lebanon and Isreal had invaded Lebanon. The Dehni family moved to the United States. When Jason was 18, he moved to Canada. Currently both Lisa and Jason live in Toronto in Canada. Lisa spent her childhood in Toronto.
(Please click on image to enlarge)
---
Jason Dehni Professional Experience
Jason Dehni is currently Vice President, Creditor Insurance Distribution at ScotiaLife Financial, which is part of the ScotiaBank Group. He is responsible for managing the sales and distribution of some of the company's insurance products.
Jason joined the ScotiaBank group in 2002 as an Associate Director. In his 10 year tenure with ScotiaBank he has worked in Sales, Operations, Business Development, Corporate Development, Mergers and Acquisitions, Strategy, Distribution, Insurance, etc.
Prior to joining the ScotiaBank group, Jason was an Associate with McKinsey & Company. Jason joined McKinsey after he completed his MBA from Harvard Business School. At McKinsey, he worked for two years developing and implementing growth and operational strategies for clients.
Jason spent five years in management consulting firm, Accenture.
---
Jason Dehni Education
Jason Dehni did his Masters in Business Administration (MBA) from Harvard Business School from 1997 to 1999. At Harvard, he was the Chief Editor of the Harvard Business School "Career Guide for Management Consulting".  He is the editor of the book titled "Careers in Management Consulting". At Harvard, Jason was also President of the Management Consulting Club and Co-President of the Canadian Club.
Jason Dehni graduated with a B.A. in Political Science & Economics from the University of Toronto – University College. He stood first in Political Science. At college, he was the first two terms elected President of the University College Student Council. At college he was awarded the Student Leadership Distinction Award and Book Prize Award for Academic Excellence and Outstanding Leadership.
(Please click on image to enlarge)
---
Jason Dehni Charity Work and Affiliations
Artbound – Co-Founder and Chair. "Artbound" is a Toronto based nonprofit charity that works in support of "Free The Children" charity. Their primary objective is to help create sustainable change in developing countries through the arts.
The National Ballet of Canada – Board Member
EdTek Services – Member of the Board of Advisors. EdTek Services is a company that provides online eLearning products and services.
In addition, Jason Denhi has also done volunteer work for charities that include Habitat for Humanity, United Way, Eva's Phoenix, Canadian Opera Company, Covenant House, Luminato, Harbourfront Centre.
---
Jason Dehni and his Charity "Artbound"
Jason Dehni is Co-Founder and Chair of Toronto based charity "Artbound". The primary mandate of "Artbound" is to use art to create sustainable change in developing countries. "Artbound" supports "Free The Children" charity which runs over 650 schools in different parts of the world. In 2011, "Artbound" built an art school at "Kisaruni All Girls Secondary School" which is the first all girls secondary school in Kenya. Jason and other volunteers raised funds and travelled from Canada to Kenya to build the art school themselves. "Artbound" plans to build similar art schools in India, Haiti and China.
The other co-founders of "Artbound" include Amanda Alvaro, Katie Telford and Marcello Cabezas.
(Please click on image to enlarge)
---
Lisa Ray's Philanthropy and Charitable Causes
Just like her husband, Jason Dehni, Lisa Ray too is actively involved in Charitable and philanthropic causes.
Lisa is the brand ambassador for Pantene's initiative called 'Beautiful Lengths' where women are requested to donate their hair to make real hair wigs for women fighting cancer.
Just 6 days before their wedding, Jason and Lisa waked to raise money for Multiple Myeloma.
In the past, has helped raise funds for the first research chair for Multiple Myeloma at Toronto's Princess Margaret Hospital. She has raised funds for Sick Kids Hospital.
Lisa is an Ambassador for 'Because I Am A Girl' campaign.
Lisa has requested friends attending her wedding to donate money for Multiple Myeloma research rather than give her a wedding gift.
Lisa Ray was diagnosed with multiple Myeloma in 2009. She received a stem cell transplant. Myeloma is a cancer of the white blood cells.
---
RELATED ARTICLES:
Wedding of Indian Celebrities and Film Stars:
Wedding of Cricketers and Sport Stars:
Wedding of International Celebrities of Indian Origin:
---