The below Marwadi (or Marwari) and Rajasthan Rajput Wedding customs and ceremonies are followed by Marwadis, Rajputs and other Hindu communities from Rajasthan, India.
---
Pre-Wedding Marwari and Hindu Rajasthani Wedding Rituals, Customs
1] Engagement ceremony – "Mudha Tika" or "Tilak" or "Sagai"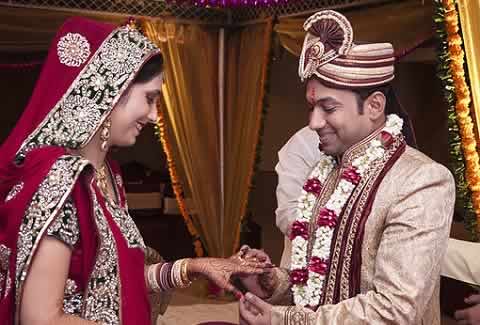 The Engagement ceremony usually takes place at the groom's house. This Marwadi marriage ritual is called "Mudha Tika" because the bride's brother applies a "Tikka" or "Tilak" (vermillion powder) on the groom's forehead. Gifts are exchanged between the bride and groom's families. Nowadays an engagement ring is also exchanged between the fiancés.
In traditional households (especially Rajput) only close male relatives of the girl attend the engagement and a sword is presented to the groom. In the past, the bride was not allowed to visit her future husband's house for the engagement ("Tilak") ceremony.
---
2] Ganesh Pooja – Ganpati Sthapana (Griha Shanti, Mandap Mahurat)
Ganesh Puja starts off Marwadi, Rajput and Rajasthani weddings. Before starting any new venture Hindus seek the blessings of Lord Ganesha, the Hindu God of Luck and Wisdom and the Remover of Obstacles. A Ganesh idol is installed and worshipped at the bride and groom's homes. This ceremony is also known as "Naandi".
---
3] Sangeet or Mehfil – Traditional Marwari Songs and Dance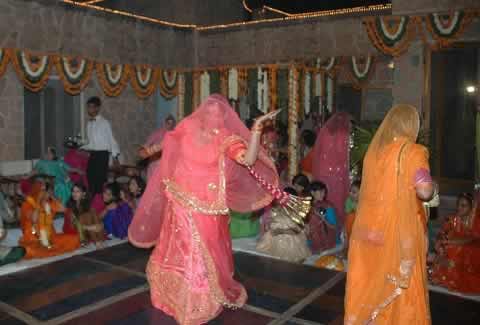 This Rajasthani pre-wedding custom takes place 2-3 days before the wedding. This is a fun event where families of the Marwadi bride and groom get to meet each other in an informal setting. Traditional Marwadi and Rajasthan songs and folks dances are part of the event followed by dinner. In the past only the girl's family held this event.
Some popular Marwadi wedding songs are Saat Supari Laada, Banna Kem Re Kem, Banda Aayegi Akhatij, Bai Chali Sasariye, Mehandi Marwari, etc. "Ghumar" ("Ghoomar"), "Kalbelia", "Teratali", etc are popular traditional Marwari folk dances from Rajasthan.
---
4] Mahira Dastoor or Bhaat Dastoor – Gifts from Maternal Uncle
This Rajpit and Marawadi marriage ceremony revolves around the maternal uncle ("Mama") of both the bride and the groom. The respective maternal uncles are invited to the groom and bride's house for a traditional meal. The uncle ("Mama") in turn gives gifts and money to his niece and nephew.
---
5] Pithi Dastoor – Haldi (Turmeric) or Baan Ceremony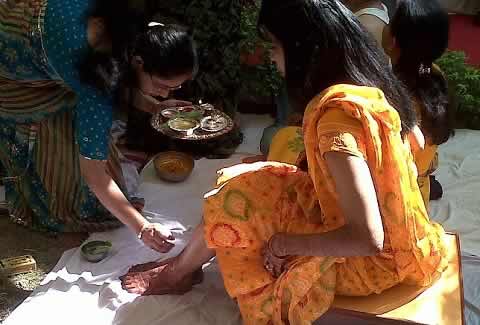 This Rajasthan Wedding ceremony usually takes place a day before the wedding. A paste of Turmeric ("Haldi" or "Baan") and Sandalwood is applied on the bride's face, arms and legs. The paste can also be made of a mix of "Haldi" (turmeric), Sandalwood, henna, milk, curd/yogurt and oil. This marriage function is also called "Tael Baan". This is an occasion for friends and family members of the bride to get together for singing and dancing. A similar function also takes place at the bridegroom's house.
---
6] Palla Dastoor or Godh Barai or Samela – Gifts for the Bride
Usually a day before the wedding, ladies from the groom's family visit the bride's house bearing gifts of clothes, jewelry, sweets, etc. Usually the Marwari bride's wedding dress (traditional bridal saree or "Ghagra Choli") and the wedding necklace ("Aad" or "Timaniyaan") is given by the boy's family. This Marwari/Rajput pre-wedding custom is called "Samela" or "Palla Dastoor" or "Padla Dastoor" or "Godh Barai".
---
7] Mehendi – Intricate Bridal Henna Tattoos
Intricate bridal henna design is applied on the bride's hands and feet. Other females of the bride and groom's wedding party also apply henna tattoos.
---
8] Janev Ceremony (Janeva) – Marwari Pre-Wedding Tradition
This is a Marwadi marriage ritual for the bridegroom in which he declares he is ready for marriage. Before wearing a three stranded holy thread ("Janev"), the groom pretends he is leaving the material world to become a monk/ascetic. His uncles (especially maternal uncle), persuade him to lead a married life. By wearing the "Janev", the bridegroom indicates that he is ready for marriage.
---
---
Wedding Ceremony and Rituals at Marwadi and Rajput Weddings
1] Korath – Invitation to the Bridegroom to attend his wedding
Male relatives of the bride visit the groom at his home to invite him for the wedding. The Bridegroom accepts and sets out with his "Baraat".
---
2] Sehra (Nikasi) Ritual at Marwadi and Rajasthan Rajput Marriages
Groom wears a turban ("Pagdi" or "Safa") with a "Sehra" (veil) on top of it. "Sehra" is worn to ward off the "evil eye". Before setting out, the Groom's sister performs "Vaag Gunthai' where she ties a sacred thread to a mare that will carry the groom. In Rajasthani Rajput marriages, the groom carries a sword.
---
3] Baraat – Bridegroom's Wedding Procession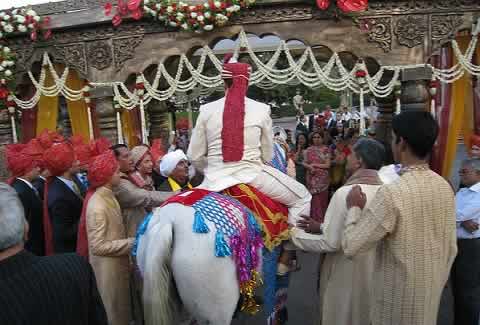 "Baraat" is the bridegroom's wedding procession. Sitting on a female horse, the groom sets off for the wedding venue. The "Baraat" is accompanied by a wedding band and the wedding party dances on the way to the marriage venue. The groom and his "Barat" visit a temple before reaching the wedding Mandap. The wedding "Baraat" is welcomed by male relatives of the bride. Key members of the "Baraat" wear a colorful Marwadi turban called "Safa".
In traditional Rajasthani Rajput marriages the wedding "Baraat" is made up of only men and usually there is no dancing.
---
4] Toran (Dhukay) or "Toranchar" or "Dwaar Toran" Wedding Ritual
The entrance to the Wedding location has a "Toran" or "Dhukay" or "Dhukav". On arrival, the bridegroom hits the "Toran" with a Neem stick after which the mother of bride does an "Aarti" and applies "Tilak" to his forehead. This wedding ritual is performed to ward off the "evil eye". In Rajout weddings, the sword can be used for this marriage function.
---
5] Jaimala or Varmala – Marwadi Bride and Groom exchange Garlands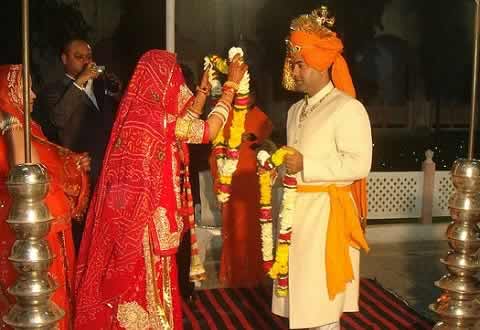 When the bride and groom meet, they exchange garlands made of flowers. After the "Jaimala" marriage custom, the couple is led to the wedding "Mandap" (altar).
---
6] Granthi Bandhan and Paanigrahan – Bride and Groom Tie a Cloth
A cloth around the groom's waist is tied to the bride's bridal Saree or "Chunni". This is "Granth Bandhan" or "Gathjoda". After this the bride places her hand in her future husband's hand and holy water is poured in it. This is "Paanigrahan". The bride sits to the left of the groom.
---
7] Kanyadaan – Father Gives His Daughter To Her Husband
Kanyadan is the Hindu marriage ritual where the bride's father symbolically hands over his daughter to her husband.
---
8] Pheras at a Marwari Wedding (Saptapadi) – Seven Steps and Vows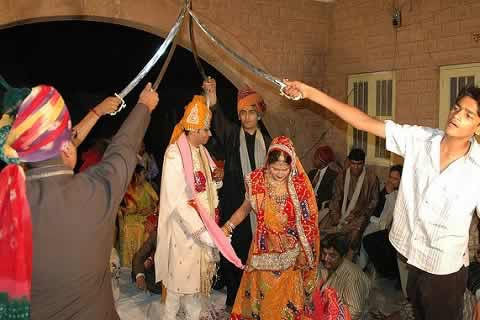 The priest lights the "Havan" (holy fire) and starts chanting marriage prayers. For the "Pheras" (or Saptapadi) the bride and groom walk around the holy fire and each makes a promise to the other after every round ("Phera"). Details of the Hindu marriage Phera (Saptapadi) ceremony and the meaning of the vows are at this link. In a Marwadi wedding, only four "Phera" are performed with the groom leading the first three and the bride leading the last "Phera". In traditional Rajput and Marwadi weddings, four relatives at the four corners of the "Mandap" hold up swords while this wedding ceremony is being performed.
---
9] Vamang Sthapna, Seer Guthi (Sindhoor) and Ashwahrohan Customs
After the "Pheras" are complete, the bride sits on the right of her husband. This is called "Vamang Sthapna". In the "Seer Guthi" ritual, the husband puts red "Sindhoor" in his wife's center hair parting ("Maang").
---
10] "Aanjhala Bharai" and "Paharavani" Rajasthani Marriage Customs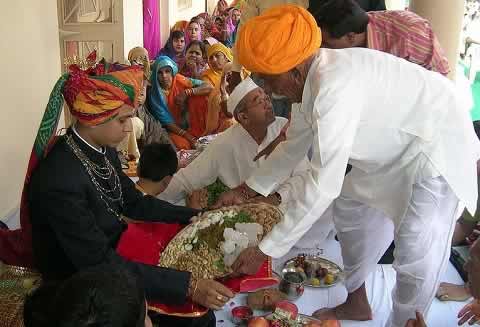 Just before the newly married couple leave the wedding "Mandap", the bride's father-in-law gives her a bag if money. This is the "Aanjhala Bharaai" custom. "Paharavani" is a custom where the groom is teased and made to recite songs by ladies in the bride's family. This is followed by the bride breaking an earthen pot which symbolizes a break from her parent's family and her new start in her husband's home.
---
11] BidaI or Vidaai – Bride leaves her Parental Home
Send off of the bride as she leaves with her husband.
---
Post-Wedding Marwari, Rajput and Rajasthan Marriage Rituals
1] Bar Rukai – Sister-in-law extracts her gift
The groom's sister does not allow her new sister-in-law to enter the house unless she is given a gift by her brother and new sister-in-law.
---
2] Griha Pravesh (Vadhu Pravesh) – Bride enters her husband's home
In the Indian marriage ritual of "Griha Pravesh", the new bride is welcomed to her husband's home with an "Aarti" done by her mother-in-law. A common custom is for the wife to step into red powder ("Alta") and step into the house with her right foot. After taking five steps, she knocks off a pot filled with rice and coins.
---
3] "Pagelagni" and "Mooh Dikah" – Gifts for the New Bride
The day after the wedding, the new bride meets her husband's relatives. This is an opportunity for her husband's relatives to shower her with gifts and money. Her mother-in-law usually gives her jewellery on this occasion.
---
4] Marwadi Wedding Reception
Marwari Wedding Receptions are usually held a day after the wedding. Traditional Rajasthani and Marwadi food are served at the Marriage Reception.
---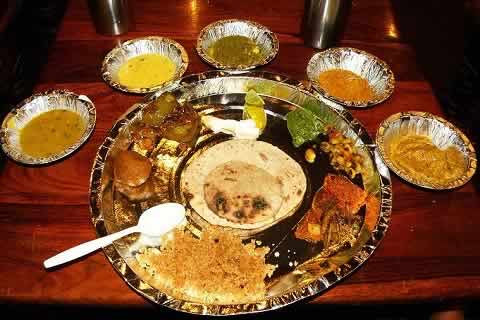 Food Served at Marwari and Rajput Marriages
Marwari "Bania" marriages serve only vegetarian food and no alcohol is consumed at their wedding. This no alcohol or non-vegetarian food custom is usually adhered to by members of the Marwadi ("Mewari") "Bania" community, including Khandelwal, Maheshwari, Agarwal, Poddars, Oswals, Mahawar Vaishya, etc.
Non-vegetarian food is served at Rajasthani Rajput weddings, except Vaishnav Rajputs.
Popular Marwadi Wedding food includes traditional Marwari dishes of "Daal-Bati Churma", "Gatte Ki Kadhi" "Rajasthani or Masala Baati", "Khatta", "Bafla Bati", "Besan Cheela Raita", "Shahi Kachori", "Mirchi Bada", "Missi Roti", "Moon Dal Halwa", "Jalebi", "Churma Laddoo", "Jhajariya", "Dil-Khushaal", "Mohanthal", etc.
Since many Marawadi weddings take place late at night, most non-family guest members have their dinner before the marriage ceremony.
---
Marwadi Wedding Clothes and Jewelry for the Bride and Groom
For Marwadi brides, Red is an auspicious color. Marwari brides usually wear a red bridal saree or "Ghagra Choli" or "Lahanga". In addition to red, orange, gold, cream and pink are also a part of the Marwari bride's wedding trousseau.
A Marwadi bride's bridal jewelry consists of a choker around the neck ("Aad" or "Timaniyaan"), gold ornament between the partings of her hair ("Rakhdi"), nose ring ("Nath"), earrings, marriage bangles ("Chooda" or "Poonchies"), ornaments above her elbow ("Baju"), gold jewelry around the ankles ("Pajeb") and gold toe ring ("Bicheya")
Traditional Marwadi grooms wear a "Sherwani" or "Achkan" with a "Dupatta" and Rajasthani "Jooties" (shoes). On their head, they wear a "Pagdi/Safa" (turban) and a "Shera". Rajput bridegrooms from Rajasthan usually carry a sword for their wedding.
---
RELATED ARTICLES
---
IMAGES:
Image 1: Ring Ceremony: Image by Kunjan Detroja. Image taken from Wikimedia Commons. This file is licensed under the Creative Commons Attribution-Share Alike 2.0 Generic license.
Image 2: Ghoomar – Traditional Rajasthan Dance: Image by Kalpana. Image taken from Wikimedia Commons. This file is licensed under the Creative Commons Attribution-Share Alike 3.0 Unported license.
Image 3: Pithi Dastoor (Haldi): Image by Aditya Thaokar. Image taken from Wikimedia Commons. This file is licensed under the Creative Commons Attribution-Share Alike 3.0 Unported license.
Image 4: Baraat: Image by Vincelaconte. Image used under Creative Commons License Attribution-ShareAlike 2.0 Generic (CC BY-SA 2.0).
Image 5: Jaimala at Rajput Wedding:Image by Ajay Awtaney. Image licensed under Creative Commons Attribution-NonCommercial-ShareAlike 2.0 Generic (CC BY-NC-SA 2.0).
Image 6: Marwadi Wedding Pheras (Sapatapadi): Image by Shreyans Bhansali. Image licensed under Creative Commons Attribution-NonCommercial-ShareAlike 2.0 Generic (CC BY-NC-SA 2.0).
Image 7: Rajasthan Marwari and Rajput Wedding: Image by Jaisingh Rathore at the English language Wikipedia. This file is licensed under the Creative Commons Attribution-Share Alike 3.0 Unported license.
Image 8: Wedding Food at a Rajasthan Wedding: Image by Raveesh. Image taken from Wikimedia Commons. This file is licensed under the Creative Commons Attribution-Share Alike 2.0 Generic license.
---