Mohammed Shami's Wife and His Wedding: Pictures and Details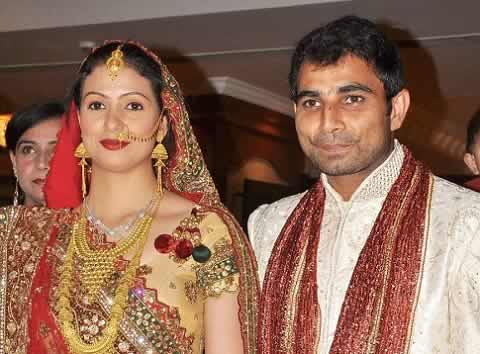 (Please click on Mohammed Shami's wedding pictures to Enlarge)
Fast bowler Mohammed Shami married Haseen Jahan on 6th June, 2014, at Moradabad in UP.
Mohammed Shami met his future wife, Haseen Jahan, in 2012, at an IPL event.
Mohammed Shami and wife, Haseen Jahan's, Wedding and Reception was held at Hotel Holiday Regency, a 5 star hotel in Moradabad.
Mohammed Shami's Wedding ("Nikah") was held at 4:00 pm and Reception was held at 7:00 pm on June 6, 2014.
None of Mohammed Shami's Indian team mates were invited for the wedding sine their schedules were not known. Shami's family plans to hold a marriage Reception either in Kolkata or in Delhi, where Indian cricket team members will be invited.
---
Mohammed Shami and his Wife's Profile, Family, Pictures, Career
(Please click on Mohammed Shami and his wife's pictures to Enlarge)
Mohammed Shami's Wife, Haseen Jahan's Pictures and Profile
Before she married Mohammad Shami, Haseen Jehan was a model from Kolkata.
Post their wedding, Mohammed Shami's wife, Hasin Jahan, is a housewife.
Haseen Jahan's father, Mohamed Hassan, owns a transport business in Kolkata. Haseen Jahan's family is based out of Kolkata.
---
Mohammed Shami's Profile, Family, Cricket Career
MOHAMMED SHAMI'S DATE OF BIRTH: Mohammed Sami was born on 9 March, 1990.
MOHAMMED SHAMI'S BIRTH PLACE: He was born in Jonagar, West Bengal.
MOHAMMED SHAMI'S PARENTS: Tauseef Ali Ahmed is Mohammed Shami's father. Mohammed Shami's family is from Sahaspur village in Moradabad district of Uttar Pradesh. Mohammed Shami's father, Tousif Ahmed, used to run a tractor spare parts shop in Sahaspur.
MOHAMMED SHAMI'S BROTHERS AND SISTER: Mohammed Shami has 2 brothers (one elder and one younger) and a younger sister. A week after Mohammed Sami's wedding; his sister too was married on 13 June, 2014. Shami's brother and father are also fast bowler like him.
MOHAMMED SHAMI'S EARLY CRICKET CAREER: Shami played cricket in Sonakpur in Moradabad. At the age of 16 Mohammed Shami moved from Shashpur in UP to Kolkata to play club level cricket. Shami played for "Dalhousie Athletic Club" in Kolkata. At the age of 17, Debabrata Das of "Town Club" invited Shami to play for his club in Kolkata. While at "Town Club", Mohammed Sami was selected for the West Bengal Cricket team, but did not play a match. Later, Mohammed Shami joined "Mohun Bagan", one of Kolkata's largest clubs. Wasim Akram, the bowling coach of the Kolkata Knight Riders (KKR) gave bowling advice to Mohammed Shami.
MOHAMMED SHAMI'S FIRST CLASS CRICKET CAREER: Shami made his Ranji Trophy debut for Bengal against Assam on Nov 17, 2010. In the 2012-13 Ranji Trophy season, Mohammad Shami took 28 wickets in 5 matches. This impresses the Indian selectors, and they invited him to play ODI cricket matches against Pakistan in January, 2013.
MOHAMMED SHAMI'S INTERNATIONAL CRICKET CAREER: Mohammed Shami made his India ODI debut on 6 January, 2013 against Pakistan at Delhi. Shami made an impressive test debut against the West Indies on 6 November, 2013, by taking 9 wickets in the test. Of the 9 wickets, 6 batsmen were clean bowled by Shami. Shami's pace, his straight seam and his reverse swing impressed viewers. Mohammed Shami started his IPL career in the 2011 season with Kolkata Knight Rider (KKR), before moving to Delhi Daredevils (DD).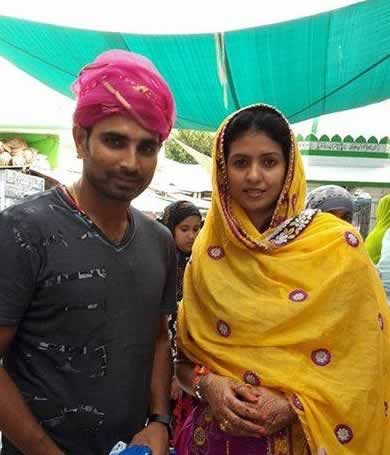 ---
RELATED ARTICLES:
Wedding of Cricketers and Sport Stars:
Wedding of Indian Celebrities and Film Stars:
Wedding of International Celebrities of Indian Origin:
---