Dinesh Karthik's Marriage To Squash Champ Dipika Pallikal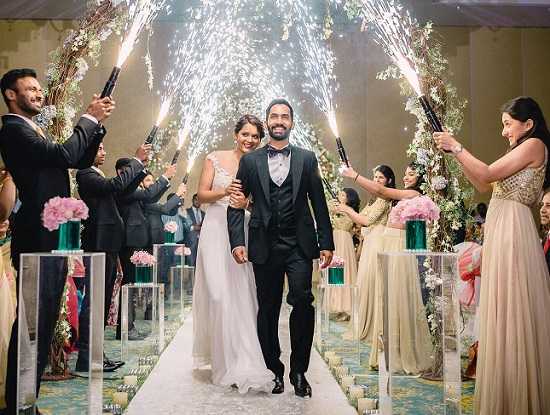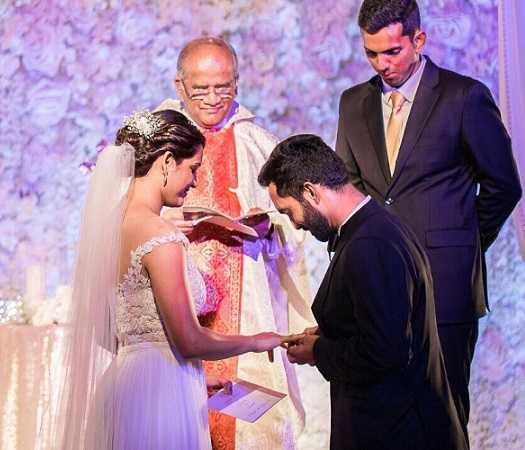 Dipika Pallikal and Dinesh Karthik were married twice – once in a Christian Wedding Ceremony and the second time in a Hindu Marriage Ceremony.
Dinesh Karthik and Dipika Pallikal's Christian Wedding
Dinesh Karthik and Dipika Palikal were married in a Syrian Christian ceremony on 18 August, 2015. Their marriage lasted for 45 minutes and it took place in a Chennai Hotel. Only relatives and close friends attended the wedding.
Dipika Palikal wore a beautiful white wedding gown, with Swarovski Crystals, at her wedding. Dipika's father, Sanjiv G Pallikal, walked her down the aisle.
Dinesh Karthik looked dapper in a black tuxedo.
Since Dipika Pallikal is a Syrian Christian; the first marriage was held in a Church.
Post their wedding, Dinesh Kartik and his wife Deepika Pallikal, hosted a wedding lunch (Reception), where they was a wedding cake, dancing and speeches by the chief bridesmaid and the best man. In the evening the Karthiks and Pallikals held a fun party for relatives and close friends.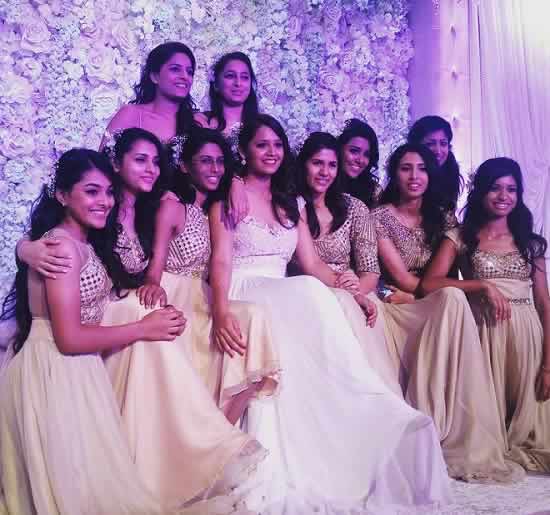 Dipika Pallikal And Dinesh Karthik's Hindu Wedding
Dinesh Kartik and Dipika Pallikal were married in a Hindu Telegu Naidu Wedding Ceremony on 20 August, 2015, in Chennai.
Dipika Pallikal wore a traditional yellow bridal sari, with a red border, for her Hindu wedding. Her wedding jewellery included a bridal necklace, bridal bangles, bridal earrings and Papidi Billa (Maang Tikka)
At his Hindu Telugu wedding, Dinesh Kartik wore a cream coloured Sherwani Jacket, a traditional marriage Dhoti and a Turban.
Prior to the wedding, Dipika had a Mehendi ceremony.
This is Dipika Pallikal's first and Dinesh Karthik's second marriage.
Dipika Paikal will continue competing in squash after her marriage to Dinesh Kartik.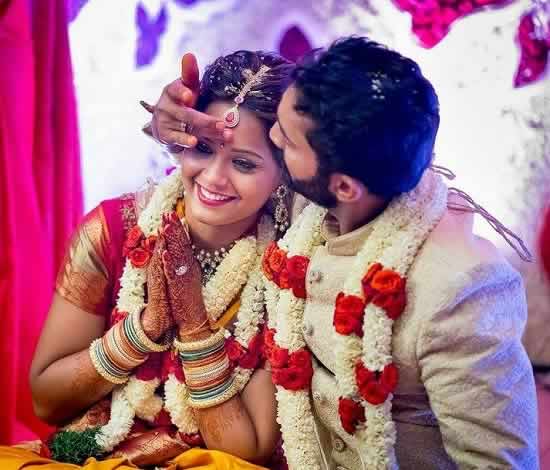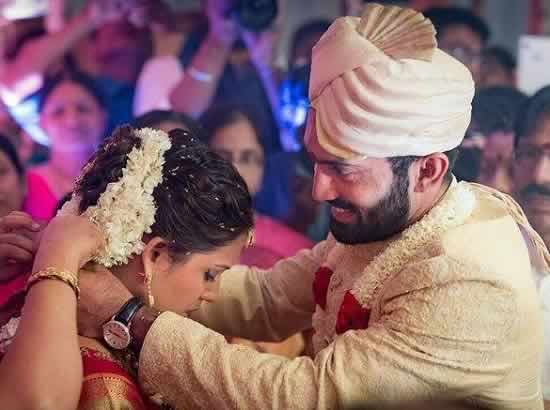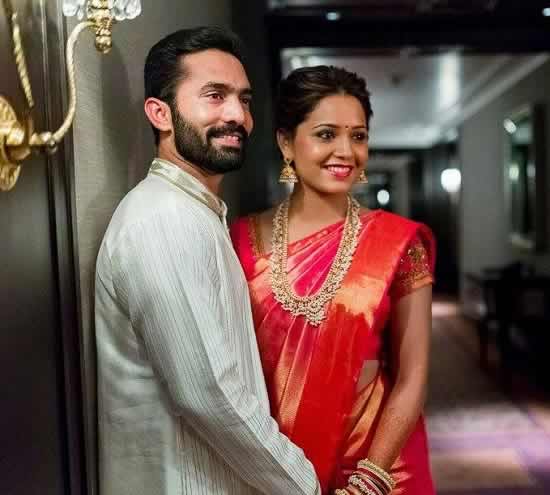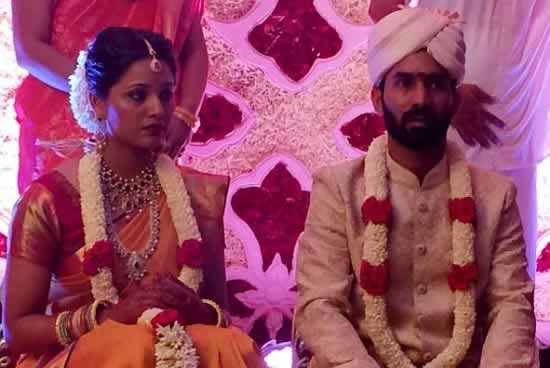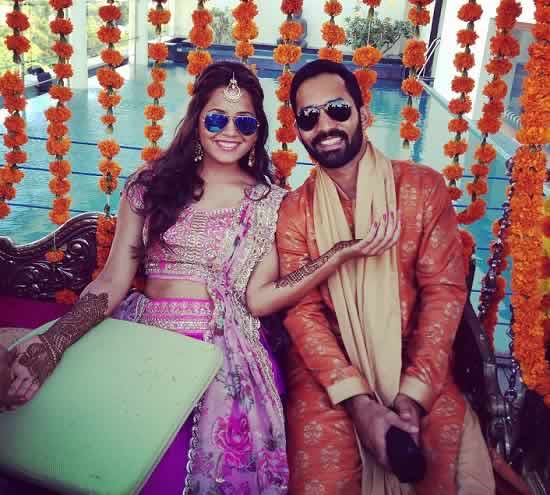 ---
Dipika Pallikal and Dinesh Kartik's Engagement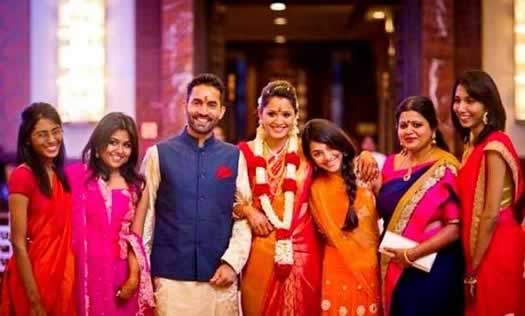 (Please click on Dinesh and Dipika's Engagement Pics to Enlarge)
Dinesh Karthik proposed marriage to Dipika Pallikal in June 2013, after the Indian team, of which he was a part, had won the 2013 "ICC Champions Trophy".
Dinesh Karthik and Dipika Rebecca Pallikal were formally engaged on November 15, 2013.
Dinesh Karthik and Dipika Pallikal's engagement was held at Chennai's ITC Grand Chola Hotel. It was a private function attended only by family and close friends.
Since Dipika Pallikal is a Syrian Christian and Dinesh Kartik is a Hindu, they had a Christian and a Hindu engagement ceremony.
At her engagement, Deepika Pallikal wore a Ritu Kumar dress and a Red Saree. Dinesh Kartik wore a blue Nehru jacket on a traditional cream Kurta, and a white Pajama (trouser).
Dipika Palikal and Dinesh Karthik's engagement came as a surprise to many, since they had kept their relationship private.
---
How Did Dinesh Kartik and Dipika Pallikal Fall In Love?
Before Dipika Pallikal met Dinesh Kartik, she disliked Cricketers. Even now, she is not a big fan of cricketers, because she feels that other Indian sportspersons are ignored and sidelined because of the fame and money that cricketers and cricket enjoys in India. Despite her dislike of cricketers, Dinesh Karthik was able to woo Dipika; this shows the genuine affection both have for each other.
Dipika Palikal and her fiancé, Dinesh Karthik, first met at a marathon in 2008.
Their next meeting was in the start of 2013, at Shanker Basu's Maverick Gym in Chennai. Shanker Basu, the CEO of Maverick Gym, was the fitness trainer to both Dipika and Dinesh. This was the start of Dipika and Dinesh's friendship. Incidentally, Shankar Basu also trains many Chennai based celebrities, film stars and an IPL cricket team.
Dipika Pallikal's and Dinesh Karthik's friendship blossomed into love in February, 2013, when Dipika went for a week to Leeds in England to train. Dinesh Kartik joined her there and that's when friendship turned to love.
Dinesh Kartik proposed marriage to Dipika Palikal in June, 2013 and they were formally engaged on 15, November, 2013.
Dipika Pallikal likes Dinesh Kartik because he is a nice, simple and level-headed person. She believes he is a family oriented person.
Deepika Pallikal and Dinesh Karthik have many things in common. Both were born in Chennai and they both grew up in Chennai. They are both professional sportspersons who have represented India at the highest level in their sport. Both are family people who like to spend time with family members and friends. Both Dipika and Dinesh's parents are keen sportspersons (please see their profiles below).
---
Dinesh Karthik's First Marriage and Reasons for his Divorce
(To Enlarge, please click on Dinesh Karthik's pics with his first wife)
In 2007, at the age of 21, Dinesh Karthik married his childhood friend, Nikita Vanjara. Dinesh Karthik's first marriage to Nikita Karthik took place in Mumbai.
Nikita Karthik's father and Dinesh Karthik's father were friends.
As per media reports, Dinesh Karthik's first marriage may have ended in divorce because of Nikita Karthik's relationship with Dinesh Karthik's Tamil Nadu teammate, Murali Vijay. This information has been taken from DNA newspaper.
According to an article in EspnCricInfo it seems, the incident that lead to the breakup of Dinesh Karthik's first marriage occurred during the Vijay Hazare Trophy in 2012. This was before the Tamil Nadu Vs Karnataka match in Bangalore.
Murali Vijay married Dinesh Karthik's first wife, Nikita, in 2012. They are blessed with a son.
---
Dipika Pallikal's Profile: Family, Education, Career, Religion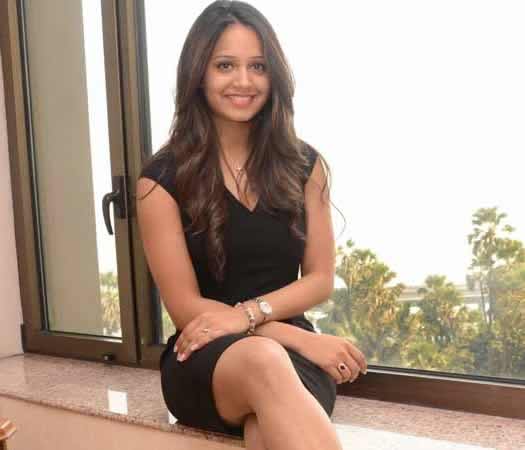 Dipika Pallikal's Date of Birth and City of Birth
Dipika Pallikal's birthday is on 21 September, 1991. Dipika was born in Chennai.
Her full name is Dipika Rebecca Pallikal.
Dipika Pallikal's Parents
Dipika Pallikal's mother, Susan Pallikal (maiden name Susan Itticheria), was the captain of the Indian women's cricket team. Susan Itticheria Pallikal played 7 Test matches and 2 ODI's for India. She represented India at the Women's World Cup in 1978. She was a Medium Pace bowler.
Susan Pallikal and Dinesh Karthik are probably the only Mother-in-law and Son-in-law combination to play international cricket for their country.
Susan Pallikal runs "Travel Masters India Corporation" (TMIC), a travel agency with a turnover of over 80 crores. TMIC specializes in custom holidays, specialty tours, family holidays and film production logistics.
Dipika Pallikal's father, Sanjiv G Pallikal, played college level cricket. Sanjiv Pallikal is the owner and Managing Director of "Reach Management Consultancy", a company that provides Human Resources to organizations.
Dipika's Parents and Family stays in Chennai.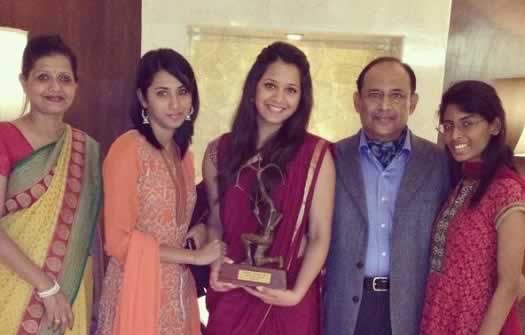 (Please click on Dipika Palikal's Family Pictures to Enlarge)
Dipika Pallikal's Sisters; and her Family's Connection to Sports
Dipika Pallikal has two elder sisters. Dipika Pallikal's eldest sister is Divya Pallikal. Divya is studying to become a Chartered Accountant and currently works for KPMG.
Dipika Pallikal's middle sister is Dia Pallikal. Dia is completing her Masters Degree in Graphic Designing from Leeds, UK.
Incidentally the names of all three Pallikal sisters – Divya, Dia, Dipika, – means "light in an earthen lantern".
There is a deep connection between the Pallikal family and sports. Dipika Pallikal's maternal grandmother represented Kerala in Javelin and Sprint.
Dipika Palikal's maternal grandfather represented AP, Tamil Nadu and Kerala in Basketball.
Dipika Pallikal's paternal grandfather was an athlete who excelled in triple Jump and Long Jump. He was a Colonel in the Indian Army.
Sister, Dia Pallikal, is a basketball player.
Dipika Pallikal's Religion
Dipika Pallikal follows the Syrian Christian religion. She belongs to a Malayali Syrian Christian family from Kerala.
Dipika Pallikal's Education
Dipika Rebecca Palikal did her schooling from Chennai's Good Shepard Convent School and Lady Andal School. Both schools were very supportive of Deepika's squash commitments.
Dipika Pallikal has a Bachelor of Arts Degree in English, from Ethiraj College, Chennai.
Dipika Pallikal's Awards
In 2012, Dipika Pallikal was awarded the "Arjuna Award", the second highest sporting award conferred by the Government of India. She became the first female Indian Squash player to receive the "Arjuna Award".
In 2014, the President of India conferred India's fourth highest civilian award, the "Padma Shri" to Dipika Pallikal. She is among the youngest Indian recipients of the prestigious "Padma Shri".
Dipika Pallikal's Height
Deepika Pallikal's height is 5 feet 6 inches.
Dipika Pallikal's Squash Career
Dipika Pallikal and her doubles partner, Joshna Chinappa, won the

Women's Doubles Gold Medal in Squash, at the Commonwealth Games, 2014

, in Glasgow.
Dipika's training regime includes 3-4 hours training on the squash court, 1 hour running and 1 hour in the gym.
As a youngster, Deepika Rebecca Pallikal initially took up tennis. In 2002, at the age of 11, she attended a squash summer camp, and from then on she was hooked.
In 2002 itself, Deepika Palikal won her first junior Indian national tournament. She played her first international tournament at the age of 12.
In 2006, Dipika Rebecca Pallikal became a Professional Sportsperson.
Dipika Pallikal is the first Indian woman to reach the Top 10 in the WSA ranking (Official Women's Squash World Ranking).
Dipika Pallikal was ranked World Number 1 in the Under 19 category.
Trivia about Dipika – she always enters a squash court with her right leg first.
Dipika Pallikal and Joshna Chinappa Won A Godel Medal at CWG 2014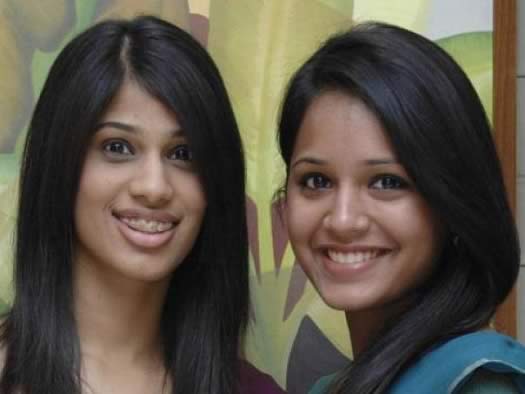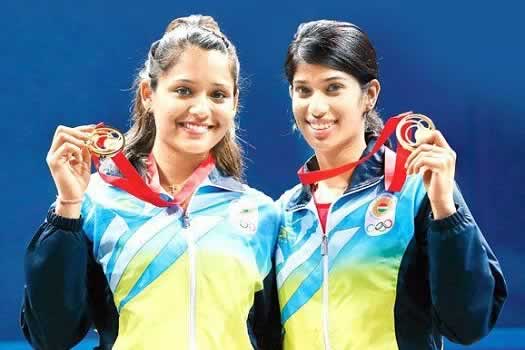 Dipika Pallikal and Joshna Chinappa are the first Indians to win a Commonwealth Gold Medal for Squash.
On 2nd August, 2014, Dipika Pallikal and Joshna Chinappa,

created history by winning the Squash Women's Doubles Gold Medal at the 2014 Glasgow Commonwealth Games (CWG)

. Dipika Pallikal and Joshana Chinnapa beat the English Women's Double pair of Jenny Duncalf and Laura Massaro. Laura Massaro is the world number 2 in squash.
En-route to winning the Gold Medal, Dipika and Joshna beat Malaysian World Number 1 pair of Nicol David and Loo Wee Wern. In the CWG 2014 competition, Pallikal and Chinappa were ranked 5.
Dipika Pallikal's fiancé, Dinesh Karthik, was in the stadium, supporting her for all her matches.
(Please click on above pictures to Enlarge)
Dipika Pallikal's Squash Coaches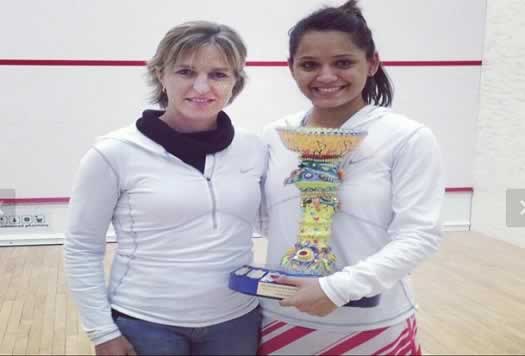 In 2005, Dipika underwent extensive squash training in Egypt, under the guidance of Egyptian coaches, Amir Wagih and Mohamed Essam Saleh. Dipika spent 4 years training in Egypt followed by a 1 year training stint in UK under Malcolm Willstrop.
Since 2009, Dipika Pallikal has spent a lot of time in Melbourne coaching under Sarah Fitz-Gerald.
Sarah Fitz-Gerald is a six time world squash champion. She was considered one of the best women's squash players in the 1990s.
In India, Dipika trains at Chennai's ICL-TNSRA Academy, under Cyrus Poncha and Major (Retd) S. Mannaiam. Her first coach was Hariom Tripathi.
Miscellaneous Information about Deepika Pallikal
In 2013, Femina magazine ranked Dipika Pallikal among India's Top 10 Most Beautiful Women.
While competing in Holland, Axis Bank dishonored a debit card payment of Dipaka's as she was checking out of her hotel. Axis Bank. In an affidavit, Axis Bank made unflattering remarks about Dipika's mental toughness. When there was a public outcry against Axis Bank's treatment of an Indian sportsperson, the Bank issued an apology.
Axis Bank again goofed up in crediting the Rs 1 Lakh cheque she received when she was awarded the "Arjuna Award". Dipika sued Axis Bank and she won the case against the bank.
(Please click on pictures of Deepika Pallikal playing squash to Enlarge)
---
Dinesh Karthik's Profile: Family, Education, Cricketing Career
Dinesh Karthik's Parents
Dinesh Karthik's father, V Krishna Kumar, played first division league cricket in Chennai. V KrishnaKumar had to give up his passion for cricket so that he could focus on his education. Dinesh Karthik's father did not want Dinesh to suffer a similar fate, and from an early age he encouraged his son's interest in sports. He was Dinesh Karthik's first cricket coach. When Dinesh was 9 years old, V KrishnaKumar moved his family to Kuwait, where he worked as a System Analyst.
Dinesh Karthik's mother, Padmini Krishnakumar, was a Tamil Nadu state level Table Tennis player. She too encouraged Dinesh to take up sports. In addition to cricket, Dinesh Karthik would also compete in Table Tennis tournaments. Dinesh Karthik's mother, Padmini Krishna Kumar, used at IDBI and Oil and Natural Gas Commission (ONGC)
Dinesh Karthik has a brother.
Dinesh Karthik's Date of Birth and City of Birth
Dinesh Kartik was born on 1 June, 1985 in Chennai in Tamil Nadu.
Dinesh Karthik's full name is Krishna Kumar Dinesh Karthik.
Dinesh Karthik's Education
Since Dinesh Karthik's father worked in the Middle East, Dinesh did his schooling in India and Kuwait.
Dinesh Karthik attended Chennai's Don Bosco and St. Bede's Anglo Indian Higher Secondary School. Dinesh also attended the Indian Public School in Salmiya, Kuwait.
Dinesh Karthik's Cricketing Career
Dinesh Karthik's first cricket coach was his father V Krishna Kumar.
At the age of 13, Dinesh Karthik, went on his first international tour to England, under the guidance of ex-Tamil Nadu wicket keeper, Bharat Reddy.
Dinesh Kartik represented Chennai and Tamil Nadu in Under 19 competitions. He joined the Tamil Nadu Ranji Trophy team in the 2002 – 2003 season.
Based on his performance, Dinesh Karthik was inducted in the India Under 19 team. For the Youth World Cup, he was the Vice Captain of the team.
Dinesh Karthik made his India ODI debut on 5 September, 2004 Vs England. He made his India Test debut on 3 November, 2004 Vs Australia.
In the IPL, Dinesh Karthik has played for Delhi Daredevils, Kings XI Punjab and Mumbai Indians. For the 2014 IPL auction, Dinesh Karthik received the second highest bid of Rs 12,50,00,000.
In ODIs, Dinesh Karthik wears a number 19 T-shirt which used to be Rahul Dravid's number.
---
RELATED ARTICLES:
Wedding of Cricketers and Sport Stars:
Wedding of Indian Celebrities and Film Stars:
Wedding of International Celebrities of Indian Origin:
---