Photos of R Ashwin's Wife – Preethi Narayanan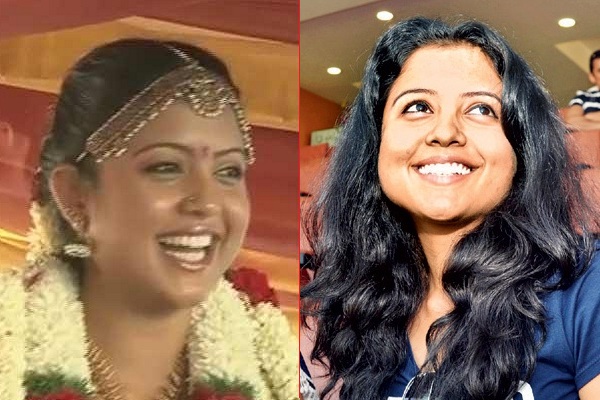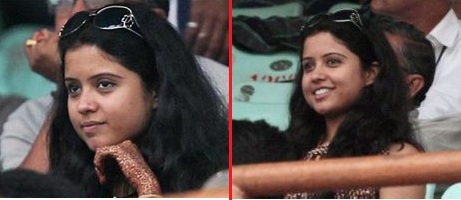 Wedding Pictures of R Ashwin and Wife, Preethi Narayanan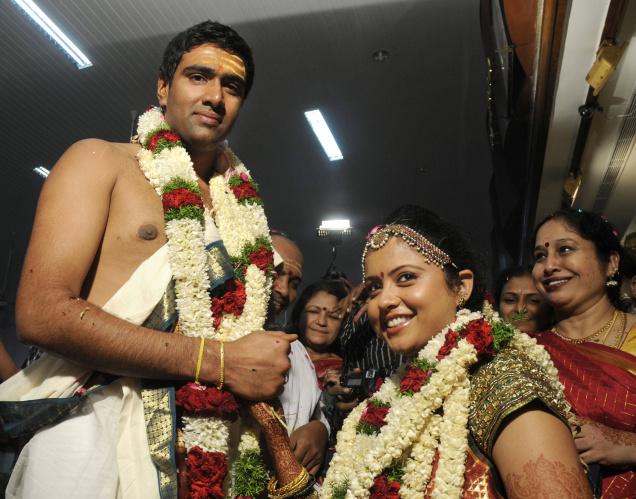 Pic of Ravichandran Ashwin and Preethi Performing Saptapadi (Seven Phera)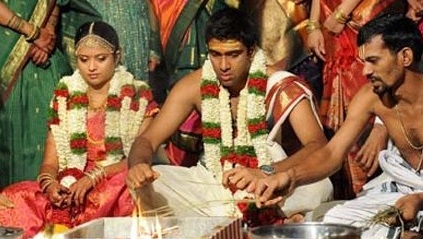 Picture of R Ashwin's Wedding Reception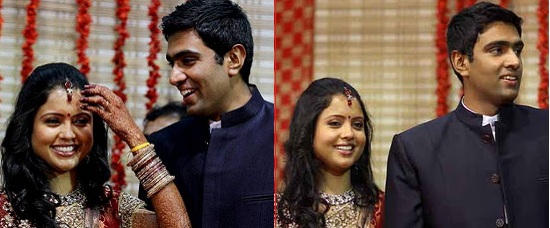 R Ashwin and wife Preethi Narayanan
Indian cricketer Ravichandran Ashwin (R Ashwin) married his childhood friend Preethi Narayanan on 13th November, 2011. R Ashwin's wedding was a simple, private ceremony in Chennai, which was mainly attended by family members and close friends. Former Indian opener and current chief selector, K. Srikkanth attended the wedding reception. Preethi and Ashwin will hold a wedding party in Kolkata for Ashwin'n Indian team mates.
Both Preethi Narayanan and R Ashwin attended the "Padma Seshadri Bala Bhavan" school in Chennai. Ashwin's and Preethi's alma mater, Padma Seshadri Bala Bhavan, has produced many artists and sportsmen including A.R. Rahman, Harini, Allu Arjun, Naga Chaitanya (Nagarjuna's son) Vijay Siva, Sumithra, Sharath Kamal, Deepak Krishnan, S Badrinath, etc. In 2011 "Padma Seshadri Bala Bhavan School" was ranked the third best day school in India, behind "The Shri Ram School" (Delhi) and Cathedral and John Connon School (Mumbai).
Just a week before his marriage, R Ashwin made his cricket Test debut for India. It seems Ashwin's wife, Preethi, has brought his good luck because on his test debut itself he was awarded the "Man of the Match". R Ashwin is only the third Indian test cricketer (after R. P. Singh and Pravin Amre) to receive the prestigious "Man of the Match" award on debut.
R Ashwin plays domestic cricket for Tamil Nadu and is part of the "Chennai Super Kings" in the IPL series. It is in the IPL tournaments where R Ashwin's talent became obvious to millions of Indian. During the second edition of the IPL in 2010, R Ashwin was both the highest wicket taker (13 wickets) and the "Man of the Series". Ashwin has impressed with his gutsy performance, his self-confidence, his ability to look the opponent in the eye and his confidence in flighting the ball.
Unfortunately R Ashwin and Preethi Narayanan will have to postpone their honeymoon since Ashwin is part of the second test match between West Indies and India, starting on November 15.
Here's wishing R Ashwin's Marriage and his wife Preethi Narayanan the very best.
R Ashwin profile
R Ashwin's Parents: Ravichandran (R Ashwin's Father), Chitra (R Ashwin's Mother)
R Ashwin's School: Padma Seshadri Bala Bhavan and St Bede
R Ashwin's Education and Graduation: Engineering, B Tech in Information Technology (IT) from SSN College of Engineering. He is currently studying for a MBA degree.
R Ashwin's One Day International Debut: June 6, 2010 against Sri Lanka
R Ashwin's Test Match debut: November 6, 2011 against West Indies
R Ashwin's First Class Cricket team: Tamil Nadu
R Ashwin's IPL Team: Chennai Super Kings
R Ashwin's Special Delivery: "Carrom Ball". Along with Ajantha Mendis, he is the only other international cricketer who bowls this ball.
R Ashwin's Bowling: Right arm offbreak spinner
R Ashwin's Date of Birth: September 17, 1986 in Chennai, India
R Ashwin's Height: 6 feet 2 inches
R Ashwin's Employer: R Ashwin works for Indian Railways (Southern Railways)
R Ashwin's Home: He lives with his family at West Mambalam, Chennai, Tamil Nadu
Did you know: At the age of 14, R Ashwin had a severe pelvic injury, which required surgery and almost put an end to his cricketing career.
Video of R Ashwin's Wedding Ceremony
Very cute videos of R Ashwin's Wedding Ceremony. Both R Ashwin and Preethi Narayanan are raised on the shoulders of friends and relatives and then they exchange garlands (Jaimala). Ashwin is seen running away and Preethi is chasing him to put a garland around him. Preethi is seen enjoying the occasion wholeheartedly.
---
R Ashwin and wife Preethi Narayanan make a lovely couple.

R Ashwin With His Parents – Mother, Father and Grandfather

These pictures are of R Ashwin with his proud parents – Ravichandran (father), Chitra (mother) and grandfather – after India won the Cricket World Cup. R Ashwin played in 2 matches at the World Cup.
The pride and joy is evident on the faces of Ashwin's parents.
---
R Ashwin Wins Man Of The Series Award Just After His Wedding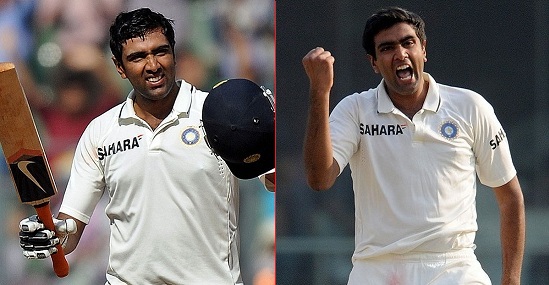 Two days after R Ashwin married Preethi Narayanan, he made his international test debut against the West Indies. Ashwin's wedding and his wife have brought him good luck. Ashwin was declared the "Man of the Match" in the first and third test match. Ashwin was also the "Man of the Series" in the West Indies Vs India 2011 test series. R Ashwin took his first 5 wicket haul in his debut test match against the WI. He also took his first 10 wicket in a match haul against the West Indies in the third match. R Ashwin also scored his first test century in the third test match of the West Indies Vs India 2011 test series.
---

RELATED ARTICLES:
Wedding of Cricketers and Sport Stars:
Wedding of Indian Celebrities and Film Stars:
Wedding of International Celebrities of Indian Origin:
---