Pictures and Profile of Ajinkya Rahane's wife, Radhika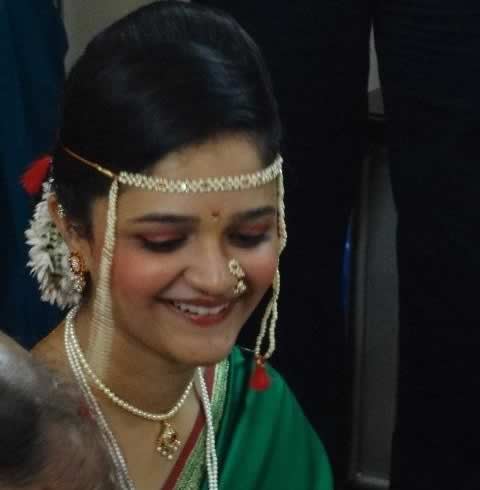 (Please click on Radhika and Ajinkya Rahane's Photos to Enlarge)
Ajinkya Rahane's wife name is Radhika Rahane. Her maiden name is Radhika Dhopavkar.
Ajinkya Rahane and his wife, Radhika Rahane, are both Maharashtrians. Theirs is an arranged marriage.
Radhika's mother, Anuja Dhopavkar, is Executive Director (Operations) at their family run hospitality and tourism business, Aatithya Hospitality Pvt. Ltd (AHPL).
Radhika Rahane's father, Nandkumar Dhopavkar, used to work in the Merchant Navy. He is currently Head of Operations at AHPL.
Radhika Rahane is an only child of her parents.
Ajinkya Rahane's wife, Radhika, did her Graduation from Kelkar Education Trust's Vinayak Ganesh Vaze College.
At the time of their marriage, both Ajinka Rahane and his wife, Radhika, lived at Mulund, a suburb of Mumbai.
At the time of their marriage, Indian Batsman Ajinkya Rahane was 26 years old, and his wife, Radhika Rahane (nee Dhopavkar) was 23 years old.
(Please click on Radhika and Ajinkya Rahane's Photos to Enlarge)
---
Ajinkya Rahane's Wedding To His Wife Radhika: Pictures, Details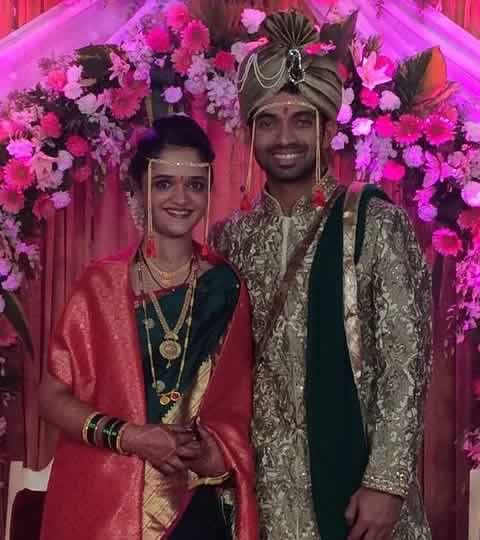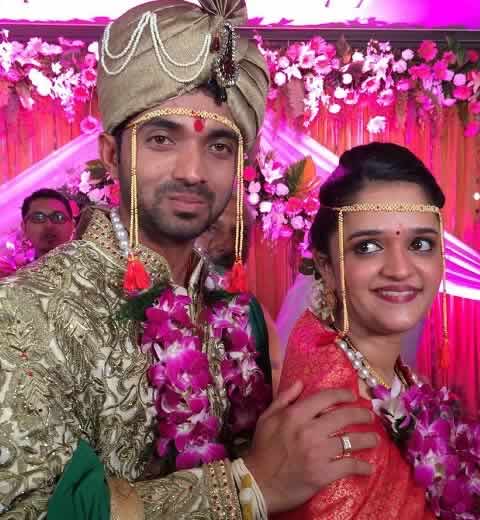 Indian cricketer Ajinkya Rahane wed Radhika on 26 September, 2014.
Ajinkya Rahane and his wife, Radhika Rahane, hosted their Marriage Reception at the Mumbai Cricket Association (MCA), at BKC. Ajinkya's Wedding Reception was on 28 September, 2014. Post their marriage, they went to Bali, Indonesia, for their honeymoon.
Ajinka Rahane's wedding to Radhika is an arranged marriage. Both Ajinkya Rahane and his wife are Maharastrians.
---
Ajinkya Rahane Profile: His Family, Education, Cricket Career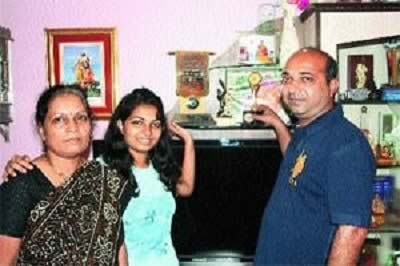 Ajinkya Rahane's Date Of Birth: 5 June, 1988. Aijinka Madhukar Rahane was born in Ashwi KD village, in Ahmednagar district, Maharashtra. Ajinkya is fondly known as "Ajju" at home.
Ajinkya Rahane's Parents: Ajinkya Rahane's father, Madhukar Baburao Rahane, works for Mumbai's BEST (Brihanmumbai Electric Supply & Transport) Undertaking. Ajinkya Rahane's father is a Diploma holder in Civil Engineering. Ajinkya Rahane's mother, Sujata Rahane, is a homemaker. Ajinka Rahane's Parents are from Chandanapuri, which is a village near Shirdi, in Ahmednagar district.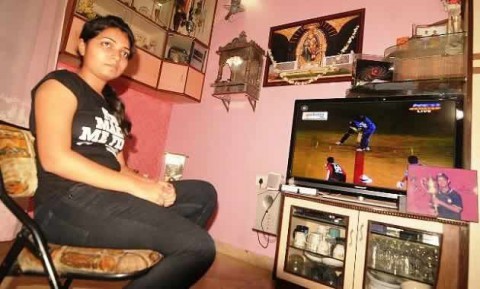 Ajinkya Rahane's Brother and Sister: Ajinkya Rahane has a younger sister, Apurva Rahane, and a younger brother.
Ajinkya Rahane's Height: 1.68m (5 feet 6 inches)
Ajinkya Rahane's Education: Aijinka Rahane studied at SV Joshi High School, Dombivli, near Mumbai. He has also completed two years of the three year Bachelor of Commerce (BCom) degree.
Ajinkya Rahane's Home: Ajinkya Rahane's family lived in Dombivali, near Mumbai, until he was 11 years old. Seeing the progress that his son was making as a young cricketer, Ajinka Rahane's father decided to shift to Mulund in Mumbai. This was done to reduce Ajinkya's travel time for cricket coaching. Today Ajinkya Rahane and his family live in a 2 bedroom apartment at B-2, Lok Nisarg, at Vaishali Nagar, Mulund West. Ajinkya's apartment complex borders the Sanjay Gandhi National Park.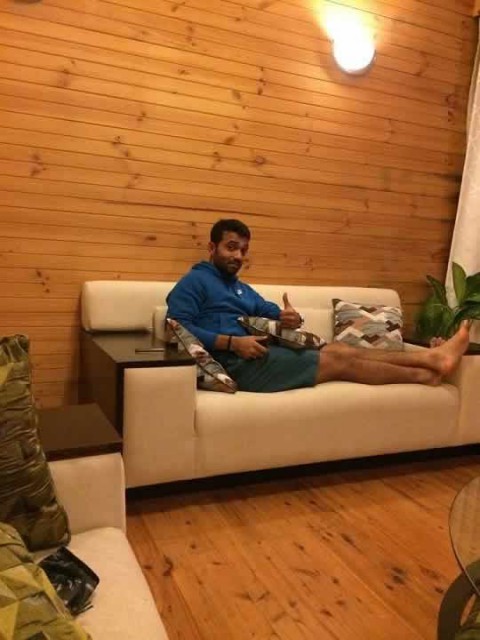 Ajinkya Rahane other interests: In addition to playing cricket, Ajinkya Rahane is also a Karate Black Belt. Ajinkya was a shy child; his father put him for Karate classes to develop his personality. Ajinkya is also a talented artist. He is also passionate about music. Aijinka Rahane is a devotee of Sai Baba of Shirdi. He meditates daily.
---
Ajinkya Rahane'S Cricket Career
Ajinkya Rahane's India Test Debut: Although Ajinka Rahane was selected for the Indian cricket team in 2011, he had to wait for 16 Test matches before he made his Indian Test debut on 22 March 2013, against Australia. Ajinkya Rahane was the 278th capped Indian test cricketer. It wasn't the best of debuts, because Ajinkya made only 7 and 1 run in that test. He hit his first century against New Zealand, in his 5th test match.
Ajinkya Rahane's ODI and T-20 Career: Ajinkya made his One Day Debut against England on 3 September, 2011. He made his India T-20 debut against England on 31 August, 2011. Ajinkya Rahane started his IPL journey with Mumbai Indians. In 2012 Ajinkya Rahane played for Rajasthan Royals under the captaincy of his childhood idol, Rahul Dravid.
Ajinkya Rahane's Early and First Class Cricketing years: Representing Mumbai in the Ranji Trophy and other first class tournaments, Ajinkya Rahane has scored 1000+ runs during the 2007-08, 2008-09 and 2010-11 seasons. He is one of only 11 batsmen who have scored over 1000 runs in a year in the Ranji Trophy. His highest Ranji Trophy score is 265 not out against Hyderabad in 2009. Ajinkya played for the Thane Uner-14 team.
Ajinkya Rahane's Cricket Coaches: Ajinkya Rahne's started his cricket coaching in Dombivali, a suburb of Mumbai. His first coach was Mr Khaatu, followed by Arvind Kadam and Sanjay Patil. Since the age of 17, Ajinkya Rahane has been coaching under Praveen Amre, who is a former India batsman and who has also coached the Mumbai Ranji Trophy team.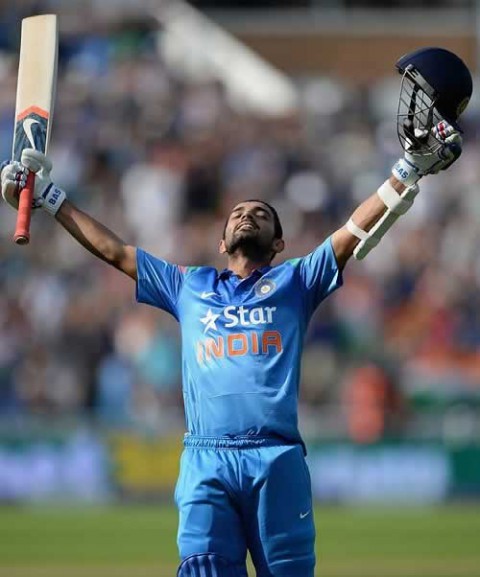 ---
RELATED ARTICLES:
Wedding of Cricketers and Sport Stars:
Wedding of Indian Celebrities and Film Stars:
Wedding of International Celebrities of Indian Origin:
---