Profile of Geeta Basra, Wife of Harbhajan Singh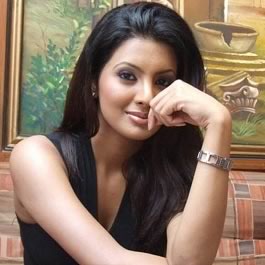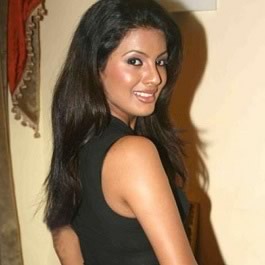 (Please click on Geeta Basra's image to enlarge)
GEETA BASRA'S DATE OF BIRTH: Geeta was born on March 13, 1984 in the Southern English port town of Portsmouth.
GEETA BASRA'S PARENTS: Geeta Basra's father is Rakesh Basra and her mother is Praveen Basra. The Basra's are Punjabis. Gita Basra's parents own a convenience store in Portsmouth called "Stop And Go".
GEETA BASRA'S BROTHER AND SISTER: Geeta Basra has a sister called Ruby Basra, who is younger to her by two years. Geeta Basra's brother, Rahul Basra, is younger to her by nine years. Rahul is studying in UK to become a lawyer.
(Please click on Geeta's Family image to enlarge)
GEETA BASRA'S HEIGHT: She is 5ft 3 inches tall.
GEETA BASRA'S JOURNEY TO HINDI MOVIES: Although Geeta had plans to become a criminal psychologist, at 18 she decided to try her luck in Bollywood. It took Geeta five months to convince her parents to let her travel to Mumbai to join the Indian film industry. With the support of her mother, Geeta made the journey to Mumbai. She took acting classes at "Kishore Namit Kapoor Acting Institute" and she worked on her Hindi, which was not up to Hindi movie standards. Hard work and persistence paid off. Geeta Basra's first Hindi movie was "Dil Diya Hai" opposite Emraan Hashmi in 2006. By the time of her marriage to Harbhajan, Gita had acted in seven movies. In addition to being an actor Geeta is also a model.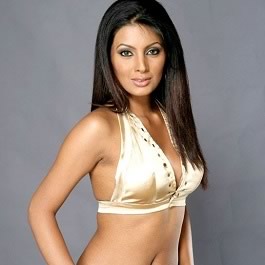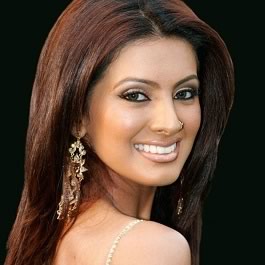 (Please click on Geeta basra's image to enlarge)
---
Pictures of Harbhajan Singh and Geeta Basra's Wedding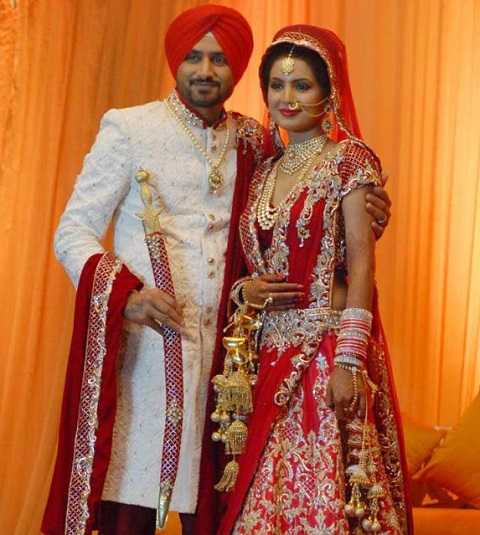 Harbhajan Singh (Bhaji) and Geeta Basra were married on October 29, 2015. Harbhajan's wedding took place at Cabbana Hotel, which is 17.5 Km from Jalandhar and 6 Km from Phagwara.
Harbhajan Singh and Geeta Basra's Wedding took place at Guru Nanak Mission Netraheen Vridh Ashram (Gurudwara), as per Sikh marriage customs ("Anand Karaj"). Guest at the marriage were mainly family members, friends and colleagues such as Sachin Tendulkar.
For her wedding Gita Basra wore a traditional Red and Gold Bridal "Lehanga-Choli" along with traditional Indian bridal jewelry like Kara bangles, Nath, Maang Tikka, Jhumkas, Chokar Necklace, etc.
At his wedding Harbhajan Singh wore an off-white/ivory Sherwani with a red "Dupatta" and red Turban.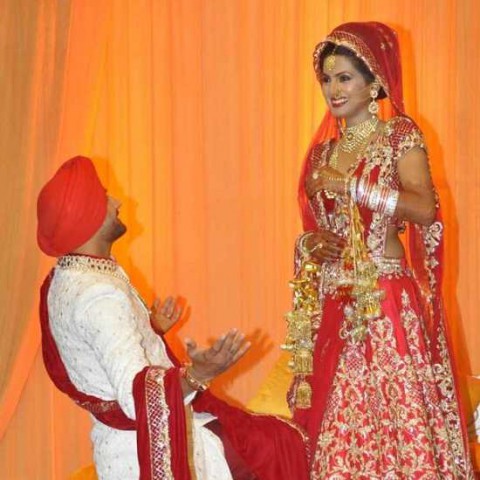 Harbhajan Singh and wife, Geeta Basra Singh, hosted a grand Marriage Reception on November 1, 2015, at Delhi's Taj Palace Hotel.
Guest at Harbhajan Singh's Wedding Reception included India's former Prime Minister Dr Manmohan Singh. PM Narendra Modi, crickerters Virat Kholi, M S Dhoni, Murali Vijay, Yuvraj Singh, Varun Aaron, Ajinkya Rahane, K L Rahul, Cheteshwar Pujara, Virendra Sehwag, Rohit Sharma with finacee Ritika, Anil Kumble, VVS Laxman, Kapil Dev, Ravi Shastri, Shikhar Dhawan, Ajay Jadeja, Munaf Patel, Indian hockey captain Sardar Singh, boxer Amir Khan and many more celebrities.
At her Wedding Reception, Geeta wore a beautiful dark blue Lehanga-Choli by designer Archana Kochar and Harbhajan wore a dark blue Bikaneri "Achkan". Harbhajan Singh's Reception dress was designed by Raghavendra Rathod, who is one of India's most famous fashion designers for bridegrooms. Recently Raghavendra Rathore designed the marriage clothes of Saif Ali Khan, Lisa Ray and her husband, Jason Dehni and Sahil Sangha (Dia Mirza's husband).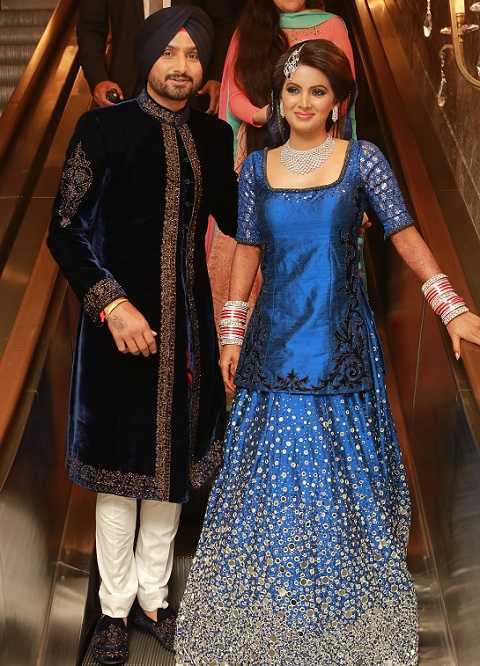 (Please click on Bhajji's Reception image to enlarge)
Harbhajan Singh and Geeta Basra Engagement and Sangeet was held on Oct 27, 2015. Famous Punjabi singers, Mika Singh and Gurdas Maan, performed at Harbhajan's Engagement. For the Sangeet cum Engagement ceremony, Geeta wore a beautiful embroidered green "Lehenga-Choli".
Geeta Basra's Mehendi ceremony was held in Jalandhar. For her Mehendi, Geeta wore a pink "Choli" and a yellow "Lehanga" by Archana Kochhar.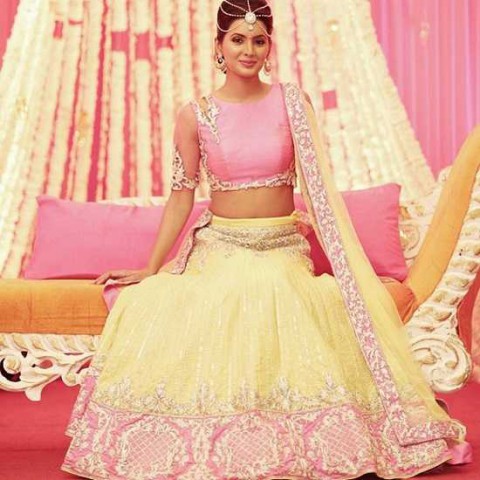 For all her wedding ceremonies, including Sangeet, Mehendi, Pheras and Reception, Geeta Basra will wear Indian ethnic bridal clothes designed by Archana Kochhar and Babita Malkani. In the past she has modeled for these designers. For the Wedding Reception Geeta will wear a blue Lehanga and Kurti.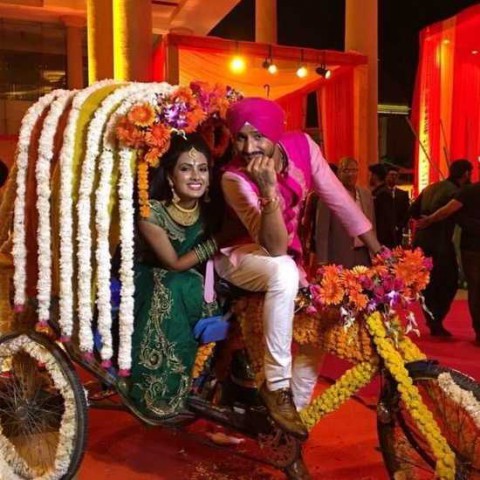 (Please click on Geeta abd Bhajji's image to enlarge)
---
Harbhajan Singh and Geeta Basra's Love Story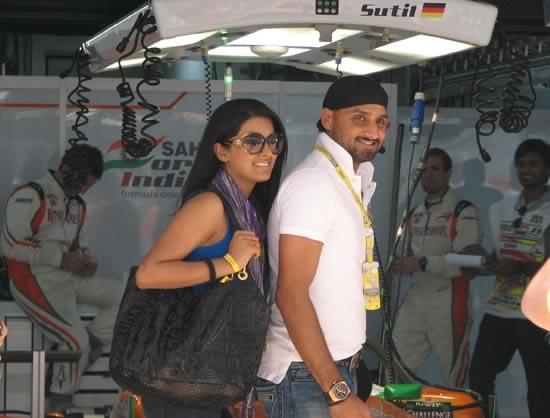 Harbhajan Singh was instantly attracted to Geeta Basra when he first saw her in the song "Woh Ajnabee" from the Hindi movie "The Train". He sent a message to Geeta saying that he would like to meet her tea or coffee. In reply, Geeta sent a message to Bhajji that she was proud of him for being part of the 20-20 World Cup winning team. Later when the first season of IPL T-20 season 1 started in 2008, Geeta requested Harbajan for 2 tickets, which he sent. That's how Harbhajan and Geeta first met during the first IPL season.
Geeta and Harbhajan were friends for 10 months before they got into a relationship. Bhajji was keen to marry and settle down, but Geeta wanted them both to focus on their respective careers.
Harbhajan Singh and Geeta Basra kept denying that they were anything more than just friends; but the rumors persisted. These rumors reached a crescendo when Harbhajan Singh took Geeta Batra home for his sister, Sandeep Kaur's, wedding. Geeta Basra was received warmly by Harbhajan Singh's mother, Avtar Kaur, and his family. In April, 2012, Geeta admitted in a newspaper interview that Harbhajan was special to her, but she went on to add that she had no plans of marrying anytime soon.
Both Harbhajan Singh and his wife Gita Basra have been discreet about their relationship and have tried to stay away from the media.
---
RELATED ARTICLES:
Wedding of Cricketers and Sport Stars:
Wedding of Indian Celebrities and Film Stars:
Wedding of International Celebrities of Indian Origin:
---