Ritesh & Genelia at Dhiraj & Honey Bhagnani's Wedding
Picture of Ritesh And Genelia's Maharashtrian Wedding 
[Please Click on Images to enlarge. More picture of Ritesh & Genelia's Maharashtrian Wedding later in this article].
Wedding Photo Taken By Riteish From His Mobile
[Click Images to view full pictures. Picture quality is not that great because they have been taken from Riteish's mobile]
Happy Parents of Genelia and Riteish at the Maharashtrian Wedding
Photos of Genelia and Ritesh's Church Wedding on Feb 4, 2012
Picture of Ritesh and Genelia's Wedding Reception on 4 Feb, 2012
Genelia's Wedding Ring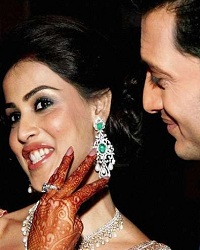 Riteish Deshmukh and Genelia D'Souza Maharashtrian Wedding on February 3, 2012
Riteish Deshmukh and Genelia D'Souza's wedding took place on 3 February, 2012, at the Grand Hyatt, Santacruz. It was a traditional Maharashtrian Hindu wedding. Ritesh and Genelia also had a Roman Catholic Church wedding the next day (Feb 4) at St Anne's Church. (Details & pictures  of Ritesh & Genelia's Church wedding is later in this article)
For the Maharashtrian wedding, Genelia's wore a beautiful Red bridal sari with a Gold Kundan border. Her blouse was golden and exquisitely embroidered. On her forehead Genelia wore a traditional Maharashtrian "Mundavalya" (decorative strings of pearls tied on the forehead) and in her left nose she wore a Maharashtrian "Nath" (nose ring) (please see above pictures). Genelia's Bridal saree was designed by Neeta Lulla and styled by her daughter Nishka Lulla. Genilia wore so much gold jewelry that if she were to donate it, it would solve India's debt crisis.
Ritesh wore a smart off-white/cream embroidered "Sherwani" with a traditional Maharashtrian "Petha" (turban or pagadi)  which had a white feather in it . On his forehead, Riteish wore a traditional pearl "Mundavalya". Riteish also wore a string of pearls around his neck.
Ritesh arrived at the wedding ceremony with a "baraat". Riteish rode on a horse while a band played traditional Marathi songs. There were dancers performing the "Lavani" and using the "Laizzim". Before leaving for the wedding, Ritesh performed "Ganpatipujan" at a temple where he seeked the blessing of Lord Ganesh.
The wedding ceremony started with Ritesh arriving first at the Lagna (Wedding) Mandap with a red garland. He stood facing west. The priest chanted "Mangalashtaka" and placed a "Antarpat" (cloth screen) before Ritesh. Next, Genelia arrived with a red garland and stood on the other side of the "Antarpat". After the "Mangalashtaka", Riteish's mother, Vaishali Deshmukh, tied a "Eksari" (made of black beads and a gold pendant) around Genelia's neck. Once the pandit finished chanting the "Mangalashtaka", the "Antarpat" screen was removed and Riteish put the garland around Genelia and then Genelia put the garland around Ritesh. Holy water was sprinkled on both of them and an aarti was performed.
Genelia's father,Neil D'Souza, then performed her "Kanyadaan". Riteish made a cup out of his palms. Genelia's mother, Jeanette D'Souza, poured holy water into it and Genilia's father gave her away in marriage. Next a "Lakshminarayan Puja" was done and the couple tied a Halkund on their hands. Ritesh then tied the "Mangalsutra" around Genelia's neck. Next the "Saptapadi" ceremony was performed. GENELIA AND RETEISH WERE NOW officially MARRIED. But wait; just one marriage was not enough for the two of them. They re-validated their marriage vows the next day in a Roman Catholic Church wedding (details of the Church wedding are mentioned below).
There was an impressive guest list at the wedding. Among the guests were Abhishek were Abhishek Bachchan, Jaya Bachchan, Tina Ambani, Shahid Kapoor, Kajol, Ajay Devgn, Akshay Kumar, Sajid Nadiadwala, Satish Shah, Asin, Raj Thackery, Ashutosh Gowariker, Sajid Khan, Suniel Shetty, Karan Johar with his mother, Hiroo Johar. Ashish Chowdary is reported to have stolen Riteish's shoes.
Genelia In Her Wedding Saree & Mother-Daughter Neeta Nishka Lulla Who Designed Genelia's Sari
Ritesh's Wedding Sherwani, Genelia's Bridal Saree
Ritesh Deshmukh With His Baraat On Feb 3, 2012
Riteish and Genelia's Roman Catholic Church Wedding
Since Riteish is a Maharashtrian, Riteish and Genelia married in a traditional Maharashtrian wedding ceremony on Feb 3, 2012. Respecting Genelia's Catholic faith (she is a Manglorean Catholic), both Genelia and Ritesh married in a Roman Catholic Church wedding on Feb 4, 2012. The wedding took place at Bandra's St Anne's Church. Riteish's Best Man at the wedding was Karan Johar.
Genelia wore a beautiful white bridal gown. Ritesh looked dapper in a black suit and bow tie.
Picture of Genelia in Her Wedding Gown & Best Man Karan Johar
Ritesh and Genelia's Wedding Reception
The Ritesh Genelia Wedding Reception was held on Feb 4 at the Grand Hyatt, Mumbai. AMong the celebrities who attended were Among the celebrities present, who turned up only on reception were Amitabh Bachchan, Jaya and Aishwarya Bachchan, Aamir Khan, Madhuri Dixit, Juhi Chawla, Saif Ali Khan, Kareena Kapoor, Randhir Kapoor,Rekha, Imran Khan with wife Avantika, Anushka Sharma, Sushmita Sen, Bipasha Basu, Mithun Chakroborty with son Mimoh,  Tara Sharma, Himesh Reshammiya, Zarine Khan, Shekhar and son Adhyan Suman, Bappi Lahiri, Abbas Mustan, Jacqueline Fernandes, Zayed Khan,  Atul Agnihotri, Daboo Ratnani, Alvira and Arpita
Guests at Ritesh and Genelia's Wedding Reception on Feb 4, 2012
According to rumours, Riteish Deshmukh and Genelia D'Souza were engaged on September 11, 2011 in a private ceremony. It is believed that the fire of love was first ignited during the shooting of "Tujhe Meri Kasam", which was Riteish's & Genelia's debut film. Ritesh and Genelia will next appear in Mandeep Kumar's "Tere Naal Love Ho Gaya".
Dates of Genelia – Riteish 4 day Wedding
Genelia – Riteish Mehendi: January 30, 2012 (Monday)
Genelia – Ritesh Sangeet: January 31, 2012 (Tuesday) at Land's End Hotel, Bandra. Genelia wore a beautiful white-cream Lehenga by Manish Malhotra.
Genelia – Ritesh Hindu Maharastrian Wedding: February 3, 2012 (Friday) at the Grand Hyatt, Santacruz (East). As with most Maharashtrian marriages, the wedding was held during the day time. The Baraat will arrived around noon. Genelia's bridal trousseau was designed by Neeta and Niksha Lulla.
Genelia – Ritesh Christian Wedding: February 4, 2012 (Saturday) at St Anne's Church, Bandra. On the morning of the 4th, Genelia and Riteish married in a Roman Catholic ceremony in church. Ironically Ritesh's parents, Vilasrao and Vaishali Deshmukh were not present for this ceremony.
Genelia – Ritesh Reception: February 4, 2012 (Saturday) at the Grand Hyatt, Santacruz (East). Riteish and Genelia's reception started at 7:30 pm and celebrities from the field of entertainment, movies, business, politics, etc were present at the reception.
The Genelia Riteish Love Story
Both, Ritesh Deshmukh and Genelia D'Souza, made their Hindi film debut in "Tujhe Meri Kasam" which was released on Jan 3, 2003. The initial sparks of love were stoked on the film set of "Tujhe Meri Kasam". The couple next acted together in the 2004 super hit comedy "Masti". For the last 8 years Riteish and Genelia has been in a steady relationship. They have kept their relationship private and away from the media spotlight.

Genelia D'Souza Profile
Genelia D'Souza is a Konkani speaking Mangalorean Catholic. In addition to Hindi movies, she has also successfully acted in Tamil, Telegu, Kannada and Malayalam movies. Genelia was awarded a Filmfare award for the Telegu movie "Bommarillu". Since her debut in 2003 with Ritesh, Genelia has acted in 35 movies. Genelia is also a keen sportsperson having played various sports at school, state and national level. She has played football at the National level. Both her parents are successful, senior executives.

Ritesh Deshmukh Profile
Ritesh is the second of three sons of Vilasrao Deshmukh, who is the Minister of Science and Technology and Minister of Earth Sciences. Ritesh is known for his comic timing and comedy roles. Many of his successful movies are those which have an ensemble of actors. Since 2003, when he made his debut, Ritesh has acted in 32 movies.
Will Riteish & Genelia Have a Hindu, Christian or Civil Wedding Ceremony?
Since Genelia is a devout Christian and Ritesh is a Hindu, will the wedding ceremony be a Hindu ceremony or a Christian ceremony or a civil marriage? According to reports, it will be a traditional Maharashtrian wedding. Genelia will wear a traditional "Nawari" sari. Genelia may even put a "Nath" (nose ring) and "Mundavalya". Another point of interest is whether Genelia converts to Hinduism or whether the couple respect each others faith and practice whichever faith they believe in.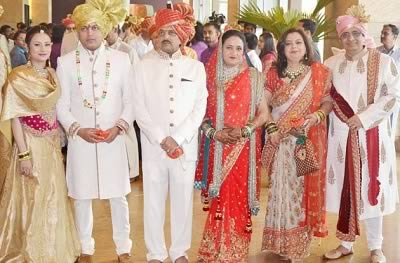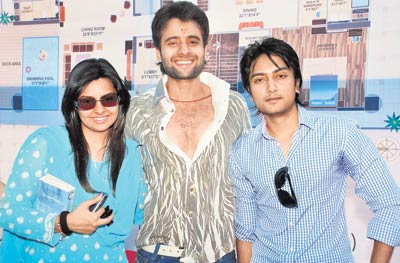 Picture of Dheeraj (Riteish's Brother's) Wedding & Reception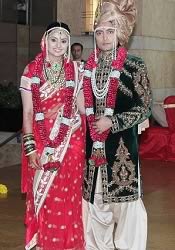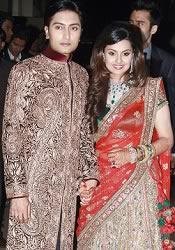 Riteish's brother Dheeraj Deshmukh Married Honey (Deepshikha) Bhagnani on Feb 28, 2012
Vilasrao Deshmukh and wife, Vaishali, celebrated not just Riteish's wedding in February, 2012, but also the wedding of his younger brother, Dheeraj Deshmukh to Deepshikha (Honey) Bhagnani. Dheeraj and Honey have known each other for a long time. Dhiraj Deshmukh and Honey Bhagnani were formally engaged on 22nd May, 2011. Honey Bhagnani is the daughter of Hindi film producer Vashu Bhagnani and sister of actor Jackky Bhagnani. Honey runs her own "Décor" accessories store in Juhu and also helps out with her father's production company, "Puja Films".   With Vilasrao Deshmukh busy with the wedding of his sons, Riteish and Dheeraj, wonder who is managing the Indian government's "Ministry of Science and Technology"?
Riteish Genelia together in "Tere Naal Love Ho Gaya"
Ritesh's and Genelia's last Hindi film together was "Masti", which was 7 years ago. 20 days after their wedding, the newly weds will be seen together on screen in "Tere Naal Love Ho Gaya". Since the release of their movie is so close to their wedding, Genelia and Riteish may postpone their honeymoon.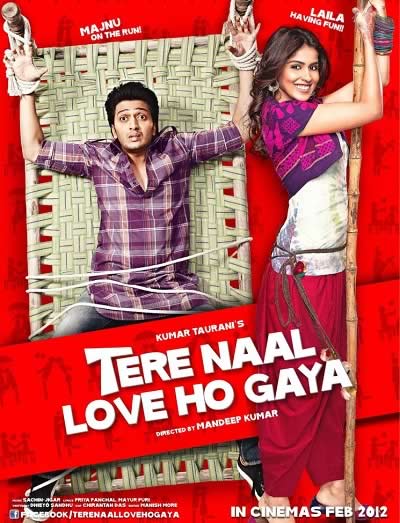 "Tere Naal Love Ho Gaya" is a romantic comedy in which Riteish play the role of mild mannered "Viren" who accidentally kidnaps "Mini", the tom-boyish daughter of his employer. While on the run Viren and Mini fall in love. The director of the movie, Mandeep Kumar, claims that Retish and Genelia were so professional on the movie set that he had no idea that they were a couple who were planning to get married.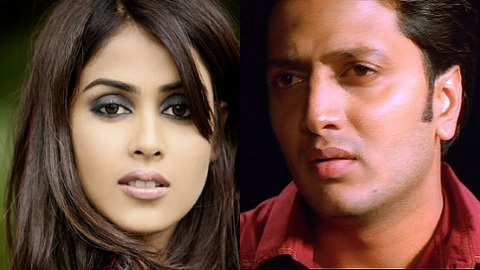 ---
RELATED ARTICLES:
Wedding of Indian Celebrities and Film Stars:
Wedding of Cricketers and Sport Stars:
Wedding of International Celebrities of Indian Origin:
---