Mohit Suri and Udita Goswami Suri are expecting their first child in January, 2015.
In addition to this good news, Mohit Suri's directorial career is doing very well with two back-to-back big hit films ("Aashiqui 2" and "Ek Villain").
Pictures of Udita Goswami and Mohit Suri at Their Wedding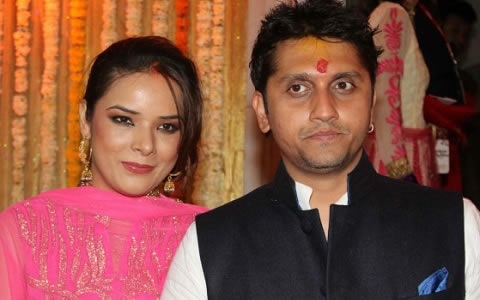 (Please click on pictures to enlarge)
Mohit Suri (film director of Aashiqui 2, The Villian, Murder 2) and Udita Goswami were married on Tuesday, 29 January, 2013, according to Punjabi Hindu Wedding Rituals. Their wedding ceremony took place at the Juhu ISKCON Temple ("Hare Rama Hare Krishna" Temple).
Udita Goswami and Mohit Suri's wedding had all the elements of a typical Punjabi wedding. Mohit Suri's "Baraat" arrived at the temple with the traditional "Band and Baaja". Mohit wore a "Shera" around his forehead. Friends and relatives of Udita and Mohit carried them on their shoulders for the "Jaimala" ceremony. This was followed by the "Pheras" around the Holy Fire, "Kanyadhan" and "Vidaai".
For her wedding dress, Udita Goswami wore a beautiful Red Bridal Lehanga.
Mohit was dressed simply and elegantly in a White Churidar Kurta with a navy blue Nehru jacket.
After the wedding Udita wore the traditional Red and White Bangles ("Chura") worn by newly married Punjabi brides.
---
Family Members at Mohit Suri and Udita Goswami's Marriage
(Please click on pictures to enlarge)
From Mohit Suri's side the Bhatt family (maternal uncle Mahesh Bhatt, Mukesh Bhatt, aunt Soni Razdan, Mahesh Bhatt's daughter, Shaheen Bhatt, Mukesh Bhatt's son Vishesh Bhatt and daughter, Sakshi Bhatt), Hashmi family (cousin Emraan Hashmi, his wife Parveen Shahani and son, Ayaan Hashmi), Darshan family (cousin Suneel Darshan), Grandmother and sister, Smiley Suri.
Udita Goswami's family at her wedding included her father, brother, sister-in-laws, niece and nephews.
---
Udita Goswami and Mohit Suri's Love Story
Uditi Goswami and Mohit Suri fell in love in 2005, during the filming of Mohit Suri's directorial debut film, "Zeher". This was Udita's second Hindi film, in which she played the Lead role of a femme fatale.
In 2008 and 2009, Udita and Mohit's relationship went through a bad phase. They broke up and made up a number of times. Eventually, they managed to sort out their differences and were back together.
In 2010 there were rumors that the couple would marry after the release of "Crook".
In mid 2011, Mohit and Udita once again split up. Udita went to USA for a couple of months, whereas Mohit immersed himself in work. Later in 2011, Udita and Mohit's bond was reignited.
Through 2012, Uditi Goshwami and Mohit Suri's relationship had stabilized and it has culminated in their wedding.
---
Hindi Film Director, Mohit Suri's Profile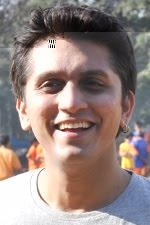 Mohit Suri's Date Of Birth

: 11 April, 1981

Mohit Suri's Mother

:

Mohit's mother is the sister of Mahesh and Mukesh Bhatt

. She passed away in 1989 when Mohit was 8 years old.

Mohit Suri's Father

: Daksh Suri, Mohit Suri's father, passed away on 15 July, 2011, at the age of 60. Daksh Suri died of brain hemorrhage and multiple organ failure in a Chennai hospital.

Mohit Suri's Sister

: Actress Smiley Suri made her film debut in brother, Mohit Suri and uncles Mukesh and Mahesh Bhatt's "Zeher". She has also acted in "Teesri Aankh", "Yeh Mera India" and "Crook". Smiley Suri's screen name is "Smilie" and "Smilee". Smiley Suri married Vineet Bangera on July 2, 2014 in a ceremony that combined North Indian and South Indian marriage rituals. Smiley first met Vineet in 2013 when she joined his dance classes to learn Salsa. Vineet's dance company's name is Dance Central.

Mohit Suri's Uncles and Grandparents

: Mahesh and Mukesh Bhatt are real life brothers ("Mamma") of Mohit's mother. Mohit Suri's maternal grandfather, Yeshwant (Nanabhai) Bhatt, was a movie director/producer. Nanabhai's elder brother, Balwant Bhatt, was also a film director. Mohit Suri's maternal grandmother, Shirin Mohammad Ali (Mahesh Bhatt's mother), was also an actress and so was her sister Poornima (Meher Bano) Varma (Emraan Hashmi's grandmother).

Mohit Suri's Cousins

: Mohit's cousins in the film industry include actress/producer/writer/director Pooja Bhatt (Mahesh Bhatt's daughter), actor/writer Rahul Bhatt (Mahesh Bhatt's son), actress Alia Bhatt (Mahesh Bhatt's daughter), assistant director Shaheen Bhatt (Mahesh Bhatt's daughter), actor Emraan Hashmi (Mahesh Bhatt's nephew, Mohit's grandmother was the sister of Emraan's grandmother), director Vishesh Bhatt (Mukesh Bhatt's son), director/producer/writer Suneel Darshan and director/writer Dharmesh Darshan (their mother is Mohit's and Mahesh Bhatt's sister), actress Onjolee Nair (Mahesh Bhatt's niece).

Mohit Suri's Film Career

: Mohit started his Hindi Movie career as an Assistant Director to Vikram Bhatt on "Kasoor". He worked as an assistant on 3 films. In 2004, uncles Mukesh and Mahesh Bhatt gave Mohit Suri his big break by asking him to direct "Zeher". "Zeher" released in 2005 and was a success. His next movie was "Kalyug" in 2005, which had Mohit's sister, Smiley, in the lead. Mohit Suri has directed 8 Hindi movies under uncle Mahesh and Mukesh Bhatt's production house, "Vishesh Films". "Aashiqui 2" has been the biggest hit of Mohit Suri's directorial career. Mohit finish shooting "Aashiqui 2" a week before his wedding. The lead actors in "Aashiqui 2" are Shraddha Kapoor (Shakti Kapoor's daughter) and Aditya Roy Kapur (Siddharth Roy Kapur's youngest brother; only recently Siddharth wed Vidya Balan) "Murder 2", released in 2011, is Mohit Suri's second biggest hit film. In 2014, Mohit Suri delivered another big hit – "Ek Villian". "Ek Villian is produced by Balaji Motion Pictures and Ekta kapoor, and stars Sidharth Malhotra, Shraddha Kapoor and Reteish Deshmukh. "Ek Villian" is Mohit Suri's first film outside the "Vishesh Films" banner. Mohit Suri's 2015 release is "Hamari Adhuri Kahani" starring Vidya Balan, Rajkumar Rao and cousin Emraan Hashmi.
 (Please Click on Picture to Enlarge and Start Slideshow)
Mohit Suri's Filmography
Zeher (2005) (Director)
Kalyug (2005) (Writer and Director)
Woh Lamhe (2006) (Director)
Awarapan (2007) (Director)
Raaz: The Mystery Continues (2009) (Writer and Director)
Crook (2010) (Writer and Director)
Murder 2 (2011) (Director)
Aashiqui 2 (2013) (Director)
Footpath (Asst director)
2002 Awara Paagal Deewana (Asst director)
2001 Kasoor (Asst director)
---
Hindi Film Actress, Udita Goswami's Profile
Udita Goswami's Date of Birth: 9 February, 1984 at Dehradun.
Udita Goswami's Full Name: Virgoan Udita Goswami
Udita Goswami's Parents: Udita's father is 64 year old Udyan Giri Goswami, who is from Varanasi and her mother is from Meghalaya. Udita's gets her distinctive North-Eastern looks from her mother.
Udita Goswami's Film Career: Udita moved to Bombay at the age of 16 to be part of the film world. She started with modeling assignments.

Udita was discovered by Pooja Bhatt

, who directed her in the 2003 John Abraham starrer "Paap". This was both Udita and Pooja Bhatt's debut film as actor and director respectively. Udita Goswami's husband, Mohit Suri, directed her in the 2005 film, "Zeher". This is the only time the two have collaborated together on a movie.
Uditi Goswami's Social Causes: Udita loves animals, especially dogs. She has adopted 3 stray dogs. Udita supports PETA (India) and Save Our Stray.
Interesting Information about Udita Goswami: Udita has studied a DJ course under DJ Suketu. She has sung a Nepali version of Dhanush's "Kolaveri Di". Udita has also written a Hindi movie script. Post her wedding, Udita Goswami plans to be connected with the Hindi Film industry either as a writer, director or producer.
 (Please Click on Picture to Enlarge and Start Slideshow)
Udita Goswami's Filmography
Paap (2003)
Zeher, Amar (2005)
Aksar, Dil Diya Hai (2006)
Aggar (2007)
Kisse Pyaar Karoon, Fox (2009)
Chase, Apartment, Rokkk (2010)
Mere Dost Picture Abhi Baki Hai, Diary Of A butterfly (2012)
---
RELATED ARTICLES:
Wedding of Indian Celebrities and Film Stars:
Wedding of Cricketers and Sport Stars:
Wedding of International Celebrities of Indian Origin:
---