Article has pictures and details of Wasim Akram's engagement and wedding to Shaniera (Mia) Thompson. Article also has pictures and profile of Wasim Akram and Shaniera Thompson and their families.
Wasim Akram's Wedding (Nikah) to Shaniera: Pictures and Details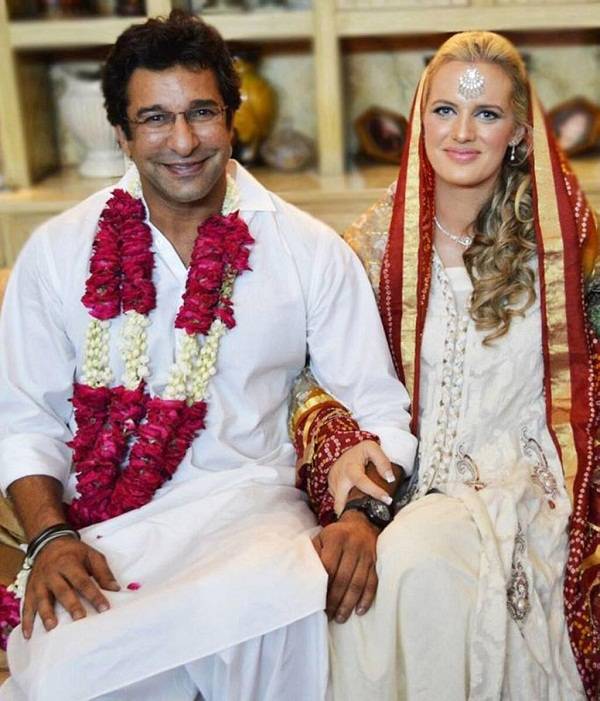 Wasim Akram and Shaniera Thompson were married on August 12, 2013.
Wasim Akram and Shaniera Thompson's "Nikah" (Wedding) took place in Lahore, Pakistan.
The Wedding ("Nikaah") was a simple, private ceremony, attended by only family members. Wasim Akram and Shaniera Thompson's "Nikah" was conducted as per Islamic traditions. Shaniera  has already converted to Islam.
As part of the "Nikah" (aka "Nikkah") ceremony, the "Ijab-e-Qubul" ritual was performed. Wasim Akram proposed marriage ("Ijab") to wife Shaniera Thompson. Shaniera accepted Wasim's proposal ("Qubul"). Wasim Akram and Shaniera Mia Thompson signed the "Nikahnama" (marriage certificate) and they became husband and wife.
The wedding seems a bit sudden, but that can be explained by the fact that Wasim Akram's father (Choudhry Mohammad Akram) is ailing and it is possible that the family thought it best to complete the wedding in his presence. Shanera came to Karachi in early August to celebrate Eid with Wasim & his sons. Wasim Akram was criticized by some in Pakistan for allowing an unmarried woman to stay in his house. This too may have prompted an early wedding.
---
Wasim Akram's Wife, Shaniera: Photos, Profile, Family
(Please click on Shaniera Mia Thompson's and her families picture to Enlarge)
Shaniera Thompson or Shaniera Mia as she is known as has converted to Islam to marry Wasim Akram. Shaniera Thompson may have taken the name "Mia" after her conversion to Islam.
Shaniera Mia (aka Thompson) is from Brighton, which is a suburb of Melbourne in Australia.
Bronte Thompson is Shaniera Thompson's younger sister. Pictures of Shaniera's sister, mother and father are shown below.
Shaniera Thompson is a Public Relation Consultant.
---
Wasim Akram's Engagement & Wedding To 2nd Wife, Shaniera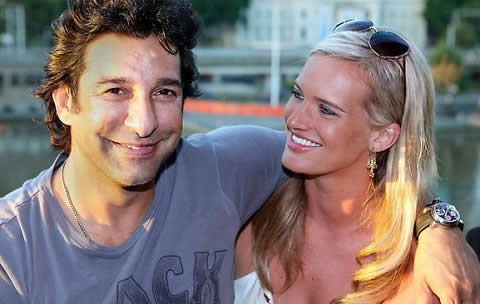 The "Nikah" (wedding) of Wasim Akram and fiancé, Shaniera Mia Thompson, will take place in 2014 in Karachi.
Wasim Akram met his future second wife, Shaniera Mia Thompson, in Melbourne, Australia in 2011. From their first meeting Wasim and Shanera Thompson got along well.
After a courtship of almost 2 years, Wasim Akram proposed marriage to Shaniera Mia. Wasim Akram proposed to Shaniera in the living room of his home in Karachi. He went down on his knee to propose to Shaniera. Before accepting Wasim's wedding proposal, Shaniera asked him to get her father's approval.
At the time of Shaniera Thompson's engagement to Wasim Akram, she had converted to Islam.
Before Wasim Akram and Shanera Thompson's engagement, Wasim had consulted his sons (Taimur and Akbar), his parents and family members. Wasim Akram also took the permission of his first wife's (Huma Wasim Akram) parents. His in-laws from his first marriage met Shanera Mia and were supportive of Wasim's decision to marry for a second time. For Wassim Akram, the welfare of his two sons takes precedence over everything else.
Shaniera Thompson gets along well with Wasim Akram's sons. Shaniera and Wasim Akram's sons, Tahmoor and Akbar, have spent time together in Pakistan and Sri Lanka.
Post their wedding, Wasim Akram and Shaniera Thompson will live in Karachi.
There is a 17 year age difference between Wasim Akram and Shaniera Mia. At the time of their engagement, Wasim was 47 at Shaniera was 30.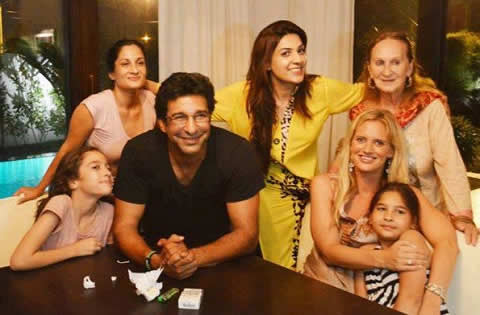 ---
Family Pictures of Wasim Akram's Sons
(Please click on pictures of Wasim Akram and his 2 sons to Enlarge)
Huma and Wasim Akram's eldest son is Taimur Akram who was born in 1996 and their youngest son is Akbar Akram who was born in 2000.
---
Profile and Pictures of Wasim Akram's First Wife Huma
(Please click on Huma Akram's picture to Enlarge)
Pakistani cricketer, Wasim Akram, married his first wife, Huma Wasim Akram in 1995.
Wasim Akram met his first wife, Huma Mufti, in 1988 at a party in London.
Wasim and Huma Akram married in 1995. Preparations and celebrations for the wedding went on for 3 months.
Huma Akram's maiden name was Huma Mufti.
Huma Akram's mother is Croatian. Huma's father, Mr. Humayaun Mufti, is a Pakistani based in UK.
Huma Akram was well educated. She had degrees in English Literature, Psychology and European History.
Huma Akram was a qualified Psychotherapist who worked in some of the leading hospitals in Karachi. At one point, she was the Psychological Counselor of the Pakistan Cricket team.
Huma Wasim Akram helped Wassim Akram mentally to improve his game. Huma helped Wasim through some of the most difficult phases of his cricket career (player revolt of 1993-94, betting charges, match fixing allegations, shoulder and groin injuries, etc) and in his fight against type 1 Diabetes.
At the time of their marriage, Huma Akram did not know much about cricket. Later, despite being married to the best left arm fast bowler in the world, her knowledge of cricket was limited.
(Please click on pictures of Wasim Akram and first wife, Huma, to Enlarge)
---
What caused Huma Akram's Death at the young Age of 42
Wasim Akram's First wife, Huma Akram died on October 25, 2009, at Apollo Hospital in Chennai, India.
In October 2009, Huma Akram had a throat infection, which then infected her kidneys. This led to acute renal failure. Other organs in the body also started getting impacted. Huma suffered severe kidney infection, inflammation of blood vessels and high pressure in blood vessels in her lungs.
A week before her death, Huma Akram's life was in critical condition. Akram and his family took a decision to fly Huma to Singapore for treatment. While travelling in the air ambulance to Singapore, Huma's condition deteriorated. At the stopover at Chennai, it was decided to take Huma to Apollo Hospital in Chennai in India. When Huma arrived at the hospital, she was in septic shock.
Huma Akram died of multiple organ failure. Doctors cited cardiac arrest and severe refractory shock as the cause of death.
It has been reported in the press that Huma Akram was in the advanced stages of cancer.
---
Pictures of Wasim Akram's Family Members
(Please click on Images to Enlarge)
Wasim Akram has an elder brother, Nadeem Akram, and a sister, Sofia.
Wasim Akram's father is Choudhry Mohammad Akram and mother is Begum Akram Chaudhry.
Wasim Akram's father was originally from Chawinda Devi village near Amritsar in Punjab, India. During the partition of India and Pakistan, Chaudhry Mohammad Akram migrated to Pakistan.
---
RELATED ARTICLES:
Wedding of Cricketers and Sport Stars:
Wedding of Indian Celebrities and Film Stars:
Wedding of International Celebrities of Indian Origin:
---