Yusuf Pathan's Wedding To Afreen
Yusuf Pathan and his wife Afreen were blessed with a baby boy, 13 months after their marriage. Afreen gave birth to a healthy boy at 3:00 am, on 17 April, 2014. Yusuf Pathan's son was born in a private hospital in Vadodara (Baroda), Gujarat.
At the time of his son's birth, Yusuf Pathan was in UAE, playing T-20 cricket in IPL 7 (2014) for "Kolkata Knight Riders" (KKR). Since IPL 7 had just started, Yusuf Pathan was not sure whether to come back home. It was KKR owner, Shahrukh Khan, who insisted that Yusuf fly back home to be with his wife and new born son.
---
Wedding Picture of Yusuf Pathan's Wife, Afreen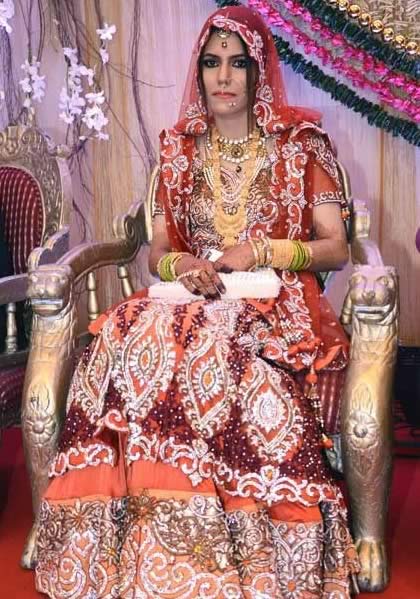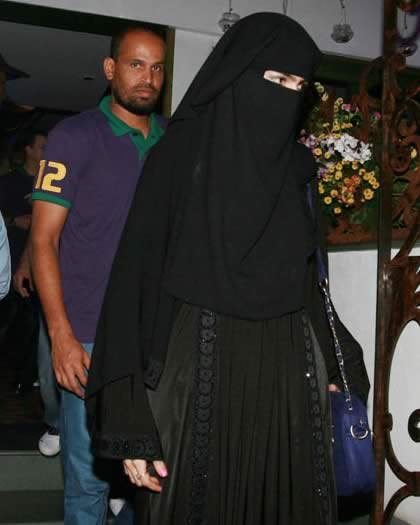 ---
Yusuf Pathan's Wedding Reception (Dawat-E-Walima)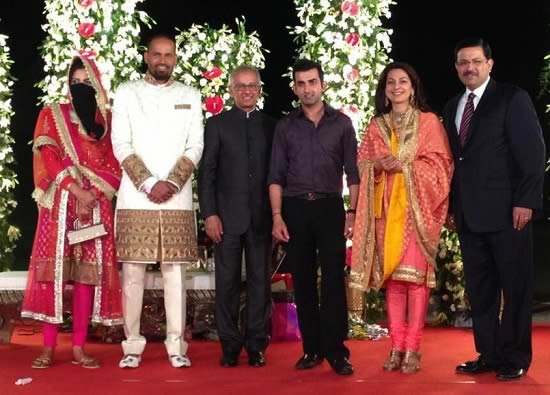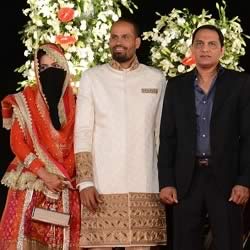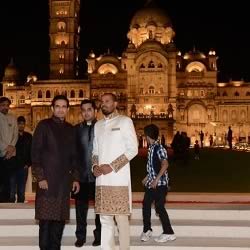 (Please Click on Yusuf Pathan and Afreen's Reception Pictures to Enlarge)
"Dawat-E-Valima" (Wedding Reception) of Yusuf Pathan and wife, Afreen Pathan, was held in the beautiful Sunken Garden lawns of Vadodara's amazing Laxmi Vilas Palace.
Yousuf looked dashing in a White Sherwani with embroidered edges. The tall Afreen (her height is around 5ft 8 inches), looked elegant in a Pink and Red Salwar Kameez. Afreen also wore a Black "Niqab" (veil) on her face.
Over 400 guests attending Yusuf Khan Pathan's Marriage Reception ("Daawat-E-Walima"), including family members, friends, cricketers and government officials. Irfan Pathan welcomed guests to the Wedding Reception.

Among the guests at Yusuf's Reception were Kolkata Knight Riders (KKR) co-owners Juhi Chawla and husband Jay Mehta. Also present were Venky Mysore, CEO and MD of KKR and CEO of Red Chillies Entertainment and KKR captain Gautum Gambhir.

Cricketers at Yusuf's reception included Indian Member of Parliament (MP) and former Indian cricket captain, Mohammed Azharuddin, Balwinder Singh Sandhu, Kiran More and Salim Durani. Since the IPL 2013 was just about to start, most active cricketers were unable to attend.

Gujarat Chief Minister, Narendra Modi, could not attend Yusuf Pathan's Wedding Reception, but he sent his congratulations. Family members of the current Maharaja of Baroda, Samarjitsinh Ranjitsinh Gaekwad, attended the reception. The awe-inspiring Laxmi Vilas Palace was built by Maharaja Sayajirao Gaekwad III in 1890.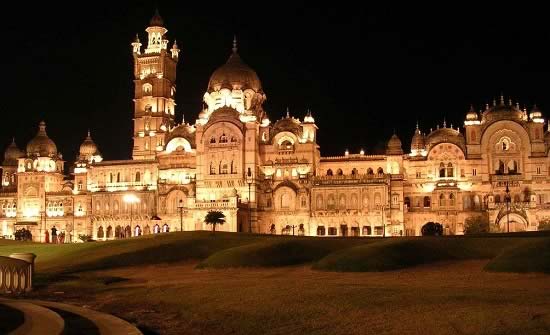 ---
Photos of Yusuf Pathan at his Marriage to Wife, Afreen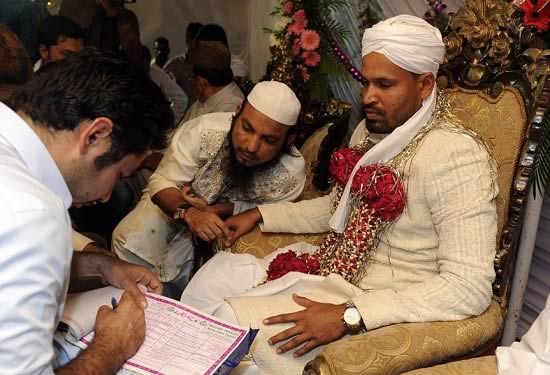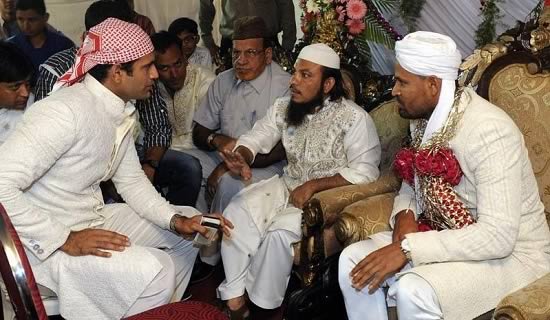 Yusuf Pathan and Afreen were married on March 27, 2013, at the Sunni Nai Masjid at Ghodapdeo (Raey Road) in Mumbai.

Yusuf Pathan's "

Nikah

" with wife Afreen was a relatively private affair with mainly family and close friends.

At the "

Nikaah

" (marriage), the "

Qazi

" ("

Maulvi

", priest) read from the Quran and he oversaw the "

Ijab-e-Qubul

". The "

Ijab-e-Qubul

" is an important Islamic wedding custom where Yusuf Pathan made a proposal for Marriage ("

Ijab

") to wife Afreen. Afreen accepted the proposal ("

Qubul

") in the presence of two witnesses ("

Walis

"). Yusuf Pathan agreed on a "

Mehr

" (marital gift) for his wife, Afrin. Finally the "

Nikahnama

" (marriage contract) was signed by Yusuf Pathan, Afreen, two witnesses, father of the bride, father of the groom (Mehmood Khan Pathan) and the priest.

After the wedding, Afreen's parents performed "

Ruksat

" (farewell) and she left with her husband, Yusuf Khan Pathan.

 In the evening, a Reception cum Dinner was held at Mayfair Banquet at Worli in South Mumbai.
---
Yusuf Pathan's Engagement To Afreen
Indian cricketer Yusuf Pathan was engaged to Afreen on March 24, 2012. Yusuf and Afreen's private engagement took place at Yusuf Pathan's farm house in Nadiad (Gujarat), which is 60 kms from Vadodara. Those present at the engagement included Yusuf, Irfan, their family, Afreen, her family and close friends of both families. According to some other reports, Yusuf and Afreen had been engaged earlier, and the meeting on March 24, 2012 was a family get together.

Yusuf Pathan's wife, Afreen, grew up in Mumbai and she is a physiotherapist by training.

"Afreen" or "Afrin" in Arabic and Persian means "Lucky"; it also means "Beautiful" and "Praise". In Urdu, Afreen means "Excellent".

In 2009, Yusuf Pathan was asked about his marriage plans and he said – "I believe in arranged marriage and hence my parents are looking for a suitable girl. The day they find one, things will happen. But, there is no fix timeframe for it". During the IPL 4 season, Yusuf had mentioned that his ideal woman is "Someone who can stay home and look after my parents and who can cook delicious food".
During the 2011 IPL auctions, Shahrukh Khan – Juhi Chawla owned Kolkata Knight Riders bid an astonishing $2.1 million (approx Rs 10 crore) for Yusuf Pathan. Yusuf was the second most expensive player at the auction.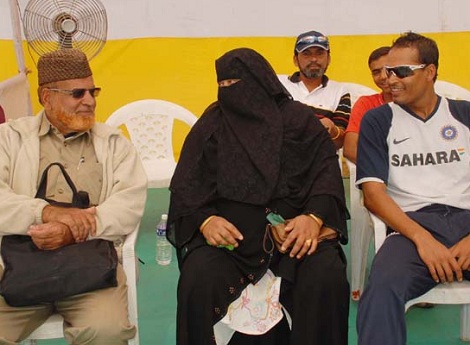 ---
Yusuf Khan Pathan's Profile
Yusuf Pathan's Family: Yusuf's Father Mehmood Khan Pathan worked as a muezzin in a Baroda mosque. Yusuf's mother is Shamim Bano. Yusuf's sister is Shagufta. Yusuf's younger brother is cricketer Irfan Pathan.
Yusuf Pathan's Birthday: 17 November, 1982
Yusuf Pathan's Place of Birth: Vadodara (previously called Baroda) in Gujarat, India
Yusuf Pathan's Batting and Bowling: Right hand middle order batsman and right hand off-spin / off-break bowler
Yusuf Pathan's Ranji Trophy Side: Baroda. He is vice-captain of the Baroda team. He started playing for Baroda in the 2001 – 2002 session.
Yusuf Pathan's International ODI Debut: On June 10, 2008 against Pakistan at Dhaka
Yusuf Pathan's International T20 Debut: On September 24, 2007 against Pakistan at Johannesburg
Yusuf Pathan's IPL Team: Kolkata Knight Riders. Previously he used to play for Rajasthan Royals
Yusuf Pathan's IPL Highlight: In IPL 3, Yusuf scored the fastest IPL century in just 37 balls against the Mumbai Indians.
Yusuf Pathan's Height: 6 feet 2 inches (1.88m)
---
Irfan Pathan's Wedding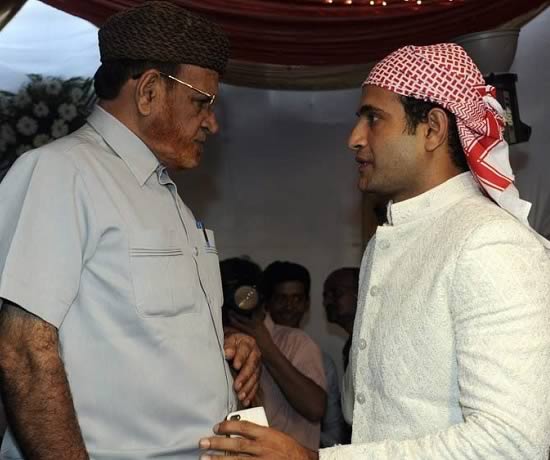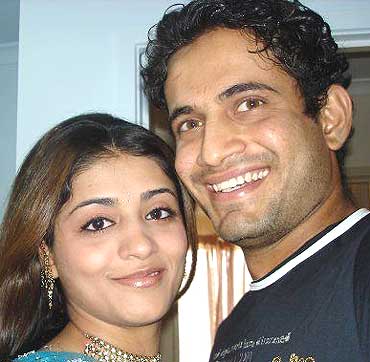 Rumors about Irfan Pathan being in love with Shivangi Dev have been around for a long time. Shivangi Dev is an accountant.
The two reportedly first met in 2003 when Irfan Pathan toured Australia as part of the Indian cricket team.
It was reported that in late 2012, Irfan Pathan and Shivangi had called off their relationship.
---
RELATED ARTICLES:
Wedding of Cricketers and Sport Stars:
Wedding of Indian Celebrities and Film Stars:
Wedding of International Celebrities of Indian Origin:
---