Assam has a multiethnic tradition with a mix of many cultures. Although the official language of the state is Assamese, but 45 different languages and dialects are spoken by different communities residing in Assam. Assamese culture is a rich amalgamation of ethnic practices and beliefs. The impact of diverse cultures can be experienced in the folk music as well as the food habits of the state. The different cultural heritages are that of Aryan & Non-Aryan, tribal & sub-tribes, Bengali, Mongolian & Australoid, creating a fascinating and exotic flavor of cultures.
Assamese community follows very simple and traditional culture, when it comes to cuisine in Assamese matrimony. They prefer food with less spices and little cooking on fire. However, the food has strong flavors as they make generous use of herbs, fruits and vegetables, in all forms, are it fresh, dried or fermented.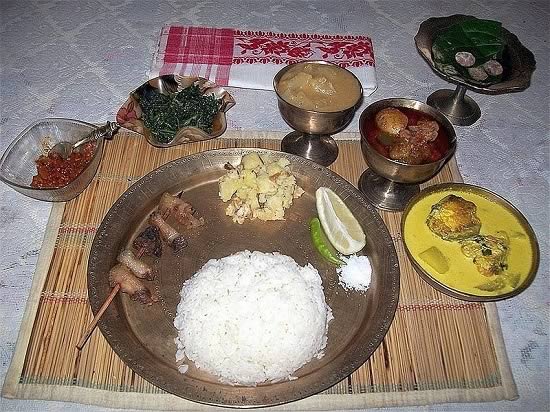 In Assamese Matrimony, the traditional Assamese food is cooked in earthen utensils, on a wood fire, and thus the food has a unique flavor. Assamese cuisine is a mixture of different indigenous as well as external influences with many regional variations. It is characterized by the use of simple ingredients, which are at times very flavorful and at times very pungent. Fermented food is very widely used, giving it a very distinct flavor. Preparations in Assam are rarely elaborate.
Importance of Rice in Assamese Food
In the Assamese matrimony, the dishes are very traditional, with generous use of rice, which is the staple food of Assam. Almost all the important food preparations in Assamese cuisine include the use of rice in various forms, like powdered rice, whole rice, fermented rice or rice paste. The sweet dishes are also cooked of rice.
The most common forms of rice varieties that are used to prepare wedding dishes in Assamese matrimony are joha, indica or japonica. Rice is eaten in different ways such as roasted, grounded, boiled or soaked. The rice dishes taste best with curries, which contain fewer spices and contain boiled vegetables and herbs. In Assam, the green leafy vegetables are called as xaak.
Non-Vegetarian Assamese Cuisine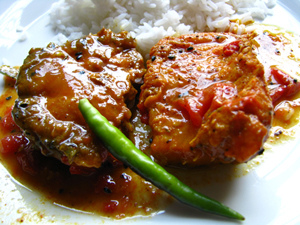 In the non-vegetarian cuisine in Assamese matrimony, fish curries and pork dishes are the favorite of Assamese people. The most famous varieties are Rohu, Hilsa and Chital. Every community or tribe has different taste, so that varies according to the regions and community.
Ducks and pigeon are also some of the favorites of the non-vegetarian people in Assam. Some of the communities also prepare pork dishes in the Assamese matrimony celebrations. The main spices of Assamese cuisine are ginger, garlic, cardamom, cinnamon, onions, black cumin, black pepper, chili, turmeric, coriander seed, and some of the powdered spices.
Assamese Desserts
The sweets prepared in the Assamese matrimony are usually made of rice paste, which is known as Pitha. It is a form of thin pancake, which is stuffed with sweet coconut paste or sweet black or white sesame seed paste. Pitha is either dried or dipped in condensed milk, and tastes very good. A number of Pithas are prepared for the ceremonial celebrations, especially in weddings. The variety of Pithas includes Til Pitha, Ghila Pitha, Sunga Pitha, Uhuwa Pitha, Tekeli Pitha, Deksi Pitha, etc.
Coconut laddus are also very popular sweet dish of Assam, as there is a large-scale cultivation of coconut in the state and every home possesses at least one coconut tree each. The use of coconut can be seen a wide variety of dishes, even in non-vegetarian dishes.
The Assamese matrimony cuisine includes all the varieties of food to savour the taste buds of the guests. Assamese are famous for their hospitality and thus treat their guests with complete respect and dedication. The cuisines of every state are unique, so is the Assamese cuisine, where so many tastes can be found under one roof.
Rashmi writes on behalf of Jeevansathi.com, which is India's fastest growing matrimonial website. Jeevansathi.com enables users to create and search corresponding matches for their respective profiles like Hindu Matrimony, Assam Matrimony wherein users can avail free registration and make initial contact with each other.