Indian Gold Jewellry and Indian gold in general has a special place in the Indian psyche. No other country has a similar fascination for Gold Jewelry, especially Indian Bridal Gold Jewelry.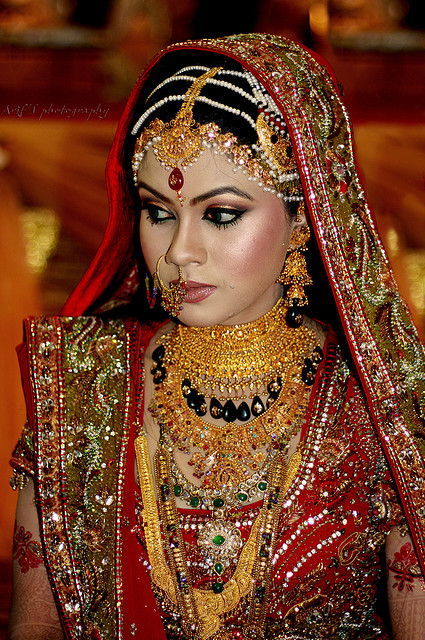 India has historically been one of the largest consumers of gold; especially gold jewelry. In recent years, China too has become a major consumer of gold, although it is yet to catch up with India. In 2010, India and China collectively purchased HALF of the World's Gold Jewelry, Gold Bars and Gold Coin. In 2010 India purchased 963 tons of gold and China purchased 580 tons of gold. The price of gold purchased by Indians in 2010 was a mind boggling Rs 174,727 crore (US$38 billion).
This strong trend of gold purchase has continued in 2011 too. Today India and China collectively account for 55% of global jewellry demand and 52% of Gold bars and Gold coins. Currently the global demand for gold has gone up 7%, whereas the demand for gold in India has gone up by 38% and demand in China has gone up by 25%.
With the upcoming Indian festival and marriage seasons, the demand for gold is expected to remain strong in the near future.
[Image by Arifur Rahman. Image used as per CC BY-NC-SA 2.0]
Related Site: Indian Jewelry Trends