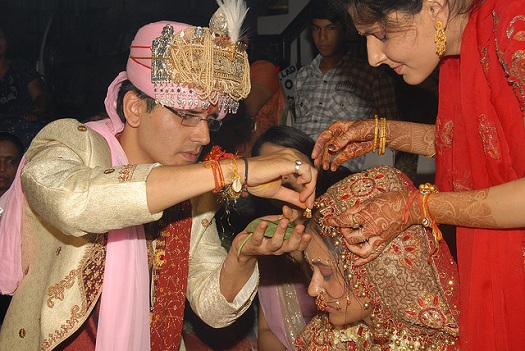 As per the Hindu calender, November 27, 2011 ("Margashirsh Shukla Tritiya") was one of the most auspicious day of the year for Hindu marriages. It is estimated that 60,000 marriages were held in Delhi. Such a hugh demand on the wedding infrastructure was met by conducting weddings in three shifts. Many wedding halls saw three weddings happening at different times of the day.
The reason November 27, 2011 was auspicious was because the sum total of the date (11 + 27 + 2011) adds upto "6", which is the number of Venus or as per Hindu mythology "Shukra".  Venus or "Shukra" governs love, beauty, passion, art, music, dance, wealth and the bedroom. The other reason why Nov 27 was an auspicious wedding day was because the number 27 adds up to "9" (2+7), which is the number of the planet Mars. Nov 27, 2011 fell on a Sunday which is governed, as per Hindu and Vedic astrology, by the "Sun". The Sun powers life, good fortune, wealth and fame. It is a good day for couples to unite in holy matrimony. Astrologers also marked out Nov 27 as specially auspicious because "Rahu" (north mode of the Moon or dragon's head – opposite of Ketu, the dragons's tail or South mode of the moon), "Venus" and "Mercury" ("Saumya" – Son of the Moon) are in one house; whereas Saturn ("Shani") and the Sun are in different houses. This is astrologically very good.
The last time there were so many weddings was in 2010, in Mumbai, on the occaison of "Akshay Tritiya". "Akshay Tritiya" marks the formal start of the wedding calender and it is estimated that 50,000 weddings had taken place in Mumbai.
PF8FRD5AT8NM
Image by Deepak Sharma. Image used under Creative Commons license CC BY-NC-ND 2.0