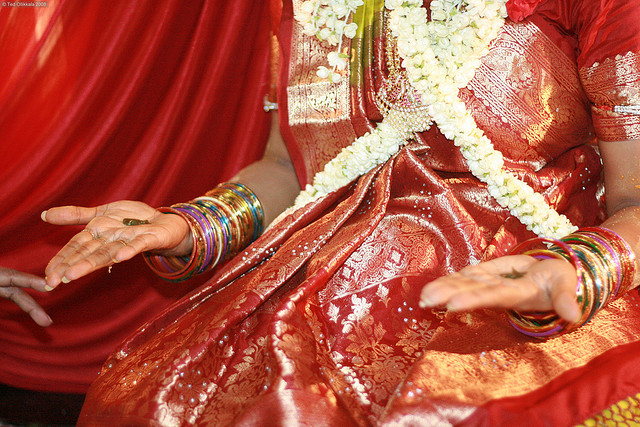 Weddings in India are an elaborate affair and are celebrated with great fervor and enthusiasm. The high magnitude of Indian marriages brings glory to families and is remembered for decades to come. Attention is thus paid to minute details of the wedding from venue to catering to decorations to even the wedding dresses.
Indian dresses for women include sarees, lehengas or ghagra cholis, suits/salwaar kameez, etc. An Indian saree or a lehenga make for the most beautiful dresses in the world. They have, in fact, become the most preferred wedding dresses all over the world, owing to their colorfulness and the glamour quotient. The Indian market for bridal wear has today become highly customized, attracting more women from around the globe than ever before. Indian wedding dresses are fused with Western trends to make the costume more appealing for the would-be brides.
A bride wants to look her best on the most important day of her life, the day of her wedding. The wedding dress becomes the most important part of a bride's beauty along with other elements like jewelry, hairstyle, make up, henna application and footwear completing the wedding attire. The perfect application of everything above can make a bride look like a fairy on her D-day. But only the styles that are comfortable and suitable to an individual's body type should be adopted.
Indian wedding dresses are very bright and colorful, enriched with exquisite designs and embroidery. The color 'Red' is considered to be the color of married women in India. The brides generally wear red colored dresses in their wedding but it is now replaced by different colors as brides are getting more experimental. The colors have become seasonal with intricate embellishments, threadwork or crystal work seen on the dresses. The wedding costumes in India sometimes play a larger role than just adorning the bride; it becomes an emotional connect between a mother and a daughter and is passed on as an heirloom.
In India, the change in culture and beliefs can be seen with the change in region. Women wear different kinds of wedding dresses across the country depending on their religion or community. Some of the most popular styles of Indian wedding dresses are:
Saree: The saree in India has become a national garment for women and is adored by women across the globe. From celebrities to locals, every woman looks just perfect in a saree. It is a very feminine way of dressing up and now defines beauty of women worldwide. Sarees are among the few dresses that can be worn in both traditional and fashionable ways and still give you a chic appearance. Re-invention of Indian saree offers diverse ways of draping it; it can be teamed up with blouses in spaghetti, tie back or tank top styles. Huge variety of sarees like chiffon, silk, banarasi, kanjivaram, etc. also make for a style statement.
Salwaar Kameez: This represents another Indian way of dressing up and consists of a long tunic, well designed pants and a dupatta. There can be some exclusive salwaar kameez adorned with some elaborate work, heavy embellishments or cuts and patterns. It can also be worn to other semi-formal events, parties and even to work. Salwaar Kameez can be a mixture of simple chikan churidars, full dupattas of phulkari work, etc.
Ghagra Choli or Lehenga: Wearing lehengas for wedding have become a rage for Indian brides. It is a full length skirt with either a short or a waist length blouse combined with a dupatta. Lehengas can be adapted to a large number of styles, cuts and designs like A-line, straight cut, big flare, etc. It is popular not only among brides but also with girls attending a wedding or some other functions.
Indian marriage as well as their dresses always needs a lot of preparations. It not only makes for an unforgettable day but also becomes a status symbol. Make it exclusive and illustrious by choosing the right style.
About the Author
Deepika Bansal writes on behalf of Jeevansathi.com, which is India's fastest growing matrimonial website, provides online Indian matrimonial classified services. Jeevansathi.com enables users to create a matrimony profile on the website and allow prospective grooms and brides to contact each other. Users can search for profiles through advanced search options on the website.
Image by MadaboutAsia. Image used under Creative Commons license CC BY 2.0